The Expensive Business Of Immigration Detention In The U.S.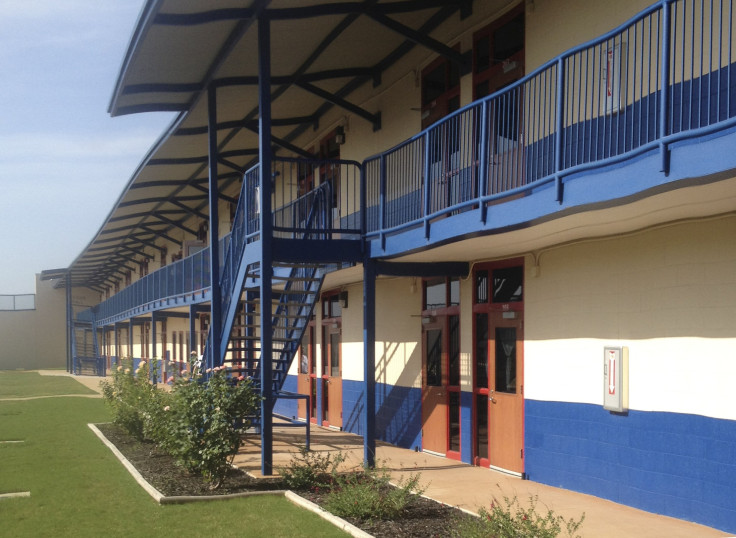 The U.S. government is continuing to ramp up family detentions for undocumented immigrants crossing into the country from the southwest border. The Obama administration has made it clear that it will fast-track deportations for those with no legal basis to stay in the U.S. -- and detention facilities have been their way of expediting immigration hearings. But detention is also an expensive business where the U.S. already has much cheaper -- and, immigration advocates say, more humane -- alternatives.
Even as the numbers of Central American migrants coming across the southern border have declined over the past two months, Immigration and Customs Enforcement (ICE) officials are looking to open a new immigrant family detention center for those immigrants in southern Texas, according to a report by the Texas Observer. The new center would have a capacity of 2,400, a vast increase over the 1,300 beds currently available in the two other family detention facilities in Artesia, New Mexico, and Karnes County, Texas.
Family detention, and immigrant detention in general, have long been targets of criticism from human rights advocates who say the U.S. government has defaulted to a prison model for unauthorized immigrants, including those without criminal convictions. In theory, detention beds are reserved for unauthorized immigrants who pose the greatest risks to public security. But ICE has often detained lower-risk immigrants: a 2009 ICE report stated that the majority of immigrant detainees were considered to have a "low propensity for violence."
In the case of family detentions, the rationale is less rooted in public security concerns and more on the government's desire to ensure that immigrants appear at their court hearings. The family detention center in Artesia, New Mexico, has been a particular sticking point for immigrants' rights advocates; a coalition of civil rights groups filed a lawsuit against the federal government last month over what they said were abhorrent conditions and lack of due process for immigrants there.
But detention is also expensive, costing an estimated $164 a day per detainee. A large chunk of that money goes to the private prison companies that operate more than half of the immigrant detention beds around the country. With at least 34,000 immigrants in detention every day, this cost amounts to more than $2 billion in taxpayer funds every year. Meanwhile, the U.S. has another cheaper option that is readily available, at a maximum cost of just $17 a day per person.
Alternative-to-detention (ATD) programs have been a part of ICE's operations for several years. These programs generally require no full-time facility or 24-hour surveillance; immigrants are supervised by case managers through period check-ins and, at times, unannounced home visits. One ATD program involves the use of electronic ankle monitors to track immigrants' whereabouts, a method that has faced some backlash from advocacy groups. Several non-profits around the country run ATD programs of their own, providing supervision and care for immigrants awaiting deportation hearings. These programs are estimated to cost anywhere between 17 cents to $17 a day per person.
ATD programs have backing from immigrants' rights groups and conservative think tanks alike. And research also shows that these programs have been remarkably effective in getting participants to show up to their court hearings. According to the Department of Homeland Security, immigrants in the ATD program in 2010 had a 93.8 percent court appearance rate, zooming past a target of 58 percent.
With such encouraging statistics, it's a wonder why the U.S. government remains so committed to immigrant detentions: ICE's appropriations request for fiscal year 2015 set aside $1.7 billion for detentions, compared to $94 million for ATD programs. Many immigration policy analysts point to a provision included in the government's appropriations bill that specifically mandates set numbers of detention beds for ICE to maintain every year. Every year since 2010, the administration's appropriations bill has requested a minimum of around 33,000 detention beds for immigrants, with that number going up to 34,000 for the fiscal year 2014 budget.
However, that number decreased to 30,539 for the fiscal year 2015 budget, bringing down the cost per bed to $119 a day instead of the current $164. That's not exactly a large retreat from current levels of immigrant detentions, but the decline does signal the Obama administration's growing willingness to expand its use of less costly alternatives.
© Copyright IBTimes 2023. All rights reserved.