Experts: Stocks Likely To Rebound By Year's End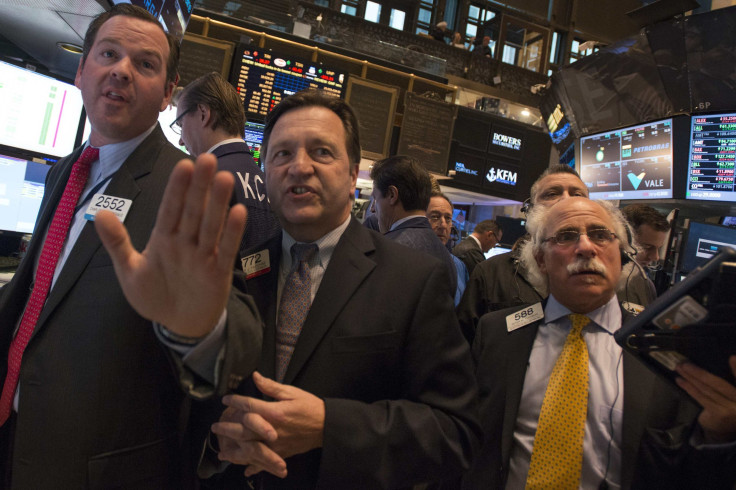 And Christmas shall save us. That's the seemingly faith-based opinion of experts who still believe the financial markets are destined to continue their reach for the heavens this year -- concerns of slowing economic growth in Europe and China be damned.
Despite volatility that saw the Dow Jones Industrial Average nosedive 334 points last Thursday, and the Nasdaq and S&P finish their worst week in more than two years, a number of Wall Street analysts are now assuring investors that the year's final three months -- containing the all-important U.S. holiday shopping season -- can deliver results that put the markets back on an upward swing.
"We remain constructive about the longer-term picture and continue to believe that we are in the early stages of a secular bull market," wrote Piper Jaffray senior analyst Craig Johnson in a note to investors Monday.
In Monday's trading, the Dow fell 223 points, closing down 1.4 percent at 16,321. Meanwhile, the Nasdaq shed 1.5 percent to close at 4,213. The S&P 500 index dipped about 1.7 percent to close at 1,874. Even so, Johnson used his morning missive to reaffirm an earlier projection the index will hit 2,100 by year's end. His reasoning: "Historically the seasonally strongest months still lie ahead (November/December)."
U.S. consumer spending accounts for some 70 percent of the nation's economic activity, and with robust job gains and consumer sentiment at a one-year high, economists are expecting holiday shopping to generate strong economic growth in the final months of 2014. At the same time, corporate buying -- especially as it relates to stock repurchases -- is expected to lift the markets. Companies are buying back their own shares at the most frenzied pace since the Great Recession, the Wall Street Journal noted in September.
The brisk buyback activity helped fuel the stock rally that was interrupted last week, but Goldman Sachs analyst Amanda Sneider anticipates a flurry of buyback activity in the coming months, which could spur a year-end turnaround. "Roughly 25 percent of buybacks are executed in November and December," Sneider noted Monday. "Our Sentiment Indicator suggests S&P 500 will return 2 percent to 4 percent during the next four to 10 weeks."
Another way to look at last week's market slump: Stocks across many sectors are less expensive than they've been in a long while. Sam Stovall, U.S. equity strategist at S&P Capital IQ, notes investors should "look upon the recent weakness as a buying opportunity, especially considering the speed with which large- and small-cap [stocks] typically recovered from pullbacks and corrections."
Stovall points out seven of S&P 500's 10 sectors "are trading at discounts from 1 percent to 27 percent, compared with their [median price-earnings ratios] since 1995."
Even with the year-end upturn Stovall and others are predicting, many analysts caution investors need to adjust their expectations.
"We are still solidly in a bull expansion, both for stocks and the economy at large," said Scotty C. George, chief investment strategist at Arlington Econometrics. However, he observes, "the problem is that everyone is impatient for something extraordinary to happen, that magic moment, even though the markets are traveling at their own pace."
© Copyright IBTimes 2023. All rights reserved.
FOLLOW MORE IBT NEWS ON THE BELOW CHANNELS