FAA Lifts Ferguson Flight Ban: Airspace Was Restricted Following Michael Brown Riots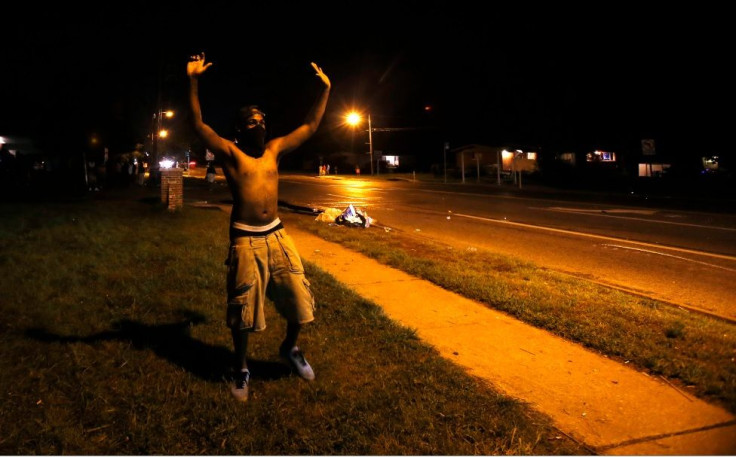 The Federal Aviation Administration temporarily restricted the airspace 3,000 feet above the ground over Ferguson, Missouri, on Tuesday, but then quickly lifted the ban, according to Lambert-St. Louis International Airport.
Law enforcement officials have been grappling with community anger over the fatal shooting of African-American teen Michael Brown by a police officer over the weekend. The FAA air restriction was reportedly not intended to block media access, but to keep authorities and first responders safe, according to a tweet from STLToday.com reporter Joel Currier.
The ban was allegedly put in place "to provide a safe environment for law enforcement activities," and was supposed to remain until Monday. "Only relief aircraft operations under direction of St. Louis County Police Department" are allowed to operate in the airspace, the FAA had said. The official notice about the airspace can be read here.
Lambert Airport Director Rhonda Hamm-Niebruegge previously told KMOX that at the urging of police, the FAA ordered no flights over Ferguson for the time being.
"There had been a shot in the air sometime Sunday evening; there had also been a helicopter flying over," she said. "It doesn't mean it was shooting at the helicopter, but there was a shot into the air, so they put this temporary flying order in place."
The airport director said there have been no reports of any shots fired at aircraft and the move was strictly a precaution.
Protests broke out in Ferguson, a mostly black suburb of St. Louis, after the fatal shooting of 18-year-old Brown. Witnesses say he was unarmed, but there are conflicting reports about whether or not the teen, who was supposed to start college this week, assaulted the officer who killed him.
Restricting the airspace, and subsequently lifting it, came after riots that saw officials fire tear gas and rubber bullets into crowds. Ten people were reportedly arrested after Monday night's riots, The Guardian wrote. Two of the protesters were reportedly taken to the hospital after one suffered a seizure and another had a dislocated shoulder.
The FBI is currently investigating the case. U.S. Attorney General Eric Holder was asked by members of the Congressional Black Caucus to pursue a formal investigation to determine if civil rights charges could be filed, the Blaze wrote.
The shooting raises "potentially serious concerns, particularly because it may be part of a continuing pattern of the use of deadly force by police against unarmed African-Americans," CBC members said in a letter to Holder.
"While we appreciate that the facts are still coming to light in this case and we do not pre-judge the incident, we believe that the seriousness of the incident requires intervention by federal law enforcement agencies and we are heartened to learn of the parallel federal investigation that you announced today," they wrote.
Follow me on Twitter @mariamzzarella
© Copyright IBTimes 2023. All rights reserved.