In Face Of ISIS Onslaught, US Rushes To Support Sunni Anbar Militias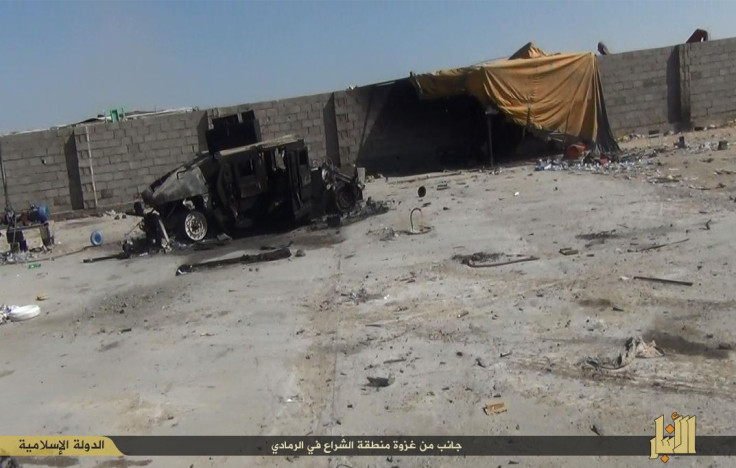 After suffering a highly visible defeat with the loss of the Syrian the city of Kobane last week, the Islamic State group is refocusing its efforts on gaining ground where its opponents are weakest, and concentrating on Sunni-dominated areas of Iraq that lack government protection. But with new U.S. support, militias in Sunni-majority areas like Anbar province are preparing to take on the radical group.
A senior official from Anbar province visited Washington last week and revealed to Iraqi media the U.S. had agreed to support Anbar security forces in their fight against the Islamic State group, also known as ISIS or ISIL. The news of U.S. support broke as ISIS shifted its main thrust from battlefields in Syria to vulnerable areas in Iraqi Kurdistan.
The Sunni militias are "being systematically armed" by the U.S. and even the Iraqi government, said a source close to one of the largest new Sunni militias in Anbar, who requested to remain anonymous for security purposes.
The Iraqi Army is largely absent from those areas after years of tension between local Sunnis and the government of Prime Minister Nouri al-Maliki, a Shiite who used the army to oppress them. The local Sunni tribes began arming themselves last year in the face of the ISIS advance, buying weapons and ammunition from Iraqi soldiers and Shiite militia fighters. Now, the U.S. is ramping up its effort to help the Sunnis take on ISIS and will train Sunni tribal groups at the Ain al-Assad military base west of Baghdad, Iraqi news outlets reported.
The U.S. State Department told International Business Times the support was part of the Overseas Contingency Operations' Iraq Train and Equip Fund. That fund allocates money to the Iraqi military, to the Kurdish military, and to training and equipping tribal forces. As part of the fiscal year 2015 budget, the U.S. allocated more than $24 million of the fund to tribal security forces, according to State Department documents, as part of an effort to help them form the basis of an Iraqi national guard.
About $18.5 million was allocated to a force of tribal fighters in Anbar, recruited through a mobilization program designed by the Iraqi government. The State Department announced Monday it would ask for even more money for the program in fiscal year 2016.
Sources embedded in the Anbar militias said they began to receive U.S. weapons several months ago. IBTimes reported in December the militias in western Iraq were developing strength and organizing themselves into forces that could take on the Islamic State group. Until they received U.S. support, the Sunni tribes in Anbar had received a few small shipments from the central government.
A Kurdish news outlet, Rudaw, reported in December the U.S.-led coalition had approved the formation of a 50,000-strong tribal force in the western part of the country to fight ISIS. The chairman of Anbar's provincial council, Sabah Karhout, said the coalition would "bear the expense of training and arming" the tribal force, since the Iraqi military isn't popular in the area.
"The [Shiite]-dominated [military] is not particularly welcome in Anbar and other majority Sunni areas because of past excesses and sectarian activities, and poor combat performance," a State Department budget document said. "Armed tribal forces fighting on their own territory and among their own people offer both a more effective, motivated force and encouragement to like-minded tribal forces to initiate their own insurrection against ISIL."
But other Sunni-majority regions in the country, such as Kirkuk in Iraqi Kurdistan, are less committed to fighting ISIS. Sunni tribal chiefs near Kirkuk pledged allegiance to the Islamic State's self-described caliph, Abu Bakr al-Baghdadi, last week.
According to local Kurdish sources, ISIS is using its alliances with Sunnis in Kirkuk, first established in June, to gain greater access to positions from where it can attack Kurds.
FOR FREE to continue reading
✔️ Unlock the full content of International Business Times UK for free
offer available for a limited time only
✔️ Easily manage your Newsletters subscriptions and save your favourite articles
✔️ No payment method required
Already have an account?
Log in
© Copyright IBTimes 2023. All rights reserved.