Facebook (FB), Google (GOOG) And Amazon (AMZN) Execs Join Investors And Casino Magnates As World's Highest Earners This Year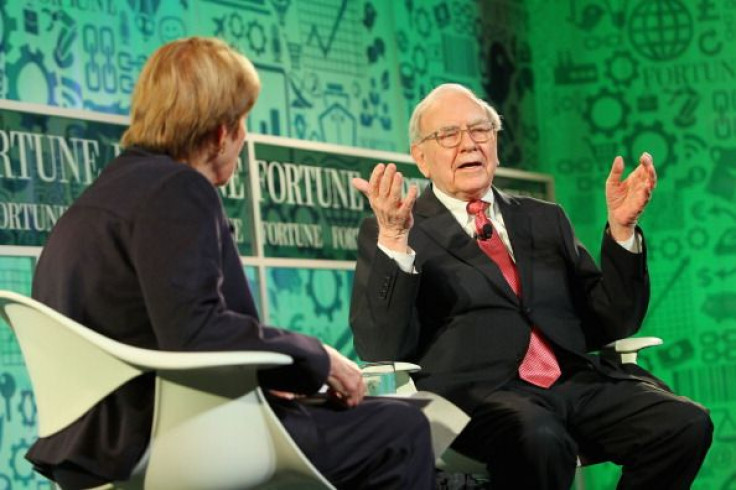 On Thursday morning, a woman in Georgia claimed half of the largest Mega Millions jackpot in U.S. history, according to CNN. She'll end the year up $120 million dollars. It's no small sum, but that's just pennies compared to what the world's richest men earned in 2013.
Warren Buffett made $37 million a day in 2013, and he ranks highest on Wealth-X's list of billionaires who made the most money this year.
Though Bill Gates has the largest net worth, he ranks second on this list. Tech giants, investors and casino moguls from around the world make up the top ten highest-earning billionaires of 2013.
1.Warren Buffett, the Oracle of Omaha, gained the most wealth this year, earning $12.7 billion this year; his total net worth is $59.1 billion.
Buffett, at 83, is the CEO of Berkshire Hathaway (NYSE: BRK-A) and isn't slowing down.
In October, his CNBC interview went viral when he discussed the possibility of not raising the debt ceiling -- comparing it to a weapon of mass destruction, among other things.
"Credit-Worthiness is like virginity," he said. "It can be preserved but not restored easily, so it is crazy to play around with it."
In 2013 he bought the ketchup-making H.J. Heinz for a cool $23.2 billion and is rumored to be considering Campbell Soup Co. (NYSE: CPB).
2. Bill Gates is still the richest of them all. The Microsoft (NASDAQ: MSFT) chairman and co-chair of the Bill and Melinda Gates Foundation earned less than Buffett this year -- only a paltry $11.5 billion. But his total net worth takes the top spot at $72.6 billion.
But that didn't stop him from participating in Reddit's annual secret Santa this year. On Wednesday, a 24-year-old user called "NY1227" received a package in the mail containing a stuffed animal representing a donation to a charity, and a book from National Geographic.
She also found a photo of the billionaire in the package, holding the gifts to prove it was really him.
"And then it finally hit me," she wrote in a post. "All the presents I just tore open, the charity, then everything -- was from Bill Gates."
3. Sheldon Adelson made $11.4 billion this year thanks to casinos in Las Vegas, Macau and Singapore. Shares of his group Las Vegas Sands Corp. (NYSE: LVS) are at a five-year high, and he is worth more than $35 billion.
Bloomberg reported that the billionaire saved about $2.8 billion in U.S. gift taxes in the past two years by "shuffling his company stock in and out of more than 30 trusts."
Plus, the casino mogul recently canceled a $30 billion project in Spain. In December he announced that his company would not complete the "Eurovegas" mega-casino -- which would have included 12 resorts and six casinos at a complex outside Madrid. The Financial Times reported that he encountered political problems -- the Spanish government rejected many of his demands for things like tax breaks and a reprieve from smoking bans.
4. Jeff Bezos made $11.3 billion this year. So far, 2013 has been good to the Amazon (NASDAQ:AMZN) founder and CEO, who is now worth $34.4 billion.
In December, Bezos explained his plans to for the online delivery company to use drones to send some customers' purchases directly to their doors.
His company saw $61 billion in sales last year, and he made the big move of buying The Washington Post this summer for $250 million.
"When I was driving the packages myself, one of my visualizations of success is that we might one day be big enough that we could afford a forklift," he told 60 Minutes.
"We like to pioneer, we like to explore, we like to go down dark alleys and see what's on the other side," he said.
5. Mark Zuckerberg now has a total net worth of $24.7 billion after making $10.5 billion in 2013. It's been an exciting year for the founder of Facebook Inc. (NASDAQ:FB), which went public in May 2012.
Facebook stock doubled this year, and it opened today at $54.30. Recently, the company announced new types of video content and advertisements for the social networking site, which has more than a billion monthly users.
On Thursday morning, Facebook announced that Zuckerburg will sell $3.9 billion worth of his company shares, according to Bloomberg. This will reduce his stake to 56.1 percent from 58.8 percent.
6. Masayoshi Son, the chief executive officer of Japanese Internet venture SoftBank (9984:JP) made $10.3 billion this year for a total net worth of $19.1 billion.
According to Forbes, "Son has been on a buying spree in the past year," including buying a California estate for $117.5 million.
He also spent $21.6 billion to acquire 72 percent of Sprint (NYSE: S) and paid another $1.26 billion to invest in Brightstar, a mobile phone distributor.
7. Sergey Brin, the co-founder of Google (NASDAQ: GOOG), made $9.3 billion this year for a total net worth of $30 billion. Year to date, Google stock has gained nearly 50 percent.
Brin is an inventor who moved to the United States from Russia at age six. He made friends with Larry Page as a student at Stanford University and together they created a model for the search engine that would bring Google to life.
He is the brains behind Google X, the company's research arm that is developing Google Glass and driverless cars.
He also made news when he divorced his wife, entrepreneur Anne Wojcicki, earlier this year.
8. Larry Page, the other co-founder of Google, made $9.3 billion this year for a total net worth of $29.9 billion.
While Brin is the brains behind many of the company's inventions, Page is responsible for running most of the company. This year, he has focused on more creative expansion.
In the past month, Google acquired Boston Dynamics -- a military contractor that specializes in building robots.
"Android started off as a crazy idea that ended up putting a supercomputer in hundreds of millions of pockets," said Page in statement.
"It is still very early days for this, but I can't wait to see the progress."
He and Brin collectively donated more than $400 million to charities in 2013.
9. Lui Chee Woo, the Chinese owner of K.Wah International Holdings Ltd. (OTC:KWHAY), made $8.3 billion this year.
With a total net worth of $19.6 billion, he is the second-richest man in Asia. K.Wah is a property company with a market capitalization of about $1.4 billion.
He also owns Galaxy Entertainment Group (OTC: GXYEY). -- a casino company operating mainly in Macau that has seen double-digit revenue growth this year.
He's looking to expand into the Coati area -- known by many as Asia's Las Vegas Strip, according to Bloomberg.
10. Carl Icahn made $7.2 billion this year -- for a total net worth of $22.1 billion.
The private equity investor and chairman of Icahn Enterprises (NASDAQ: IEP) is an activist investor who made waves this year with bets on Apple Inc. (NASDAQ: APPL), Netflix (NASDAQ: NFLX) and CVR Energy (NYSE: CVI).
Though he has been known as a tough customer to many chief executives, the Wall Street Journal reported earlier this month that Icahn has secured representatives on more boards this year than ever.
"I'm even surprised," Icahn told the Journal.
"Being admitted to all these boards without a proxy fight would have been unthinkable only a year ago."
© Copyright IBTimes 2023. All rights reserved.