Facebook Messenger To Start Beta Testing Home Screen Ads Worldwide
Facebook has announced that it will start showing ads on the Messenger app's home screen worldwide. This will be a global beta test where brands, businesses and developers cans start making ads right on the Messenger home screen.
The worldwide beta test was for home screen ads was first confirmed by Messenger head of product Stan Chudnovsky during MB 2017 in an Francisco, according to VentureBeat.
Facebook first started testing these kind of ads for a small number of users in Australia and Thailand back in January. Businesses were able to place ads right on the Messenger home screen just below the user's most recent conversations. Ads were also able to appear inside conversations as Sponsored Messages if users have opened any ads on the home screen, or if they've ever interacted with a brand.
READ: Is Facebook Copying Snapchat Features Like Stories, Filters? Messenger Boss Says No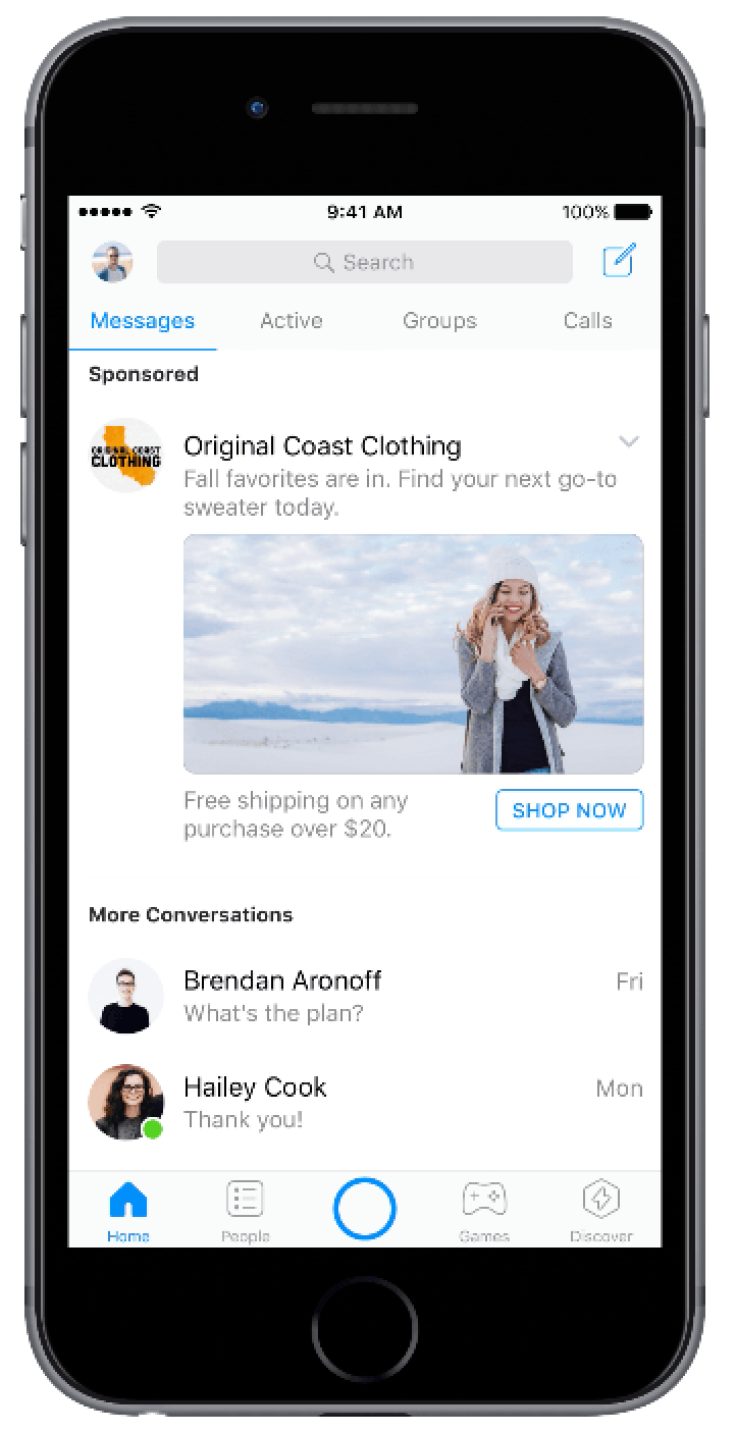 Messenger has 1.2 billion monthly active users, so it makes sense for Facebook to start turning that number into revenues. Chudnovsky also admitted that the addition of home screen ads is part of their effort into making Messenger an advertising business model.
"[Advertising is] not necessarily everything, but it's definitely how we're going to be making money right now," Chudnovsky said. "And going forward, there are some other business models we are exploring as well, but they're all around ads one way or another."
Home screen ads on Messenger will use the same user-targeting capabilities that are already being used by Facebook and Instagram. Like the tests in Australia and Thailand, users will be able to hide or report ads that aren't relevant to them. Also, Sponsored Messages won't appear unless the user initiated the interaction and business won't be able to message users directly.
"A small percentage of people will begin to see ads in their Messenger Home tab towards the end of this month as we build ads inventory, and then learn from this beta expansion to ensure we're continuing to deliver the best experience," the company said on its Messenger Blog. "We will gradually look to extend this to more people over the coming months."
READ: Facebook vs. US Government: Company Fights To Inform Users When They Are Under Investigation
Although ads on the Messenger home screen are supposed to not distract from the user experience, it's already being criticized online. TechCrunch recently published an article heavily criticizing the way these ads are being implemented.
Although the home screen ads are supposed to be dynamic, some are just simply too big and takes up almost two-thirds of the screen. This in turn interrupts the user experience.
Another annoyance about these ads that was pointed out by TechCrunch was that they are irrelevant. On the Facebook News Feed, seeing ads while scrolling through is fine and natural. It makes sense because people spend a lot of time on Facebook scrolling down on the News Feed.
But in Messenger, people don't open the app to scroll and browse, they open the app to actually chat with their friends. There are Sponsored Messages, but it requires the user to initiate the conversation with brands and business. If brands start conversations with users, it would seem intrusive.
For now, ads on the Messenger app's home screen is still in beta, and Facebook has more time to improve its implementation. Chudnovsky also said that the shift from beta testing to general availability will be based on user reception.
© Copyright IBTimes 2023. All rights reserved.