Facebook #MyNameIs Protest At San Francisco Pride Parade Centers On 'Real Name Policy'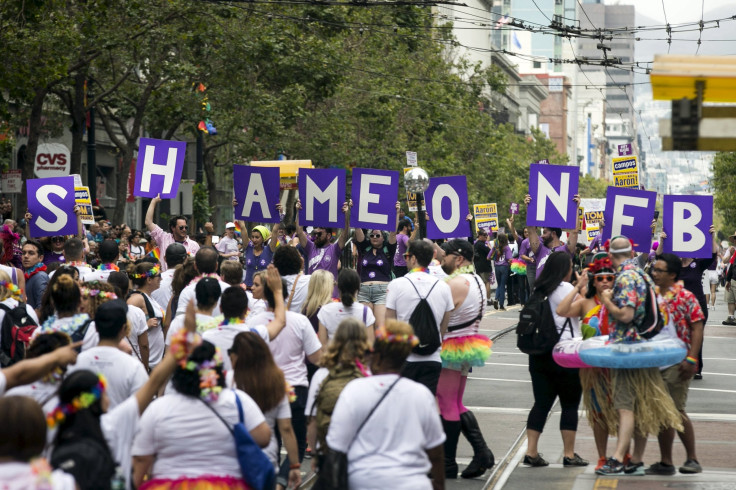 "Shame on Facebook," a group of marchers chanted during San Francisco's Pride Parade Sunday. Amid the floats and banners celebrating pride week and the passing of the same-sex marriage ruling, the group brought renewed attention to a Facebook policy requiring authentic names.
The social network's rule has drawn extensive criticism from drag queens and the LGBT community over the last year and has spurred a movement with the hashtag #MyNameIs.
The #MyNameIs campaign centers around Facebook's policy that requires users to register with "authentic names." A user must be able to provide valid identification for the name, or their account will be locked. The LGBT community has repeatedly come out against the policy, charging that the requirement discriminates against people such as drag queens, who regularly go by nicknames.
During Sunday's parade, the campaign distributed stickers and postcards that read "Shame on FB" when they reached the judges panel, Business Insider reports.
Earlier this month, a
group of 100 protesters
traveled to Facebook's headquarters in Menlo Park, California, to speak out against the policy. The affair was led by Sister Indica and other members of the Sisters of Perpetual Indulgence nonprofit group.
"I was not aware of just how deep this issue was," Sister Indica told International Business Times shortly after the protest. "For instance, we had speakers that spoke on behalf of domestic violence victims who use names that are not their legal names for protection."
The dispute over Facebook's so-called "real names policy" started to gain traction in September 2014 after several LGBT community members reported being blocked from their accounts. The movement aligned with the launch of Ello, a social network that promised no advertising and also welcomed nicknames. The site now boasts "many millions" of users.
Facebook employees also marched in Sunday's parade in San Francisco, boasting colorful T-shirts with the company name and hoisting a sign for "pride@Facebook."
© Copyright IBTimes 2023. All rights reserved.
FOLLOW MORE IBT NEWS ON THE BELOW CHANNELS