Failed States Index: The Most Unsustainable Countries In The World Are All Concentrated In Africa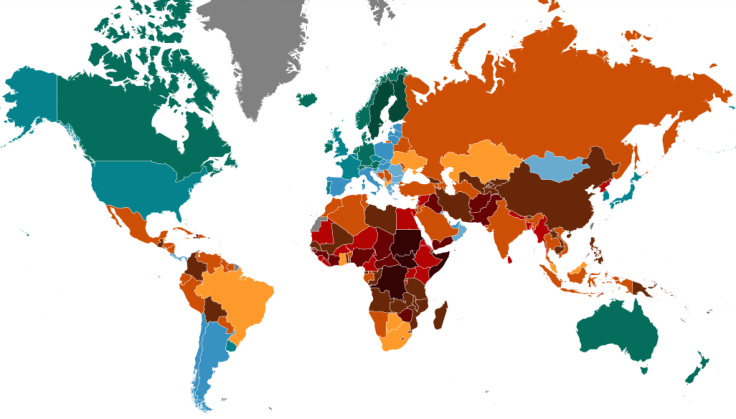 Somalia, the Democratic Republic of Congo, Sudan and South Sudan are the four most dangerously unstable countries in the world, according to the just released Failed States Index, compiled by the Foreign Policy Group and the Fund For Peace.
The Failed States Index looks at 12 primary social, economic and political indicators -- like demographic pressures, human flight and brain drain, state legitimacy, poverty and economic decline, human rights, security apparatus -- that can be used as a tool to identify exactly what might push a country to the brink of failure, according to the Foreign Policy Group.
The most sustainable states on this ranked list were Finland and Sweden, followed by several other Western European countries and Canada.
The United States ranked 20th on the list, and is in the "stable" category, below the U.K., France, Portugal and Ireland.
Even though the U.S. is seen as economically more stable than Europe, the economic development here is uneven, and the divide between the poor and the rich is widening, according to the report. A combination of these two indicators and the tension between different partisan groups within the country lowered the stability ranking of the U.S.
However, the U.S. scored exceptionally well in the "human flight," "legitimacy of the state," and "security apparatus" categories.
Check out this interactive map of the 178 countries included in the Failed States Index, color coded (see map key) by rank and sustainability. A high rank indicates a high level of sustainability, a low rank indicates a low level of sustainability. Click on any country to see its ranking, and how it scored on specific indicators. Indicators are scored between 1-10, in which 10 is the worst performance possible, and 1 is the best.
© Copyright IBTimes 2022. All rights reserved.
FOLLOW MORE IBT NEWS ON THE BELOW CHANNELS