Fake NASA SpaceX Live Stream Is Scamming Viewers For Bitcoins
KEY POINTS
Fake SpaceX live streams run bitcoin giveaway scams on YouTube
Viewers are asked to send Bitcoin in exchange for more Bitcoins
Bitcoin giveaway scams run rampant on Twitter and Youtube
YouTube has shut down a fake SpaceX live stream showing footage from NASA leading to the SpaceX Crew Dragon launch, but not before it had scammed users through a fake Bitcoin giveaway. The problem is that a new fake SpaceX Bitcoin giveaway live stream springs up every time another is removed.
The fake live stream plays footage related to the SpaceX launch but with a prominent QR code displayed as part of its Bitcoin giveaway scam. Viewers of the live stream are asked to send 0.2 BTC to receive 0.4 BTC.
As of this writing, there are two fake live streams ongoing in connection to the SpaceX launch. Both are running fake Bitcoin giveaways. Looking at the blockchain, one of the addresses already received 0.002 BTC. What's worrisome is that the other address had amassed 5.7 BTC.
The comments section was barraged with hundreds of messages claiming they "received" their gift. This claim is not true -- the address that received 5.7 BTC transferred the coins to at least 3 addresses that also transferred the coins to other addresses. This is a tactic applied to cryptocurrency to purposely make it difficult for anyone, including authorities, to track the money trail.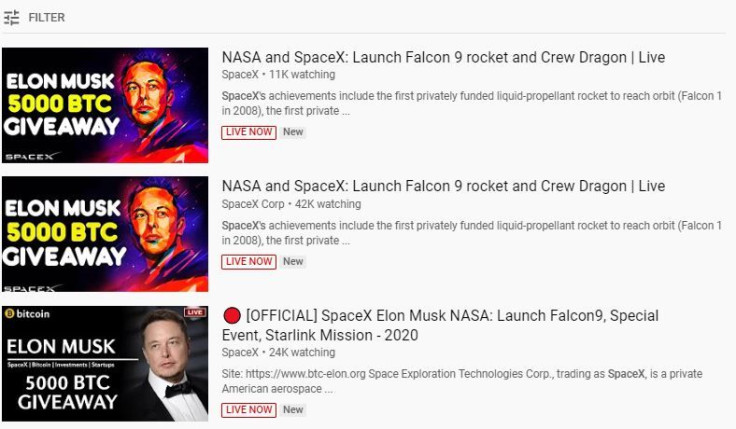 Crypto scammers have routinely used profiles of famous persons to dupe people into giving their Bitcoins "in exchange for more Bitcoins." Just like the Nigerian Prince scam, the Bitcoins will not be received back by the sender because there's no Bitcoin in the first place. The original Bitcoins sent will never be returned.
On Twitter, this problem has been reported widely. Apart from Elon Musk, even profiles of Ethereum creator Vitalik Buterin or Coinbase CEO Brian Armstrong regularly have tweets where fake profiles of themselves will reply to ask for Bitcoins in exchange for more Bitcoins. And while Twitter said it will ramp up its efforts to combat Bitcoin giveaway scams, they still exist.
YouTube is also having a hard time combating live stream events with fake Bitcoin giveaways. On support forums, users claimed they have reported such schemes multiple times. In April 2020, crypto company Ripple sued the video-sharing site for its complicity and negligence on giveaways scams in relation to XRP, the company's own cryptocurrency.
CEO Brad Garlinghouse said the XRP giveaway scams have defrauded victims of "millions of XRP" already and Youtube continued its negligence. Garlinghouse said the lawsuit is to ensure that YouTube and other social networking sites are "prompted to set the expectation of accountability."
© Copyright IBTimes 2023. All rights reserved.