Fantasy Football 2016: Best Super Bowl 50 Lineups, Rankings For FanDuel, DraftKings And More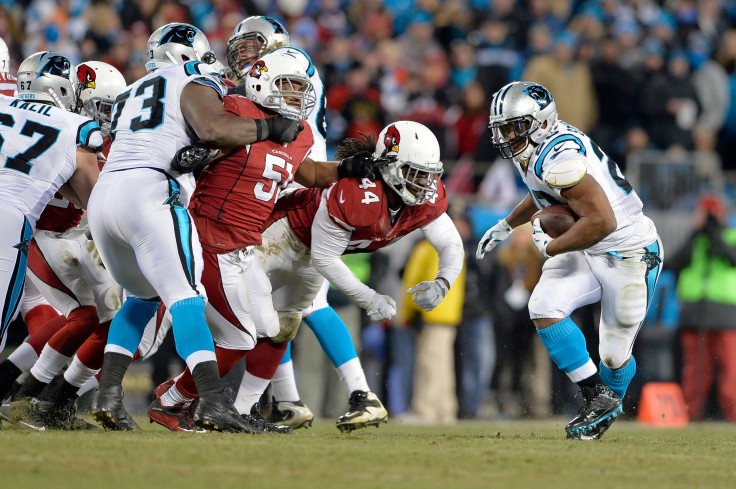 There is one final day for fantasy football players, and it's the biggest game of them all: the Super Bowl. Defense is the main course on the menu when the stingy units of the Denver Broncos and Carolina Panthers duel in February.
With only two teams remaining, FanDuel and DraftKings owners have little room for error but lots of time to do their research. Denver and Carolina lineup Sunday, Feb. 7, giving owners two weeks to parse through stats and rankings to determine who they should start before hibernating until the 2016 fantasy football season.
As owners begin to tinker and toil with lineups, check out or weekly rankings below as a key or guide to your decisions two weeks ahead of the Super Bowl.
Here's our full rankings for Super Bowl 50, and who weekly fantasy football owners should consider starting in the final game of the season.
QB
1.Cam Newton, Panthers
2.Peyton Manning, Broncos
Bonus: Brock Osweiler, Broncos
The presumed MVP and best fantasy quarterback this season squares off against one of fantasy's greatest passers, and while history is more on Manning's side it's impossible not to bank on Newton after his performance in the NFC title game. The Broncos did own the best fantasy D against QBs this season, so it's fair to expect lukewarm numbers from Newton. But when you're picking between a physical freak and a quarterback in Manning whose production tailed off in the second of the AFC Championship, you really have no choice. Osweiler's here because someone out there might make a gamble and think Manning gets pulled at some point if he gets into turnover trouble. It's highly unlikely, but in the event of a blowout, some owners could have a leg up if Osweiler comes in and throws two garbage-time touchdowns.
RB
1.Ronnie Hillman, Broncos
2.C.J. Anderson, Broncos
3.Jonathan Stewart, Panthers
Super Bowl 50 may go down as the worst for running backs. Carolina just held Seattle's No. 3 rushing attack to 78 yards and Arizona's No. 8 unit to 60 yards. But both of those squads really relied on one running back, whereas Denver rolls out its two-headed attack. Owners can pick either Anderson or Hillman, since both are solid rushers and good pass catchers for PPR leagues. Stewart, meanwhile, gained 83 of Carolina's 152 rushing yards and he's averaging 5.0 yards per carry this postseason. He faces Denver's No. 3 rushing defense, so don't expect huge numbers.
WR
1.Emmanuel Sanders, Broncos
2.Ted Ginn Jr., Panthers
3.Devin Funchess, Panthers
4.Demaryius Thomas, Broncos
5.Corey Brown, Panthers
Both quarterbacks have a fully loaded bounty of receivers to choose from, except each will go up against two of league's most talented pass defenses. Of late Sanders has excelled as Denver's No. 2 receiver with Thomas facing double coverage, and that trend should continue with Carolina cornerback Josh Norman likely draped over Thomas throughout the game. Ginn's been sensational this season, and he's always a threat to break off a huge reception with his speed, but he doesn't collect a high number of receptions, making him less valuable in PPR leagues. In non-PPR league's pick Ginn over Sanders because of his rushing abilities. Funchess and Brown could each be ex-factors while Denver focuses on slowing Ginn and our top ranked tight end.
TE
1.Greg Olsen, Panthers
2.Owen Daniels, Broncos
Olsen's going to be an expensive buy for fantasy owners, but he's showed all season to be worth a hefty price tag. He's coming off a stellar six-catch, 113-yard performance against a usually tough Cardinals D and Olsen routinely finds cracks in defenses for big chunks of yardage. Daniels snagged two touchdowns in the AFC title game, and with Manning showing less and less arm strength Daniels has been his savior with throws underneath and in the red zone. Either's a solid pick, but if you splurge on any position it should be Olsen at tight end.
FLEX
1.Cody Latimer, WR, Broncos
2.Mike Tolbert, FB, Panthers
3.Fozzy Whittaker, RB, Panthers
4.Jordan Norwood, WR, Broncos
Just like in fantasy title games, the Super Bowl often comes down to one unsung hero breaking off a big play, and every FLEX listed here has that ability. Latimer and Norwood may benefit if Thomas and Sanders struggle, while Tolbert's always a red zone threat. Whittaker's a boom-or-bust play if owners decide to pass on Stewart as their running back.
Defense
1.Panthers
2.Broncos
Many rightly believe this game will come down to the defenses, and it's difficult not to pick Carolina over Denver. For one, Newton's big enough to brush off or fast enough to escape Denver's top-ranked pass rush and his big arm should wreak havoc on Denver's secondary. The Broncos do have the best pass rushers in the game in Von Miller and DeMarcus Ware, both of whom could generate sacks, but no one's been able to properly pressure Newton in the pocket all season.
IDP (Individual Defensive Player)
1.Von Miller, LB, Broncos
2.Luke Kuechly, LB, Panthers
3.Josh Norman, CB, Panthers
4.DeMarcus Ware, DE, Broncos
Adding a new category since it's the Super Bowl and because of the dearth of choices. Should you join a league that includes IDPs, you should know linebackers are often the best option because they generate tackles and sacks, and sometimes interceptions or fumble recoveries. That makes Miller and Kuechly the absolute best options. But a healthy Ware's no slouch and could have a huge game against the Panthers frontline. Meanwhile, Manning might avoid Norman's side of the field all game, but there's little chance the first-team All-Pro won't make his mark on Super Bowl 50.
© Copyright IBTimes 2023. All rights reserved.