Fantasy Football Strategy: Standard, PPR Scoring Systems Require Different Draft Techniques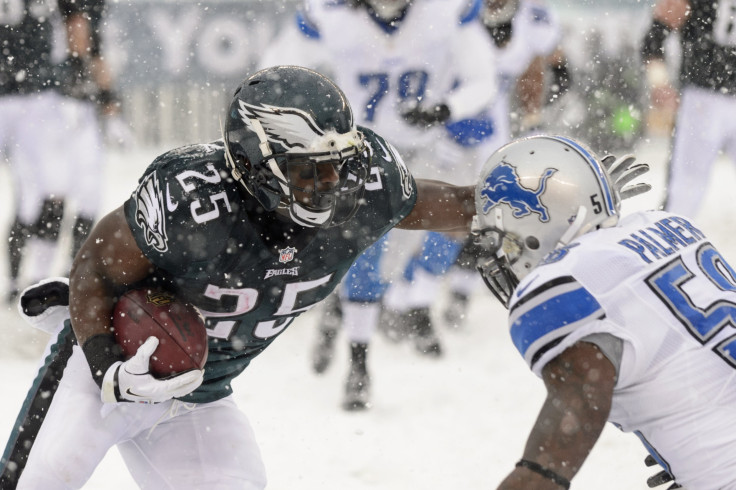 Fantasy football owners face a tough choice in 2014, and it doesn't involve their team names. League commissioners have to decide whether to use standard scoring or PPR (points per reception) scoring to determine the outcome of each week's games. Both league types feature have unique aspects and require owners to make use of different strategies to secure a championship.
For most fantasy football sites, standard scoring is set as the default option for all leagues. Purists will already be familiar with the traditional system, which focuses on the accumulation of yards and touchdowns.
Running backs and wide receivers earn six points for every touchdown that they record, whether through the air or on the ground. Meanwhile, quarterbacks, who record more touchdowns than any other position, typically receive four points per score. This setup prevents a player like Denver Broncos quarterback Peyton Manning – who threw for an NFL record 55 touchdowns last season – from being too dominant.
Standard scoring leagues also weigh yardage differently based on position. Quarterbacks receive one point for every 25 yards passing, while running backs and wide receivers earn one point for every 10 rushing or receiving yards. Conversely, players lose two points for turnovers (interceptions or fumbles lost). Traditional strategy favors the stockpiling of running backs, as they usually have the best chance of amassing both yardage and touchdowns. In addition, quarterbacks that are also a threat in the running game -- such as Carolina Panthers star Cam Newton -- are highly coveted in standard leagues.
The system also allows fantasy football owners to select an entire NFL franchise's entire defense and special teams, rather than IDPs (individual defensive players). A defense's performance is assessed by how many points they allow. For example, if the Pittsburgh Steelers defense/special teams allows zero points in a given week, they would receive 10 fantasy points. The more points their opponent scores, the few fantasy points they would receive.
In addition, standard scoring awards points to defenses/special teams for defensive touchdowns, return touchdowns, sacks and safeties. Each commissioner has the ability to decide which accomplishments will receive fantasy points.
Kickers can also have a major impact on standard scoring leagues. Much as in the NFL, each converted field goal of 39 yards or less is worth three points. However, longer field goals generate more points; kicks between 40-49 yards earn four and kicks of over 50 yards are worth five.
Generally, PPR scoring is quite similar to standard scoring; yards and touchdowns carry the same weight in both league types. However, the one major difference between the two leagues is enough to entirely alter a fantasy team owner's draft strategy.
In PPR leagues, every single reception receives either .5 or one point. This represents a major boost in the value of wide receivers and tight ends. In fact, certain players who aren't worth a roster spot in standard scoring leagues become essential in PPR leagues. A slot receiver who hauls in 80 catches every season can be a gamechanger, even if he doesn't score many touchdowns.
For example, consider the case of running back Darren Sproles. The 5-foot-6 speedster wasn't much of a threat on the ground last season, amassing just 220 rushing yards and two touchdowns. However, he was a PPR machine, adding 71 receptions and over 600 yards receiving.
A PPR format can also affect the order in which players are selected at the top of a draft. For example, Minnesota Vikings running back Adrian Peterson is a monster in standard scoring leagues, routinely posting huge figures in rushing yards and touchdowns.
However, he usually isn't very active in the Vikings' passing game, which hurts his value compared to a player like LeSean McCoy. The Philadelphia Eagles running back caught 52 passes last season, compared to just 29 for Peterson.
Points per reception leagues tend to be feature high-scoring matchups and frantic action on the weekly waiver wire. They require a bit more strategy than standard scoring leagues, so beginners and fantasy football purists should stick to the traditional format. Regardless, fantasy football players should carefully consider their league's particular scoring system ahead of their drafts in order to develop a strategy that best suits their needs.
© Copyright IBTimes 2023. All rights reserved.