FCC Net Neutrality Ruling Was 'Like A Bazooka' To Broadband Industry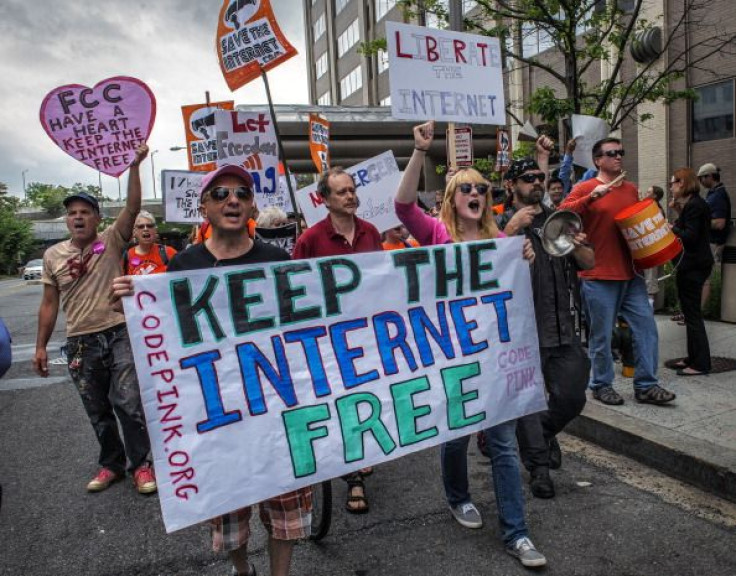 Proponents of so-called net neutrality were given a huge win last winter when the Federal Communications Commission ruled broadband providers must treat all Web traffic equally. Now, the issue has gone to court. A three-judge panel of the U.S. Appeals Court for the D.C. Circuit Friday heard the counterargument from the powers of the U.S. broadband industry: AT&T, CenturyLink, Verizon, Comcast, Charter and Time Warner.
Those tech providers maintain the FCC overstepped its bounds and jeopardized their businesses when it issued a regulation on the Internet in February. For example, USTelecom, a group lobbying on behalf of broadband providers, argued that with the government's new rules, consumers could face more costs.
"It went how I would have expected it. The [judges] ran through it exactly the way they said. … Both sides had their best guys out there," said Kate Forscey of advocacy group Public Knowledge. "I tend to think that the FCC has finally put its strongest foot forward."
In February the FCC backed Netflix, YouTube, Twitter -- essentially every Web service -- by guaranteeing access to American homes. "The net neutrality debate is about who picks winners and losers online: Internet service providers or consumers. Today, the FCC settled it: Consumers win," Netflix said after the ruling.
Net neutrality, or what has also been called the open Internet -- a regulation that forbids service providers from blocking, throttling and charging companies more for fast connections -- was official.
But that wasn't the last word and now the U.S. broadband industry is getting its day in court. "USTelecom believes the FCC used the wrong approach to implementing net neutrality standards, which our industry supports and incorporates into everyday business practices," USTelecom President Walter McCormick said in April.
The 'Bazooka' Classification
The Court of Appeals granted Internet providers more than two hours to make their case. Telecoms and other Internet service providers had taken issue with the reclassification under Title II, the same regulation that applies to long distance telephone companies that allowed anyone access to the pipes.
When the FCC made its ruling in February, it was considered the strongest possible statement in favor of net neutrality and a big setback for the U.S. broadband industry.
"This time the FCC used like a bazooka, the most strong and wide-ranging section of the act, the Title II. It's extremely unlikely that, on the same grounds [as 2014], it will be ruled against. I expect it will be upheld," said Nicholas Economides, a professor of economics at NYU Stern School of Business who has defended the regulations on regulations before Congress in October.
The mobile industry, also covered by the ruling, sees itself as a different category than broadband networks. Mobile companies affiliated with the Wireless Association took issue with which statutes directly applied to it, since those documents specifically use the words "commercial" services. As Public Knowledge noted, these companies define themselves as "private."
Additionally, there were 20 minutes allotted to an argument on the First Amendment, where Alamo Broadband Inc. attempted to classify ISPs as speakers, not providers. However, Pantelis Michalopoulos of Steptoe & Johnson, a lawyer for the intervenors, including Netflix Inc., Dish Network Corp. and Comptel, said such an argument was not viable when he was in court Friday.
Keep Waiting
Economides was also confident the FCC was on firm legal ground and cast doubt on the argument Title II regulation would hamper access to broadband.
"We are facing very rapidly expanding demand on this. So, if the companies come and say, look we won't be able to invest enough in expanding demand, they're essentially accepting defeat. Of course they're going to expand," Economides said.
But some said the FCC ruling won't be enough to protect net neutrality. "It's time to put the FCC's authority on firm legal footing with legislation that avoids the weighty baggage of Title II's Depression-era utility-style of regulation," Doug Brake, policy analyst with the Information Technology and Innovation Foundation, said in a statement.
Blake called Friday's oral arguments "a wake-up call on the need for a legislative solution to the decade-old problem of finding legal authority for open Internet rules."
Industry experts said they do not expect a ruling by the Court of Appeals on Friday's arguments until the first quarter of 2016. Regardless of outcome, the appeals process could go all the way to the U.S. Supreme Court.
© Copyright IBTimes 2023. All rights reserved.