Fear And Loathing In Burundi: As Votes Are Counted An Embattled President Clings On To Power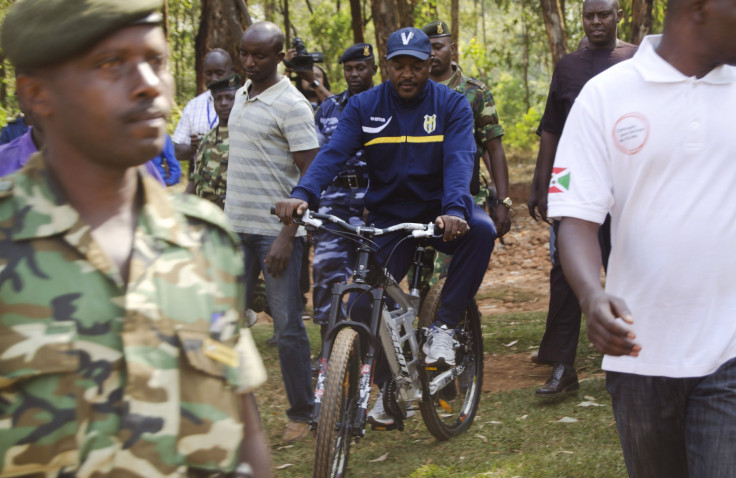 Wearing a zip-up jacket and sneakers, Burundi's President Pierre Nkurunziza was greeted like a god as he biked up to the polling station in his northern hometown of Buye. Shouts of "Our savior!" were heard as townsfolk ran beside him, clapping their hands and calling out words of encouragement as he went to cast his ballot in Tuesday's presidential election.
But Nkurunziza, viewed in some parts of rural Burundi as a latter-day Jesus Christ, is getting an international reputation as an iron-fisted authoritarian, clinging on to power and violently cracking down on pro-democracy protesters.
International humanitarian organizations have called on the U.N. Security Council to send a mission to Burundi to see that mass atrocities are not carried out in the fallout from the election. Dozens of people have already died in protests in the world's third-poorest country, which emerged from civil war only a decade ago.
The embattled president is vying for a third term, even though many countries, including the U.S., have said they will not recognize the election results. By running again, Nkurunziza is flouting a Burundian law that asserts presidents are allowed to sit for only two terms.
Last month, Nkurunziza's party, the National Council for the Defense of Democracy-Forces for the Defense of Democracy, won a sweeping victory in parliamentary elections -- a win that's also been refuted.
Opposition politicians accused the president of violating the constitution and boycotted the vote. Some of the presidential candidates pulled out of the race, claiming the election was not credible. In the lead-up to the election, the capital's residents took to the streets -- two people were killed on voting day, but relative quiet has since ensued.
A Burundian opposition activist, who asked to remain anonymous for security reasons, said the capital was functioning normally Wednesday, but some banks and shops were still closed -- most companies in Burundi have been shut down for months because of the country's dwindling economy.
'Must Not Simply Stand By'
But human rights advocates say the violence could take a turn following the vote-counting. "The international community must not simply stand by and wait for mass atrocities to unfold, thereby risking a major conflict of regional proportions before it finally decides to act," a statement issued by the office of the U.N. high commissioner for human rights said.
Burundi election officials are still counting votes, but analysts on the ground told International Business Times that Nkurunziza will win. Electoral Commission President Pierre-Claver Ndayicariye said Wednesday that around 74 percent of the country's 3.8 million registered voters cast their ballot, but outside observers say that number seems too high. Local news outlets said Tuesday that voter turnout was low and estimated there were more election officials than voters at any given station.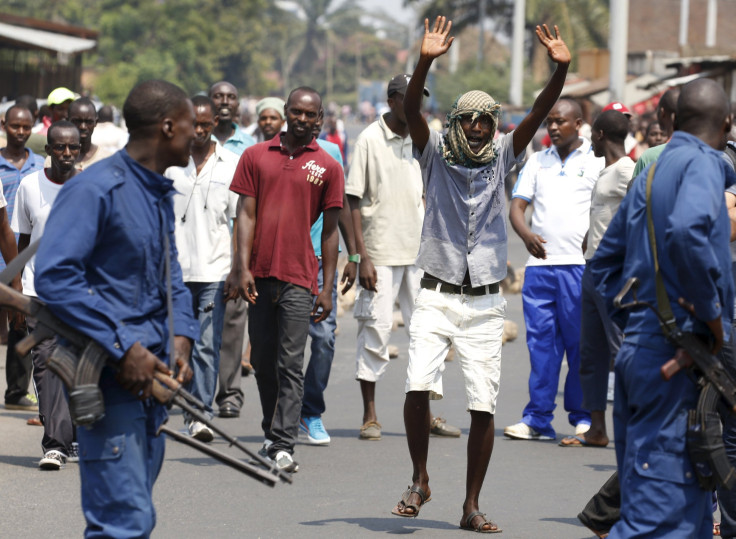 Protests continued to take place in the capital during the election. The demonstrators threw Molotov cocktails at police officers, demanding the election results be thrown out. But in the north, it seemed, many residents voted for Nkurunziza, claiming he saved them during the country's civil war and he would continue to protect them in the future.
"There has been quite a strong media campaign by the ruling party in the rural areas," Yves Niyiragira, a Burundian analyst living in Kenya, said, adding that Nkurunziza and his party have planted stories in local papers to gain support. "In the rural area there are people who really support him because that's what they've been told."
Platform Of Fear
"But also if you look at the level of education of [rural] people in Burundi, the majority of them can't read or write," Niyiragira said. "It is hard for them to read the constitution and make a decision for themselves. That is the problem."
Beyond media influence, there are some people in Burundi who believe in Nkurunziza and his ability to rule. Nkurunziza, a former Hutu rebel leader, was the first president to be democratically elected since the start of Burundi's civil war in 1994.
"There are some of Burundi people who consider Nkurunziza as a liberator or as the one who has brought peace to Burundi," Spageon Ngabo, a Burundian activist, said. He was chosen as president in 2005 and reelected 10 years later -- since then opposition parties have accused him of behaving increasingly like a dictator. "Nkurunziza uses the media to keep true information away and to nourish people with false information," Ngabo said.
Other pro-democracy protesters believe that Nkurunziza operates on a platform of fear. In his first public appearance since the attempted coup against his government in May this year, he announced, "It's either me or [terror group] al-Shabab." One activist, who fled Burundi after becoming the target of security forces, said that even though 1 in 7 citizens cannot read, they still have means of understanding the truth.
On condition of anonymity he told IBTimes, "Many of them don't even really believe in the president. They're just scared. They've been told that if they don't support him or run alongside him to the polling station they will be killed."
© Copyright IBTimes 2023. All rights reserved.