In Fear Of Losing Raqqa Headquarters, ISIS Counterattacks Against Kurdish Militias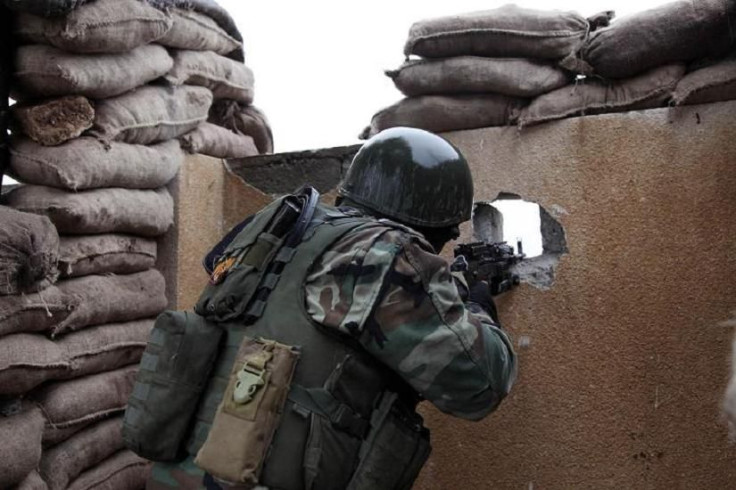 ISTANBUL -- The Islamic State group has launched what Kurdish military officials are calling the first big offensive against their militias since the battle for Kobani, which ended in defeat for ISIS. Islamic State militants are attacking northward in the direction of the Turkish border, and according to those Kurdish officials, they are doing so in an attempt to stave off a possible Kurdish offensive on their de facto capital, Raqqa. Losing Raqqa could spell disaster for ISIS, whose operations in Syria are headquartered there.
The defeat in Kobani, with ISIS losing the city at the end of January, has put the group on the defensive against Kurdish fighters, moving the front line closer to Raqqa. The main front between ISIS and Kurdish fighters now sits between Ras al-Ayn on the Turkish border and Tal Abyad, a town just 60 miles (less than 100 kilometers) north of Raqqa, said officials with the Kurdish militia known as YPG, or People's Protection Units. The Islamic State group is trying to stage an assault to drive away pressure on Raqqa.
"ISIS is trying to change its plan of attack, hitting Kurdish areas," Idris Nassan, a Kurdish official in Kobani, said. "They are gathering and attacking in places close to Raqqa such as Tal Abyad because if they lose Tal Abyad, they lose Raqqa, which would be a big loss for them."
"The Kurdish soldiers and members of the Free Syrian Army fought ISIS in coordination with coalition airstrikes," said Nassan. "There was help from the U.S. but not like when the fighting was fierce in Kobani." In the battle, Nassan said, the People's Protection Units and Free Syrian Army used weapons they had seized from ISIS in Kobani, the Syrian military and others bought on the black market .
The fighting caused relatively heavy casualties, indicating the importance of the offensive for ISIS, which lost 35 militants, while "dozens" were killed within YPG ranks, Nassan said. The fighting continued into Wednesday night.
As well as around Tal Abyad, ISIS is attacking around 60 miles to the east, near Ras al-Ayn. Those battles are an extension of skirmishes that have been taking place east of Kobani for the past month, after ISIS was expelled from the latter, said Ras al-Ayn members of the Kurdish National Council, a Kurdish political group involved in the Syrian war.
It is not clear how many ISIS fighters still reside in Raqqa, but activists from the city have said the Sunni militant group holds training sessions there, and sends out from it shipments of weapons to its soldiers throughout Syria and Iraq. The group is trying to shift some of the functions it now performs in Raqqa to a new hub in Iraq.
The new ISIS base in Iraq IS in Hawija, a Sunni-majority town southwest of Kirkuk where militants held a parade over last month displaying Kurdish soldiers as hostages in cages. Hawija is off a major highway that leads from Mosul to Baghdad, and it was first infiltrated by ISIS in June last year, at the time it took Mosul, the second-biggest Iraqi city. Since then, the group has taken over several small villages surrounding the town, and now it has gained enough ground and support from local people -- most of whom belong to the same branch of Islam as ISIS -- to turn Hawija into a center that could eventually host some governance and logistics functions now performed in Mosul and Raqqa.
© Copyright IBTimes 2023. All rights reserved.
FOLLOW MORE IBT NEWS ON THE BELOW CHANNELS