Fearless Syrian Women Volunteer To Pick Up The Pieces After Bombings
BEIRUT— Rival international powers and opposing nonstate militias met in Geneva this week for a series of talks on a possible political solution to the Syrian crisis. But on Syria's crumbling streets the same power struggles are playing out much more violently than in Geneva's carpeted conference rooms. While delegations debated Syria's future, 30-year-old Nojod was in the southern Syrian province of Daraa teaching children what to do in case of a bombing or a gas attack: "Lie on the ground. Cover your ears. If you are under rubble, try to make a noise so that someone can try to save you." It's the Syrian version of classroom training for an earthquake.
Nojod is a member of the Syria Civil Defense (SCD), a group of civilian volunteers who pull bomb victims from the rubble of their homes. Recruits were previously all men but now, equipped with search and rescue training and new ambulances, two teams of women are preparing to save lives in this long-standing civil war. The group's services are in high demand: Following a triple suicide attack in a Syrian regime-controlled suburb of Damascus Sunday, killing at least 70 people, forces loyal to the Syrian regime retaliated with increased shelling and a barrage of indiscriminate barrel bomb attacks in a suburb where residents are already suffering from starvation. Once the warplanes cleared, it was up to the SCD volunteers to pick up the pieces — literally.
"I am not scared; we're used to it," Nojod, who chose not to give her last name for security reasons, told International Business Times over Skype from Daraa. "I joined the SCD because our work is humanitarian and it's a neutral institute which serves all the people during bombings and in any other [crisis]."
Several times during the call, Nojod had to seek shelter because of incoming regime airstrikes. Her life now is very different from her prewar existence as a second-year English student at Damascus University. As the fighting got worse, and the airstrikes more frequent, Nojod was forced to give up her studies six months ago and joined the SCD. But she's still trying to improve her English, she told IBT, by reading whatever books she can find and looking up words in the dictionary.
When Nojod, and other female volunteers, first came on board last October, their primary duties were training children on the correct safety procedures during an airstrike and community outreach.The women wrote a play for young people to raise awareness about what to do before, during and after a bombing, in addition to avoiding unexploded ordnance (UXO).
In one informational pamphlet distributed to children, photos of unexploded munitions are shown and a small cartoon dog tells children they should not step on them. The second page shows a collection of items including a hammer, an ax, a radio, a fire extinguisher and an assault rifle. The dog tells the children to put an X on the item not used by SCD volunteers (the rifle), so children know how to identify them.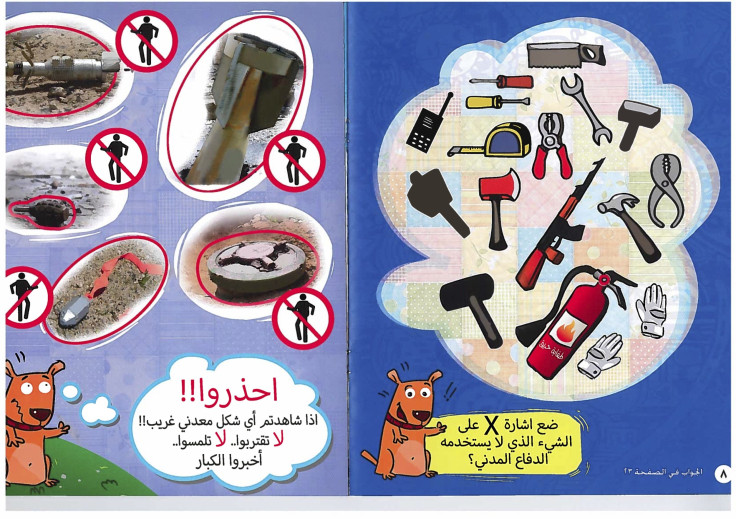 As of this month, 2,850 SCD volunteers operated in 114 centers across Syria — some of which see an average of 50 bombs falling every day. Before the SCD became a unified body, also known as the White Helmets, many were members of local councils operating independently in opposition-held areas of Syria. It was these councils that the Office of Transition Initiatives (OTI) — a branch of the United States Agency for International Development (USAID) — sought to bolster through its Syria Regional Program Option in 2013.
The program allowed OTI to make important inroads with local councils, holding a series of discussions, media training and workshops in Gaziantep, Turkey, in 2013. But SCD didn't become a unified body until the following year, when international humanitarian organization Mayday Rescue reassembled Syrian local council representatives in Turkey. Fourteen councils signed the International Civil Defense Society Charter, a unified pledge to uphold humanitarian principles, the most important being a commitment to saving lives and remaining neutral in an environment that was becoming increasingly fractured. They vowed to try to save everyone's life, no matter their political affiliation or religion.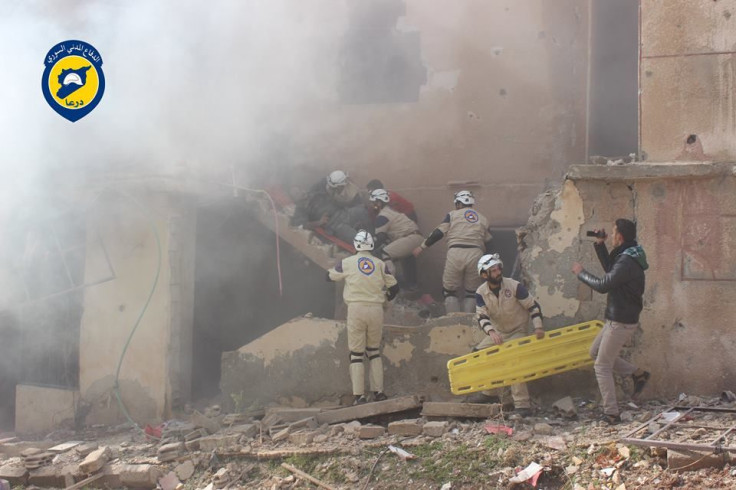 Two years on, USAID has given more than $18 million directly to SCD's civil defense teams and, today, SCD receives major funding from Mayday Rescue with "generous" donations from the governments of the U.K., Japan, Denmark and the Netherlands, according to Mayday's founder and director, James Le Mesurier.
"On an organizational basis [SCD is] neutral. [Volunteers] will rescue everyone. Individually, they are part of the opposition. That is compatible with humanitarian law," Le Mesurier said. "They're all ordinary people who have made the most extraordinary choice of what their role in the revolution will be. A personal choice to save other people's lives."
In Daraa, there are some 369 volunteers who have made this "extraordinary choice," just 22 of whom are women. But, in the coming weeks, the female contingent of the Daraa branch will be joining their male counterparts as search and rescue workers, first responders and field medics.
Last week, Nojod and two dozen other women returned from 10 days of search and rescue and emergency medical training in Jordan with Mayday Rescue and other international humanitarian organizations. This was the SCD's fifth cycle of training and both women and men volunteers followed the same program, Le Mesurier told IBT.
"Female participants have been superb and dynamic. We were very fortunate to have a number of female paramedics," Le Mesurier said. "The communities demanded participation of women. Barrel bombs are gender neutral."
Training focused on burns and crushing — injuries common after a bomb blast, a gruesomely frequent event in Daraa, the birthplace of the 2011 uprising against Syrian President Bashar Assad that sparked the civil war. Daraa is also the last major stronghold of opposition forces, making it one of the areas of heaviest bombardment from the Syrian regime and its Russian allies.
Around two-fifths of the civilians killed by Syrian and Russian bombs are women and children, according to the Syrian Network for Human Rights. The majority of fatalities are the result of barrel bombs, improvised unguided explosive devices filled with assorted materials including fuel, TNT and, frequently, metal fragments, nails and ball bearings to maximize the number of casualties when they're dropped from an airplane or helicopter.
Last month, the SCD in Daraa responded to 260 operations and incidents, according to the group's own report. Volunteers pulled a total of 254 people from the rubble, including 43 bodies.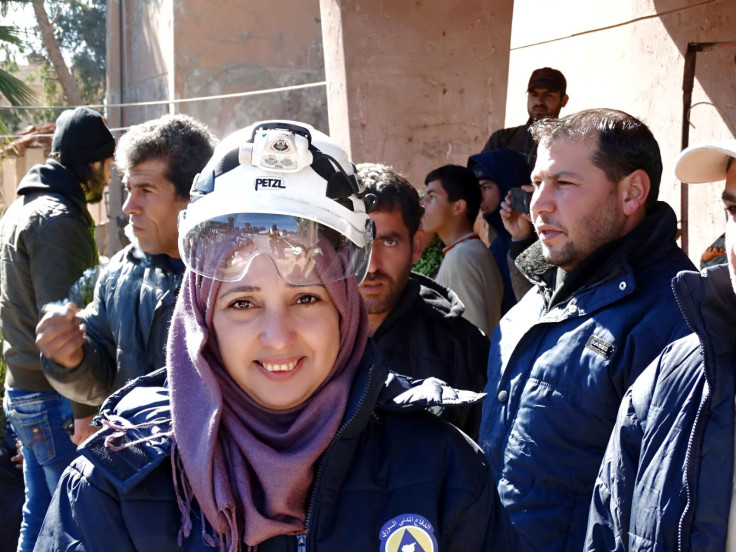 "I joined them to help and save people, especially women, because our communities sometimes don't accept the idea that a man may save a woman under the rubble while she is without clothes," Manal, one of Daraa's newly trained paramedics and search and rescue volunteers, told IBT. "Men save women but there are special cases where they need a woman to help."
When asked if she was afraid of the risks that come with her new position, Manal replied, "On the contrary, I'm enthusiastic to do such work. I was waiting for this, but I knew I needed more experience and training to be able to help seriously."
The 32-year-old was working in business administration before the war, and in 2011, she joined the first groups of pro-democracy protesters. Later, she became an active member of the opposition, working as a media activist and freelance journalist. But when she made the choice to join the SCD, she was forced to put aside her political convictions.
"My humanity and work require from me to be neutral and help injured people because he is a human being regardless of anything else," Manal said. "This is the most important principle."
© Copyright IBTimes 2023. All rights reserved.