Fed Sets Tapering Of Asset Purchases To $75 Billion, From $85 Billion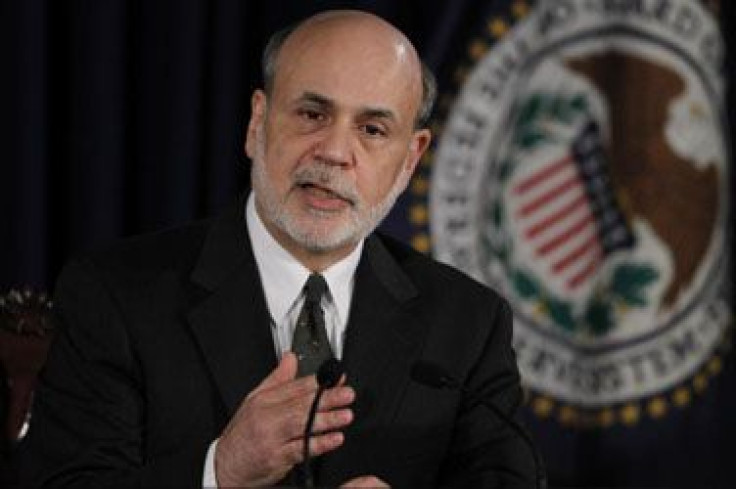 The U.S. Federal Reserve said on Wednesday that it will reduce its monthly open market purchases of financial assets to $75 billion, down from $85 billion previously, and it slightly raised its economic growth outlook for the nation.
"Beginning in January, the Committee will add to its holdings of agency mortgage-backed securities at a pace of $35 billion per month rather than $40 billion per month, and will add to its holdings of longer-term Treasury securities at a pace of $40 billion per month rather than $45 billion per month," the Fed said in a statement released Wednesday.
The Fed said it now expects the U.S. economy, the world's largest, to grow by 2.8 percent to 3.2 percent next year, up from an earlier 2.9 percent to 3.1 percent estimate.
"Our best guess at this stage is that the purchases are halted completely by late Summer 2014. The decision wasn't unanimous, but there was only one dissention, suggesting the tapering call wasn't quite as close as we had expected," Paul Ashworth of Capital Economics said in a research note published shortly after the Fed's decision was released.
It also said it expects unemployment to range between 6.3 percent and 6.6% in 2014 and 5.8 percent and 6.1% in 2015.
"The Fed attempted to offset the market impact of its tapering announcement by strengthening its forward guidance regarding when it would begin to raise the fed funds rate from near-zero," Ashworth wrote.
The Fed expects 2014 inflation to be 1.4 percent to 1.6 percent, slightly more than its previously forecast 1.3 to 1.6 percent estimate.
"Taking into account the extent of federal fiscal retrenchment since the inception of its current asset purchase program, the Committee sees the improvement in economic activity and labor market conditions over that period as consistent with growing underlying strength in the broader economy," the Fed concluded.
© Copyright IBTimes 2023. All rights reserved.
FOLLOW MORE IBT NEWS ON THE BELOW CHANNELS