Federal Reserve System: FOMC Statement Hints At September Rate Hike Following 'Soft' Q1 Economic Growth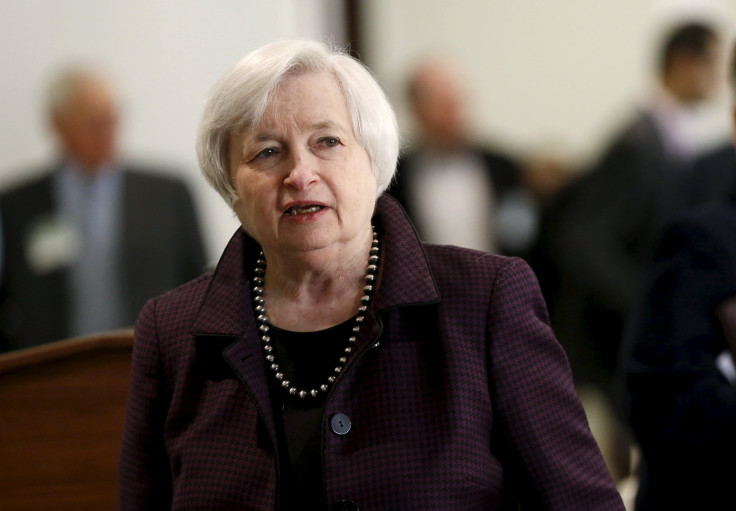 The U.S. Federal Reserve kept interest rates at historic lows Wednesday, following the release of a disappointing gross domestic product report that revealed the U.S. economy grew slower than expected in the first quarter. The central bank said business investment "softened," the recovery in the housing sector remained slow, and exports declined, suggesting the central bank will likely wait to raise rates until after its June meeting.
"The Committee anticipates that it will be appropriate to raise the target range for the federal funds rate when it has seen further improvement in the labor market and is reasonably confident that inflation will move back to its 2 percent objective over the medium term," the Federal Reserve said in its monetary policy statement Wednesday.
However, the Fed also said it expects economic activity to expand at a "moderate pace," saying growth had "slowed" during the winter months due to "transitory factors" from the effects of declines in energy and import prices. Inflation is still expected to rebound as the temporary dampening effects of lower energy prices and the stronger U.S. dollar fade. But the Fed said it won't begin to hike interest rates until it is "reasonably confident" that inflation will climb back to the 2 target over the medium term.
"It would take something quite spectacular to convince Fed officials to raise rates in June," Paul Ashworth, chief economist at Capital Economics, said in a research note Wednesday. "Given the importance of the first rate hike, which would be the first policy tightening in almost a decade, the conventional wisdom is that the Fed would then wait until at least September."
The U.S. economy grew slower than expected in the first quarter, expanding just 0.2 percent, owing to harsh winter weather, a strong dollar and a slowdown in shipping due to the West Coast port disputes.
"The U.S. economy seems to be navigating through a soft path, as evidenced by the GDP number this morning," said Terry Sandven, chief equity strategist at U.S. Bank Wealth Management. "The Fed is going to tell us what we already know, that the U.S. economy is showing varying degrees of improvement, but at a pace that does not necessarily warrant a move up in rates until possibly the early part of the second half of the year."
Economists are looking ahead to the central bank's next two-day policy meeting on June 16-17, which will also include a press conference from Federal Reserve Chair Janet Yellen.
© Copyright IBTimes 2022. All rights reserved.
FOLLOW MORE IBT NEWS ON THE BELOW CHANNELS