Federer crushes Murray to go top of Group B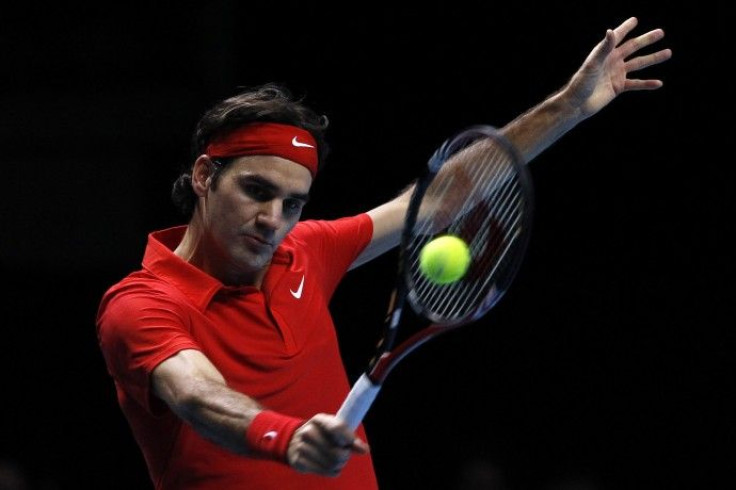 Roger Federer had the O2 Arena in a daze as he cruised past British No. 1 Andy Murray 6-4 6-2 in the second game of the round-robin stage in the ATP World Tour Finals.
The Swiss master now stands in a commanding position at the top of Group B after having beaten David Ferrer in the first game on Sunday, and will play Sweden's Robin Soderling next.
Federer's masterful performance saw him lose only eight points on his serve - three in the first set and five in the second.
Andy Murray was surprisingly, not at the top of his game and couldn't play to his strengths. The local favorite had problems right from the start as Federer forced him to save a break point in the opening game. But the real let down was his serve landing only 32% of his first serves.
The Englishman said, I did the two most important things in tennis very poorly today, which is serve and return. Against someone as good as Roger, you can't do them badly. You're not going to win the match and that's why the score line was like it was.
But it happens sometimes against him and against the best players if you're not quite on your game. I just have to try to pick myself up for the next match and put myself in the semis.
I got off to a bad start in both sets, which doesn't help. I returned poorly, served poorly, said Murray, who won just eight points on Federer's serve.
Normally my return game is the strongest part of my game. Today, I didn't put many returns in the court and I didn't put any pressure on his game.
Murray has now won one and lost one in his two games at the end of the season championship. His defeat comes as a surprise as the Englishman had beaten Federer in their two most recent encounters including the 6-3 6-2 win in the final of the Shanghai Masters in October.
Federer said he himself was surprised. Andy has beaten me the last few times so I'm surprised how clean the score was today, but I don't think Andy played his best match, that's for sure.
He got off to a bad start with his serve and never really found it. That's what happens in best-of-three set matches. They are over in a hurry and you don't know what happened.
I'm surprised it went so well, almost a bit shocked to be honest. But obviously I'm happy I'm playing so well.
In the other match, Soderling broke Ferrer in the final game of both sets to win 7-5 7-5. The win pushes the Swede to joint second in the group along with Murray.
Federer leads the group with two wins in two games, with Murray and Soderling following. Ferrer is last with no win, but still stands a chance to go through if he wins against Murray without dropping many games.
As things stand, Murray is the favorite to go through with Federer as his percentage of games-won is better than that of Soderling, though it is just by two games.
© Copyright IBTimes 2023. All rights reserved.