Feds Shut Down Three Chinatown Bus Operators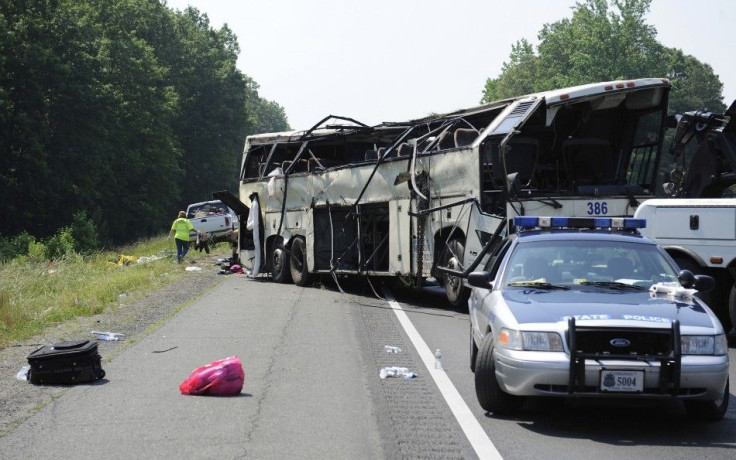 Federal officials announced on Thursday that they were shutting down 25 curbside intercity bus lines after an extensive investigation found evidence of deteriorating buses and unsafe drivers.
Each of the bus companies targeted by the federal probe -- Apex Bus Inc., I-95 Coach Inc., and New Century Travel Inc. -- oversees a small constellation of related companies. The investigation found a litany of safety violations that included unlicensed drivers operating buses for long periods without rest, and rarely inspected buses with worn-out tires and brake pads.
This is a huge, big deal for us today, Secretary of Transportation Roy LaHood told reporters during a conference call. This isn't some overnight deal - this is something we've been working on, and we want people to know bus safety is one of our top priorities.
Authorities described a pattern of evading punishment in which they would shut down a bus line only to see the parent company revive it under a new name. Investigators consistently uncovered companies that should not have been operating and who deliberately restructured their operations to skirt federal safety regulations, National Transportation Safety Board chairman Deborah Hersman told the Washington Post.
They've slapped another name on the side of the bus and started driving again, LaHood said on the conference call. These buses are not on the road today, and we're going to focus like a laser beam in making sure they don't get back on the road.
Officials described the crackdown as the largest ever to target the motor coach industry, affecting companies that ferry some 1,800 customers a day along a corridor reaching from Florida to New York. 13 of the companies were still operating despite having had their licenses revoked, nine were active and three were awaiting government approval. Authorities also shut down a ticket seller.
Discount bus companies that transport passengers between major East Coast cities have proliferated over the last decade, with new companies like Bolt Bus and Megabus offering an inexpensive means of travel. Bus safety advocates say the appearance of such inexpensive, well-regulated bus lines is a public benefit.
But it is the so-called Chinatown bus lines, operating outside of the framework of government regulations, that authorities say pose a threat. A series of gruesome bus crashes last spring amplified those concerns and prompted the investigation.
The Associated Press reports the list of shuttered companies as follows:
Apex Bus Inc.: New Egg Bus Inc/; Asia Tours Inc.; Universe Bus Inc.; A One Bus Inc.; All State Travel Bus Inc.
I-95 Coach Inc.: Go To Travel Inc.; Twins Jiang Corp.; United Tours Inc.; Hu Mei Express Inc.; Tony Bus Line Inc.; Tony Bus Line Express Inc.; Coach 88 Inc.; Tony Bus Express Line Inc. (Bowie, Maryland location); RA Transportation Inc.
New Century Travel Inc: Antai Tours Inc.; Super Luxury Tours Inc.; Red Eagle Tours Inc.; 2003 Coach Inc.; Eagle Bus Inc.; Fujian Tourism Company Ltd.; Sammy's Tour Inc.; Black Leopard Travel Inc.; New Century Travel Inc.; Wahoo Tour and Charter Inc.
© Copyright IBTimes 2023. All rights reserved.
FOLLOW MORE IBT NEWS ON THE BELOW CHANNELS