Female Suicide Bombers Kill 30 In Nigeria, Boko Haram Suspected In Attack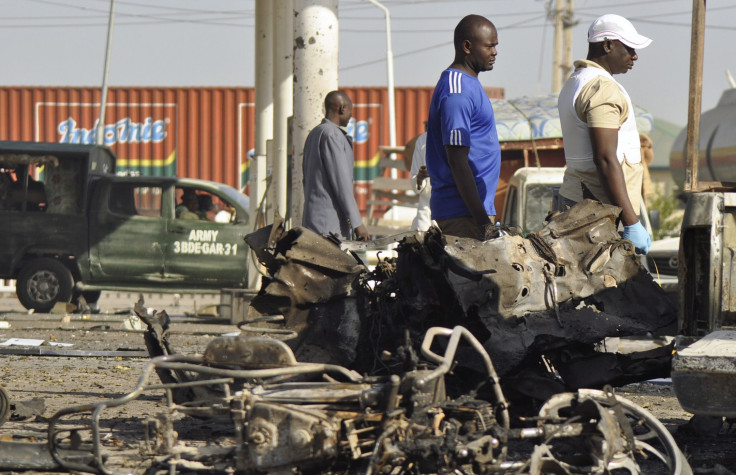 Two teenage female suicide bombers killed at least 30 in Nigeria's northeast city of Maiduguri, a Boko Haram stronghold, the Associated Press reported. The bombs were set off in the city's main market, and while the militant group has not claimed responsibility for the bombing, many suspect Boko Haram to be behind the latest attack.
A witness, Sani Adamu, speaking to Reuters, said there were up to 30 bodies on the ground, but it was unclear if they were among the wounded or dead. "While the people were trying to help the injured the second bomb blasted. I saw lots of bodies," Adamu said.
The first teen set off a bomb, killing three women, while the second blast killed an additional 30, Abba Aji Kalli, the Borno state coordinator of the Civilian Joint Task Force, said to AP. "I am right here at the scene and I have before me 11 corpses ... many have been taken away by relatives, while others are taken to the state specialists' hospital," Kalli said.
The suicide bombing was similar to recent attacks led by Boko Haram in northeastern Nigeria. On Saturday, the militants killed at least 50 in the village of Doron Baga, and an earlier attack on Wednesday on the village of Azaya Kura killed at least 45. During the first half of 2014, Boko Haram killed 2,053 civilians in approximately 95 attacks spread across 70 towns in northeastern Nigeria, Human Rights Watch reported in July.
"We urge your government to uphold its responsibility to protect populations from mass atrocity crimes and end human rights abuses against civilians. This includes by ensuring that security forces observe international human rights and humanitarian law as they confront Boko Haram, and that all government agencies exercise due process, including fair trials, and uphold the prohibition against torture, enforced disappearances, prolonged detention and arbitrary executions when dealing with suspected Boko Haram members," Human Rights Watch wrote in a letter to Nigerian President Goodluck Jonathan.
The president is expected to extend a state of emergency, first declared in May 2013, in three northeast Nigerian states, Reuters reported.
© Copyright IBTimes 2023. All rights reserved.