Ferguson Police Officer Darren Wilson: What Happens Now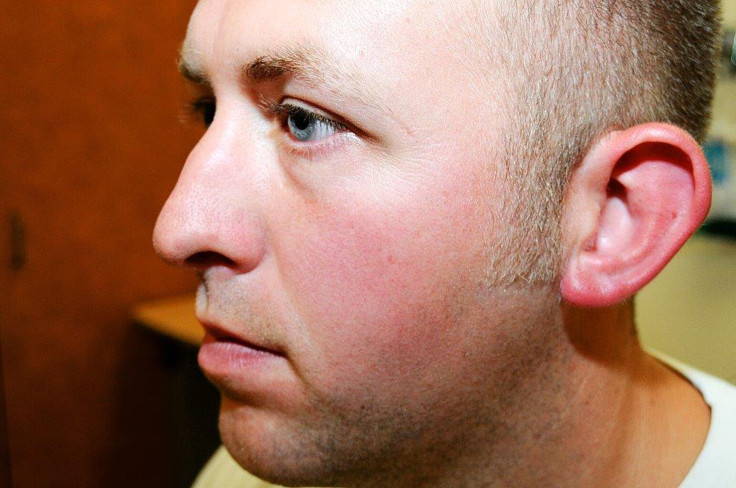 Officer Darren Wilson was not charged in the fatal shooting of unarmed Missouri teen Michael Brown, but it's uncertain whether the Ferguson cop will return to duty or resign. In an exclusive interview with ABC News, Wilson expressed concern about staying in Ferguson, where protesters are enraged by a grand jury's decision not to indict, and said he's unsure what lies ahead.
"Do you think they would accept me? Do you think it would be safe for me?" Wilson told ABC's George Stephanopoulos Tuesday. "No decisions have been made, but these are all things we're contemplating."
The 28-year-old officer recently got married and has a baby on the way. He reportedly told colleagues he will resign in order to protect his fellow officers and ease tensions in St. Louis County, sources told CNN. Wilson told ABC News he's considering opportunities outside the line of duty, in which he can forge a positive experience out of a negative one. "I'd love to teach people. I'd love to give people more insight on uses of force," Wilson told Stephanopoulos.
"He's a murderer," Brown's father told CNN's Sunny Hostin in an interview Wednesday.
Whether Wilson stays or leaves town, his name is inextricably linked to a long list of controversial police shootings and brutality incidents -- events that have proved difficult for other officers to overcome in both their personal and professional lives. Some fight to remain on the force, while others move out of state and start anew. Below are two incidents that reverberated throughout the nation and the world.
The Fatal Shooting of Amadou Diallo
After 13 years, New York Police Department Commissioner Raymond Kelly agreed to return a service weapon to officer Kenneth Boss, one of the four cops involved in the fatal shooting of Amadou Diallo. Officers said they believed Diallo had a gun when they shot the unarmed man 41 times outside his Bronx apartment on Feb. 4, 1999. The four officers were acquitted of all charges by a jury in 2000 and reassigned to desk duty with their guns and badges taken away, according to the New York Times.
Three of the four officers opted to leave the force. Edward McMellon and Richard Murphy have been active duty firefighters for over a decade in Brooklyn and the Bronx, respectively. Sean Carroll was reassigned to police duty at Floyd Bennett Field in Brooklyn and retired soon after in 2005, the New York Times reported.
Boss, however, stayed on and subsequently filed suit in 2002, arguing he was performing regular police duties and needed to carry a weapon. Boss was denied several times until Kelly agreed to return his weapon in October 2012. Now, Boss is on full duty in the NYPD's special operations division, where he responds to critical and emergency situations, according to the New York Times.
The Beating of Rodney King
Rodney King was kicked and beaten by four Los Angeles police officers following a high-speed car chase through Los Angeles County on March 3, 1991. The brutal beating was captured on videotape by George Holliday from his apartment balcony. Two years later, a federal jury convicted two of the four Los Angeles police officers on the charge of violating King's civil rights. Sgt. Stacey Koon and Officer Laurence Michael Powell were sentenced to 32 months in prison. Officers Timothy Wind and Theodore Briseno were acquitted of all charges, according to CNN. The acquittals triggered deadly riots in Los Angeles.
While in prison, Koon wrote a book and raised $4 million in legal funds. The 61-year-old former cop stays out of the public eye due to continued death threats, according to his lawyer Ira Salzman. "He's a committed family man," Salzman told the Los Angles Times in 2012. "And he's moving forward with his life as best as he can." Meanwhile, Powell worked in the computer retailing industry after leaving prison. The 49-year-old former cop lives in San Diego County, according to public records and the Los Angeles Times.
Wind was subsequently fired from the Los Angeles Police Department and took a part-time position as a community service officer. Six years later, Wind went to law school at Indiana University. Wind, now 51, lives a "lonely, sullen life" in Indianapolis with "no job, no money, no friends," according to a Los Angeles Times interview in 2004, though public records show the former cop now lives in Kansas.
Briseno was also fired despite attempts to keep his job. During the trial, Briseno admitted to stomping on King and testified against his fellow officers, saying they were "out of control," the Los Angeles Times reported. Acquaintances told the Los Angeles Times in 2012 that the 59-year-old former LAPD officer lives in Illinois.
FOR FREE to continue reading
✔️ Unlock the full content of International Business Times UK for free
offer available for a limited time only
✔️ Easily manage your Newsletters subscriptions and save your favourite articles
✔️ No payment method required
Already have an account? Log in
© Copyright IBTimes 2023. All rights reserved.