Ferguson Police Say Gas, Arrests Necessary After Protester Was Shot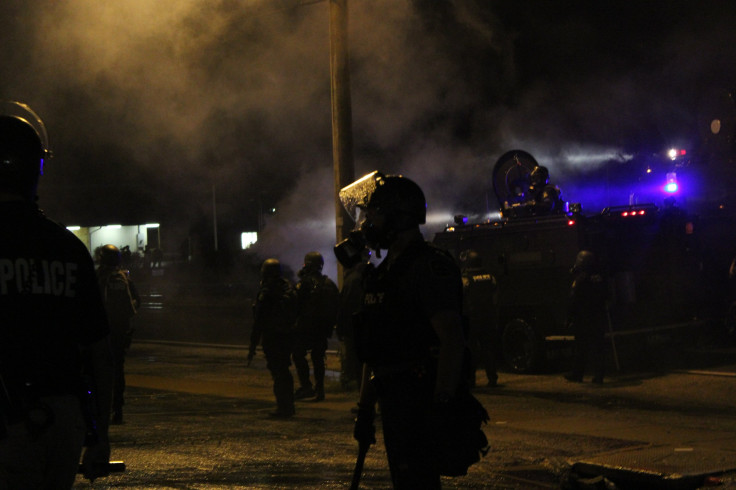 Update 8 p.m.: Authorities in Ferguson, Missouri, Sunday ordered a curfew to begin at midnight midnight in a bid to stem the violence that has erupted in the wake of the shooting death of Michael Brown Aug. 9, Missouri Highway Patrol spokesman Justin Wheetley said.
Original post:
FERGUSON, Mo. -- Once again, police officers in riot gear and armored vehicles used tear gas and smoke bombs against a group of protesters in Ferguson early Sunday morning, arguing that the military-style tactics were necessary to control the crowd.
"Tonight's response was a proper one," Missouri State Highway Patrol Capt. Ron Johnson later told reporters. He explained that police had only moved in on protesters after they received word that one of them had been shot.
As a midnight curfew moved closer on Saturday night, demonstrators slowly cleared the street where they had been gathering for over a week after the death of Michael Brown, a black teenager who was fatally shot by a while police officer police last Saturday.
As demonstrators filtered out, police officers in full riot gear assembled in front of nearby stores that were looted one night earlier. They hardly interacted with protesters at all until about 15 minutes after midnight.
By then, roughly 150 people remained outside the QuickTrip convenience store that has become the epicenter of Ferguson's protest movements, violating the curfew imposed earlier on Saturday by Johnson and Missouri Governor Jay Nixon.
Many in the group continued to chant slogans such as "hands up, don't shoot," and "no justice, no curfew, no peace." But not all present were happy to defy the curfew.
"You have the right to protest, but this is going to be a long process," one woman in the group said into a megaphone. "Come back tomorrow morning."
But her efforts were to no avail, and the group held its place, barricaded by a line of cars. Soon afterward police began slowly moving their armored cars towards the group, flanked by officers wearing gas masks and holding full-length shields.
Over a loudspeaker, officers warned protesters that the failure to clear the area would result in "arrest and/or other actions."
At that point, Rev. Cleo Willis Sr., who had been trying to convince the demonstrators to leave, knew it was the time to act.
"I looked back and saw that the police were lining up and advancing," he said. "I tried to inform [the protesters] that the recess was over." But the group remained defiant. He said a group of six or seven protesters took off their shirts and knelt down in front of police officers.
Others yelled "I am Mike Brown. We are Mike Brown," as the armored vehicles drew even closer.
Amid the commotion, some in the area heard a sound that seemed like gunshots, but couldn't confirm it. Later officers fired canisters toward the crowd that issued white clouds of smoke.
Though officers initially told reporters the canisters were just smoke, those at the receiving end experienced stinging in their eyes and skin. The empty canisters left on the road were labeled "CS smoke," which is consistent with tear gas, a fact police later admitted.
In response to the gas, demonstrators ran in different directions towards the nearby residential streets, as SWAT teams used flashlights to scan the area, and blocked off the rest of the main street.
Soon, police were seen bringing suspects back onto the main road and putting them into vans. At a press conference a few hours later, Johnson confirmed that seven people were arrested for failure to disperse.
He also emphasized his displeasure at having to use such tactics, but argued that they were necessary after police received a 911 call reporting that someone had been shot. He confirmed that one person was in critical condition, but had no information about the shooter.
© Copyright IBTimes 2023. All rights reserved.