Ferguson: Protests Across US Cities; Dozens Arrested In Ferguson, New York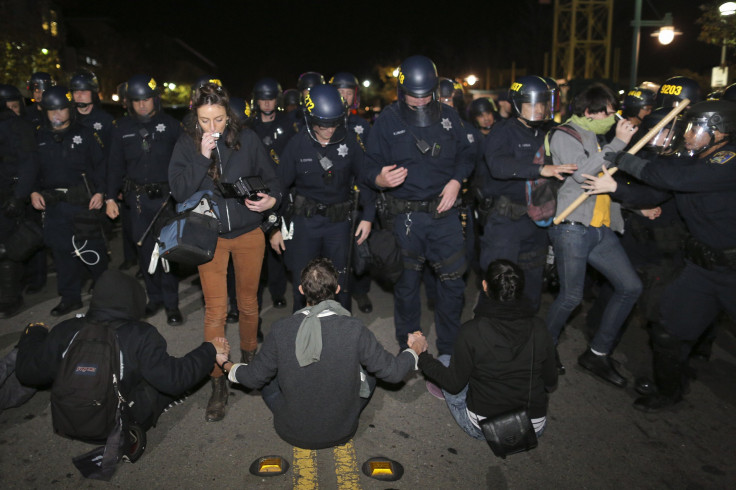 Update as of 6:57 a.m. EST: The New York Police Department said that 10 demonstrators were arrested Tuesday in Manhattan as protests continued in Ferguson, Missouri, according to NBC News. Earlier, St. Louis County police chief Jon Belmar had reportedly said that authorities had detained 44 protesters in Ferguson on Tuesday night.
Furious protesters of the Ferguson grand jury verdict took over several parts of major cities across the United States, and poured into the streets to express their outrage while chanting loudly and blocking traffic.
Anger and resentment were on display in cities as far apart from the St. Louis suburb of Ferguson as Minneapolis, New York and Los Angeles. On Monday night, a grand jury decided not to indict white police officer Darren Wilson in the Aug. 9 shooting death of an unarmed black teenager Michael Brown.
According to reports, during a solidarity rally for Brown in Minneapolis on Tuesday afternoon, a vehicle began honking at a group of protesters blocking the intersection, before running over the legs of a woman. The driver stopped and then took off after being attacked by protesters, Minneapolis Star tribune reported, adding that the driver eventually stopped near E 31st Street and 42nd Avenue S., and is now cooperating with police.
In New York City, thousands of protesters marched on Franklin D. Roosevelt Drive, through Times Square and across the Manhattan Bridge, on Tuesday night, causing heavy traffic snarls along the routes as well as at the Lincoln Tunnel, blocking traffic in and out of the city, The New York Times reported.
Protesters, holding signs saying, "Hands up, don't shoot" and "Black Lives Matter," began to enter the roadway on the Manhattan Bridge around 9 p.m. EST and crossed into Brooklyn, the Times reported.
In Chicago, protesters sat outside the mayor's office while a crowd blocked a major intersection in Cleveland, Ohio, the Times report added.
In downtown Los Angeles, a large group of demonstrators disrupted traffic at several locations while a group of 100 demonstrators briefly crowded an overpass of the 101 highway off Grand Avenue, the Los Angeles Times reported. Authorities also had to close the Expo Line light-rail network between the 23rd Street station and the Expo/Vermont station for about half an hour on Tuesday evening because of protests, before resuming service at reduced speed, according to the LA Times report.
In Washington, protesters lay down on a sidewalk outside police headquarters, and in Boston, a group of about 1,000 protesters took to the streets on Tuesday night, CNN reported, adding that some protesters set several bonfires in Oakland, California, one of which stretched across a road, blocking traffic.
© Copyright IBTimes 2023. All rights reserved.