Ferguson Protests: First Day Of School Cancelled After Mike Brown Death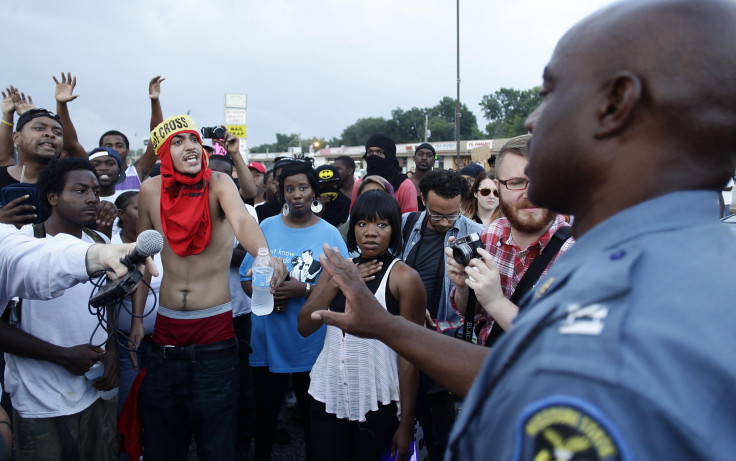 Children in Ferguson, Missouri, were supposed to begin the first day of the school year Monday, but unrest in the St. Louis suburb prompted school district officials to close all schools in the Ferguson-Florissant School District. The decision came as days of peaceful protests in Ferguson over the Mike Brown shooting devolved into looting and Missouri Gov. Jay Nixon sent the Missouri National Guard to Ferguson to restore order.
"Due to continuing unrest in some areas of Ferguson, and in the interest of the safety of students and families, all schools in the Ferguson-Florissant School District will be closed Monday, Aug. 18," reads a message on the school district's website. "Information we have received from officials on the scene late Sunday evening has contributed to concerns we have about children walking to school or waiting for buses on streets impacted by this activity, debris on the roads that could impact transportation, and continued disruption affecting our students and families in the area. While our teachers, principals and administration are eager to welcome our students back to school and to begin the 2014-15 school year, the safety of students is our primary concern."
Lawrence W. Larrew, acting superintendent of the school district, wrote a letter to parents last week saying security at the district's schools was being evaluated, and plans for the first day of school were being reviewed "to provide guidance for constructive, age-appropriate discussion" on the Michael Brown shooting.
"The tragic events of recent days in the City of Ferguson and the surrounding areas are a concern to us as we are sure they are to all of you. To see our community suffering in this way is heartbreaking to all of us," the letter said. "We believe as educators that restoring normalcy and welcoming our students back to school is one of the most effective things that we can do to advance the healing and rebuilding process," Larrew added, noting that grief counseling and other resources were being provided.
© Copyright IBTimes 2023. All rights reserved.