FIFA Corruption: Jerome Valcke's Emails Submitted To Swiss Authorities Amid World Cup Ticket Allegations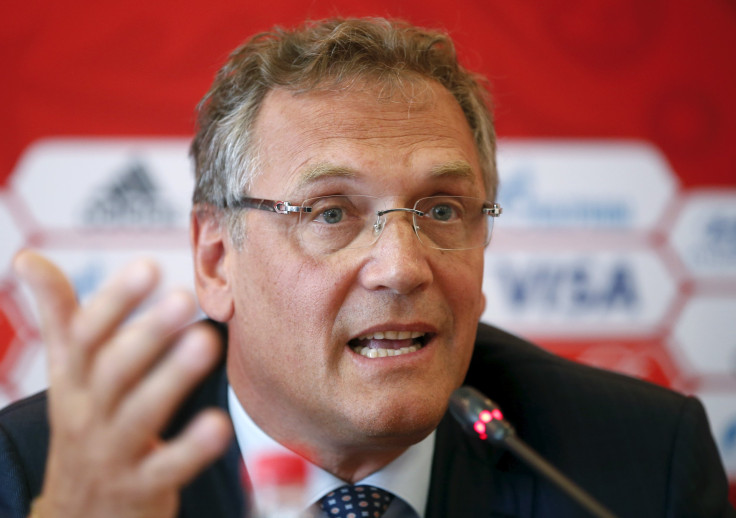 FIFA officials agreed Thursday to provide Swiss authorities with access to emails from Jerome Valcke, the top executive suspended last week after being implicated in a World Cup ticket scandal, multiple reports said. Investigators in both the United States and Switzerland are scrutinizing the inner workings of soccer's international governing body, months after 14 officials tied to the organization were indicted on corruption charges.
Swiss authorities led by Michael Lauber, the attorney general, were granted access to Valcke's emails since May, when nine current and former FIFA executives were among those arrested on charges of accepting millions of dollars in bribes related to FIFA media rights deals. FIFA will also provide emails from before that period, the BBC reported. It's unclear if Swiss authorities will be granted unfettered access to Valcke's older emails.
"FIFA informed the Office of the Attorney General of Switzerland to unseal all email accounts belonging to Mr. Jerome Valcke, suspended secretary-general," Lauber's office said in a statement. "Furthermore, the OAG is pleased to note that FIFA has handed over on its own initiative Mr. Jerome Valcke's emails since May 2015."
FIFA had balked at an initial request from Lauber's office for access to Valcke's emails. The organization acquiesced Thursday morning, backing off from requests that "several conditions" be met before it would turn over access, the Associated Press reported.
Neither Valcke nor Blatter was among those indicted last May, though both FIFA executives remain under investigation. Blatter was re-elected as FIFA's president in June, just days after the unprecedented wave of arrests, though he announced his resignation shortly thereafter.
Blatter will formally relinquish his office after his replacement is chosen in February. FIFA announced the creation of a reform committee over the summer, with recommendations for internal change expected later this year.
Valcke has served as FIFA's secretary-general, the organization's second-ranking official behind Blatter, since 2007. FIFA announced Valcke's indefinite suspension on Sept. 17, hours after a marketing official accused Valcke of conspiring to sell tickets to the 2014 World Cup in Brazil at artificially high prices for personal profit. Valcke has denied the accusations.
FIFA is conducting its own investigation into Valcke's activities, and he could face penalties even if he isn't convicted of any criminal charge, the Associated Press reported.
© Copyright IBTimes 2023. All rights reserved.