FIFA Corruption Scandal: Reform Chief Resists Term Limits For Soccer's Top Officials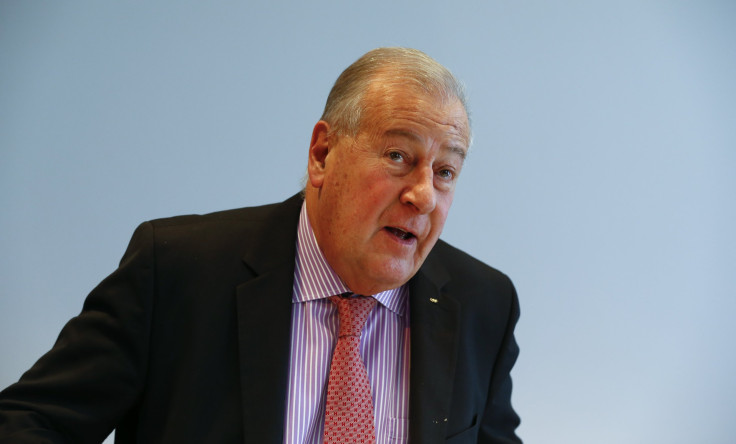 The introduction of term limits for FIFA's executive committee members is widely seen as a crucial step toward reform for an organization marred by allegations of corruption. But a top official's admission this week that term limits would be difficult to implement offers yet another indication that international soccer's governing body is still resistant to wholesale changes to its structure, even as scandals threaten its business on a global scale.
Term limits were a key part of plans to reform the organization after nine current and former executive committee members were indicted last summer on corruption charges. Francois Carrard, head of FIFA's reform committee, was expected to recommend term limits before February's extraordinary FIFA congress, where the organization will elect a new president and vote on proposed changes. But Carrard reversed course Tuesday when he said term limits aren't necessarily in the best interest of international soccer, according to Reuters.
"It's appalling that, after all we've been through with FIFA, Mr. Carrard would suggest that term limits and other basic governance reforms might not be enacted. It begs the question: Have we learned nothing from the guilty pleas, arrests, alarming allegations and shame?" said David Larkin, an international sports lawyer and co-director of ChangeFIFA, a watchdog group. "It is impossible for FIFA to achieve meaningful and lasting reform without term limits."
Carrard's comments are a troubling development for FIFA. Several of its officials are accused of leveraging bases of power put together over decades in office for personal profit. The organization recently suspended Sepp Blatter, a longtime FIFA executive and its president for the past 17 years, as Swiss authorities probe a suspicious $2 million payment to fellow executive committee member Michel Platini. The nine FIFA officials indicted last month purportedly spent 24 years profiting from illicit media rights agreements in a scandal that included more than $150 million in bribes and kickbacks.
Facing international backlash after May's arrests and the subsequent corruption allegations against Blatter, Platini and several other officials, FIFA has scrambled to reassure the public of its commitment to reform. Blatter was suspended Oct. 8 for at least 90 days, just days after Coca-Cola, Anheuser-Busch, Visa and FIFA's other top corporate sponsors publicly called for his resignation. That was no small threat, given the more than $1 billion sponsors contribute to FIFA's coffers every four years.
Carrard, a former top official with the International Olympic Committee, was hired in August to lead FIFA's new reform committee, which was to present a slate of governance changes for review by FIFA's executive committee by next February, at an emergency session of the FIFA congress. The reform committee was expected to support many of the same reforms championed by Domenico Scala, head of FIFA's Audit & Compliance Committee, including background checks for top officials and greater transparency for the organization's finances.
When outlining his eight-point plan in October, Scala identified term limits as "the most important part of his proposals," Reuters reported. The proposed plan would limit executive committee members to three terms of four years, with similar limits in place for regional and national officials.
The reform committee's final proposed changes are due for submission by December, with FIFA's 209-member congress slated to vote on them Feb. 26. Measures require a three-fourths majority vote to pass.
But Carrard is already downplaying the importance of term limits to overall reform. The reform chairman said his committee supports 12-year limits for FIFA's presidency, but has yet to determine if similar limits would be effective for the executive committee. Carrard cited the difficulties such limits would pose in smaller countries, where young, capable officials would have to step aside quickly.
"There are situations in some countries where you have wise leaders who could be useful for more than eight or 12 years," Carrard told Reuters, adding FIFA was likely still "one or two years" away from changing its divisive voting structure, which grants the same power to small nations like Trinidad and Tobago as it does to large nations like the United States. By courting these smaller countries, officials such as Blatter have amassed large bases of support.
Critics say FIFA needs sweeping reform, not subtle change, to address its pervasive corruption problem. The reform committee's willingness to pick and choose which elements of change it will pursue, rather than implement an organizationwide cultural change, indicates FIFA isn't ready to embrace comprehensive reform, said Roger Pielke Jr., an expert of FIFA governance and political scientist at the University of Colorado.
"The fact that they're not looking at the options as a slate of reforms, and are instead looking at them as a smorgasbord, speaks to the whole problem with the internal efforts to reform FIFA," said Pielke. "By taking them one by one, they're rejecting the whole idea of wholesale reform and presenting the idea that just tinkering with the FIFA governance model will be enough."
Pielke said FIFA's problem is bigger than whether to impose term limits, which could simply shift power from the executive committee to officials such as Scala, who are permanent fixtures. Other controls, such as a board of external directors and transparent financial dealings, would be more effective ways of stemming corruption than merely forcing individuals out of office, he said.
"It's kind of a brute force admission that our normal processes of governance have failed. We don't have any other way to get these guys out, so we're just going to make a rule that kicks them out," Pielke said. "The fact that we're debating term limits is itself an admission of governance failure."
© Copyright IBTimes 2023. All rights reserved.