FIFA Corruption: Sponsor Calls For Sepp Blatter's Resignation Raise Red Flags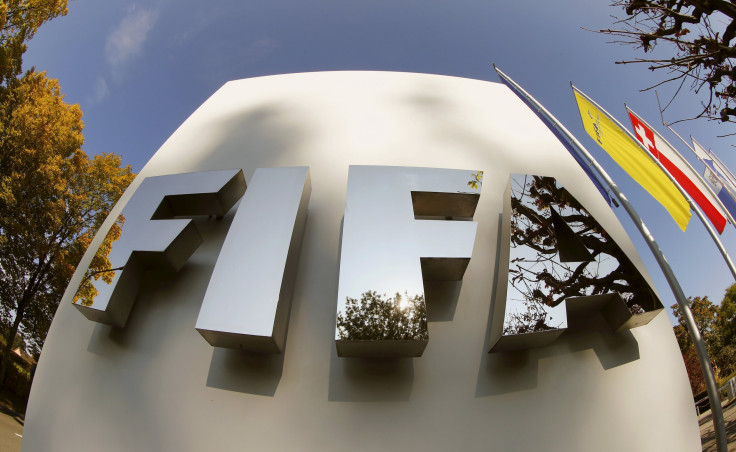 Three days after four major U.S.-based corporate sponsors called for FIFA President Sepp Blatter to step down, soccer's "Teflon Don" still has a job as head of its global governing body. Blatter remains in office this week despite unprecedented public demands for his resignation, an open criminal investigation in Switzerland and an internal FIFA probe, and many critics are more exasperated than ever with the organization's reform process.
The joint push from Coca-Cola, Visa, Anheuser-Busch and McDonald's last week was hailed in many circles as a crucial step forward in the fight to end widespread corruption among FIFA executives. FIFA's main sponsors contribute more than $1 billion to the organization every four years and wield considerable influence over its inner workings. But the sponsors' public demands came with a few red flags.
The announcements came late Friday afternoon, at a time when many companies release statements intended to be buried in the weekend lull. Foreign-based FIFA sponsors like Adidas and Kia did not join their U.S. cohorts in demanding Blatter's resignation. These dubious circumstances led some to suggest the U.S. sponsors' statements were meant as much to protect their public images -- and to shore up their legal standing under tough U.S. anti-corruption laws -- as they were to cause meaningful change within FIFA.
"I thought it was odd that companies would call for Blatter's departure without suggesting there would be any consequences if he did not," David Larkin, an international sports lawyer and co-director of the Change FIFA watchdog group, said in an email.
Blatter's regime at FIFA has been under unprecedented scrutiny since May, when the U.S. Justice Department indicted nine current and former FIFA executives on allegations of exchanging hundreds of millions of dollars in bribes. Blatter was re-elected as FIFA's president just days later, only to announce his eventual departure from the post amid a public outcry -- and after corporate sponsors demanded meaningful reform.
But the 79-year-old has served as FIFA's president since the 1990s, and he had no intention of leaving office in the dead of night. Blatter promised to spearhead FIFA's efforts at self-reform, stating that he would resign in February 2016, after a new election could be held to name his successor. Under Blatter's watch, FIFA handpicked the members of a new reform committee led by former International Olympic Committee official Francois Carrard. FIFA's leaders tasked the committee with presenting suggestions for anti-corruption reform by November, and sponsors seemed content, at least publicly, with the organization's effort.
That is, until Swiss authorities announced a new criminal probe into Blatter's alleged "criminal mismanagent" of FIFA's affairs -- namely, a suspicious $2 million payment to his former adviser Michel Platini, and the awarding of FIFA media rights to disgraced international soccer official Jack Warner at far below face value. In light of those developments, FIFA's biggest U.S. sponsors chose to take action.
"For the benefit of the game, the Coca-Cola Co. is calling for FIFA President Joseph Blatter to step down immediately so that a credible and sustainable reform process can begin in earnest. Every day that passes, the image and reputation of FIFA continues to tarnish. FIFA needs comprehensive and urgent reform, and that can only be accomplished through a truly independent approach," Coca-Cola said in a statement, which Visa, McDonald's and Anheuser-Busch quickly echoed.
Regardless of the motivation behind them, the sponsors' statements rebuked Blatter's leadership of FIFA in the strongest terms yet. In that sense, they are a significant development in a decadeslong movement to call public attention to corruption in international soccer.
"It shows the corporate sponsors are publicly expressing disapproval of the endemic FIFA corruption," said Andy Spalding, an international anti-corruption law expert and professor at the University of Richmond's School of Law in Virginia. "To me, that's the bigger part of it."
But there may have been other factors at play. News that Blatter faced a criminal investigation for the first time likely spurred sponsors to act, as did recent developments in the U.S. legal system's fight against corruption. A September memo from Sally Quillian Yates, the U.S. deputy attorney general, made it clear the U.S. Justice Department would scrutinize corporations more closely than ever on their dealings with corrupt individuals.
Coupled with the existing Foreign Corrupt Practices Act, which polices corporate dealings with foreign officials, U.S.-based companies have a clear incentive to distance themselves from any murky dealings overseas. Foreign-based companies like Germany's Adidas aren't subject to these legal concerns.
"We have a long history in this country of enforcement with literally hundreds of companies that have had the experience of investigations, large penalties, settlements and senior leadership that are very sensitized to these issues," Michael Fine, a senior member of the ethics and compliance advisory practice at LRN, said. "U.S. companies have to be very careful about putting money into a system that they're now on notice has corruption risk associated with it, so they have to do a lot more due diligence."
The clear legal impetus for U.S.-based sponsors to take action on FIFA doesn't mean their actions are without merit. Officials from Visa, McDonald's and Coca-Cola held a closed-door meeting with FIFA officials in Zurich in August for updates on the federation's attempts at internal reform. The discussions at that meeting were never made public, and it's possible the sponsors have made demands of FIFA behind the scenes. Given the lack of changes to FIFA's leadership since last May, the demands for Blatter's resignation could have been the sponsors' way of pushing for action.
"We have to presume something was discussed [at the Zurich meeting]," said Jeff Thinnes, an international anti-corruption and ethics consultant who has worked with members of the International Olympic Committee. "Maybe this is a public expression of frustration that other demands are not being met, such as greater independence or even the speed at which things are moving or not moving. There's a lot of potential motives behind it. I have to think it's more than just publicly calling for Blatter to leave, when we all know he's only got a few months left anyway."
Given the worldwide popularity of FIFA's product, it would take earth-shattering evidence of internal corruption, or massive complications related to the reform process, for international soccer's corporate sponsors to sever ties. Cynics and optimists will disagree on why the four U.S. sponsors called for Blatter's resignation, but the public display of solidarity allows them to continue to balance the benefits their lucrative partnerships offer with government compliance and public relations.
"Your options aren't simply to make your contribution or to step back and move on," Fine said. "There's this intermediate space where you can simply ramp up the process and take a closer look and start asking the tough questions, which, incidentally, are probably coming from government investigators as well."
© Copyright IBTimes 2023. All rights reserved.