FIFA Presidential Election Results 2015: Amid Corruption Allegations, Sepp Blatter Faces Calls For Reform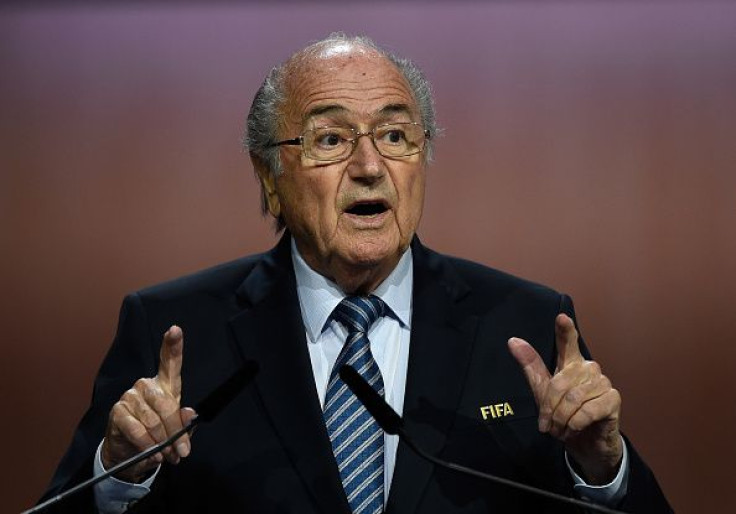 The biggest corruption scandal in FIFA's history wasn't enough to unseat the soccer world's "Teflon Don." Sepp Blatter earned an unprecedented fifth term as FIFA President Friday after his sole opponent, Prince Ali bin al-Hussein of Jordan, withdrew during the second round of the 65th FIFA Congress elections in Zurich.
Despite a late surge in support for Prince Ali's candidacy after the U.S. Justice Department's indictment Wednesday of nine current and former FIFA officials on corruption charges, Blatter prevailed due in large part to his financial puppeteering of smaller countries outside Europe. With his power once again secure, Blatter must now address FIFA's tarnished worldwide reputation amid ongoing investigations by U.S. and Swiss authorities. To please critics, he will have to vastly improve transparency and independent oversight of FIFA's internal dealings, in a near-complete reversal of the international governing body's past practices, ethics officials said.
"The culture is set from the top, just like in any corporation," said Jeff Thinnes, an international anti-corruption and ethics consultant who has worked with members of the International Olympic Committee. "Behavior at the top sends all the signals as to what's acceptable and not acceptable in an organization."
Despite suspicions, Blatter was not among the nine current and former FIFA employees, including executive committee members Jeffrey Webb and Jack Warner, targeted with various corruption-related charges. The U.S. Justice Department alleges the FIFA officials, along with five third-party marketing executives, accepted more than $150 million in bribes and kickbacks in exchange for preferential treatment on the sale of media, television and hosting rights related to FIFA events.
This week's arrests, carried out in a coordinated effort between Swiss and U.S. authorities, were unprecedented in FIFA's history. But rumors of corruption and backroom deals have blighted the organization's reputation for years.
Facing public backlash, FIFA was forced last year to hire independent investigator Michael J. Garcia to investigate allegations that top international soccer officials bribed members of FIFA's executive committee to back Russia and Qatar's respective bids to host the 2018 and 2022 World Cups, respectively. But when Garcia's report was ready for release, FIFA opted not to share the results with the public, despite its own admission that he had found at least some evidence of wrongdoing in the bidding processes. Garcia resigned from his post in protest.
Yet neither scandal was enough to unseat Blatter, who has been FIFA's president since 1998. Even after this week's media firestorm, Blatter handily defeated Prince Ali, who had carved out a reputation as a voice for reform, in the first round of the 65th FIFA Congress elections. Blatter fell just short of the two-thirds majority he needed to prevent a second round, but Prince Ali realized a loss was inevitable and withdrew his candidacy.
Blatter won despite the fact that the vast majority of the Union of European Football Association's members decided to support Prince Ali. But his power has never come from Europe. Instead, Blatter has earned the rabid support of nations within the Asian Football Confederation and the Confederation of African Football, which account for 100 of FIFA's 209 member associations.
Each member association casts a single vote of equal weight in FIFA's presidential election, which means that a country like England, while comparatively a soccer and global juggernaut, has the same voting power as a smaller nation like Zambia. Blatter has secured the loyalty of these smaller nations by funneling money to them earmarked for soccer development, as Deadspin notes. An amount of FIFA funding that would be inconsequential for a developed European nation can be a game changer for a smaller country.
Soccer programs in these smaller nations tend to place just a few officials in positions of power, making them that much more vulnerable to bribery, Five Thirty-Eight notes. FIFA has rejected calls for increased transparency or independent oversight at every turn, which has also exacerbated its public relations problem.
"You need to have a lot of independent support and authority brought in, just like you do with corporations," Thinnes said. "Audit committees typically are the final arbiters of compliance and anticorruption inside global corporations. Those are usually comprised of external, 'non-influenceable' individuals who understand the issues. ... That's clearly missing inside FIFA."
Under Blatter, FIFA has made a show of reforming its practices, without actually following through. Of 59 recommendations for reform made through three separate reports, FIFA fully implemented just seven, the Los Angeles Times reports.
Another major issue is the apparent unwillingness of FIFA's top corporate sponsors to confront the Blatter regime over allegations of corruption. FIFA has amassed billions of dollars in revenue through sponsorship deals with companies like Visa, Coca-Cola, McDonald's and Adidas. Each of these organizations expressed concern this week in light of the arrests, but none have cut ties with FIFA.
Some of the sponsors may even be complicit in the corruption; various reports have linked Nike to allegations that an unnamed U.S.-based sportswear company bribed a soccer official in Brazil. Nike has declined to address the allegations and said it is cooperating with federal investigators.
"There's no doubt that they're lending credibility to this entirely corrupt process and structure by stepping up to the tune of hundreds of millions of dollars," Thinnes said.
At this stage in his career, it's unclear what Blatter, who has worked within FIFA in some capacity since the 1970s, can do to change the public's perception that he's complicit in the organization's corrupt dealings. He has repeatedly denied connection to any wrongdoing and vowed to restore FIFA's good name on the global stage. But in the face of multiple criminal investigations and endless negative publicity, Blatter's fifth term as FIFA's president must begin with a long-overdue mea culpa.
"Some of his rhetoric's going to have to change. Right now, we hear him say things like 'I can't be held accountable for things that other people do,' " said Dave Mayer, an ethics expert and professor of management at the University of Michigan's Ross School of Business. "He is actually going to have to take some level of accountability."
© Copyright IBTimes 2023. All rights reserved.