Final 4 2014: Kentucky, UConn Join Florida, Wisconsin In Dallas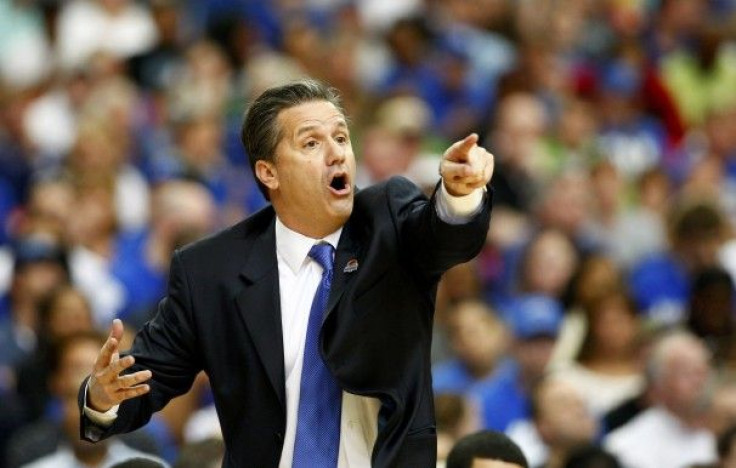 The 2014 Final Four is set, with two burgeoning squads booking their tickets to the Dallas suburb of Arlington on Sunday, as UConn and Kentucky joined Saturday's winners Wisconsin and Florida with tight victories.
Both UConn and Kentucky entered the 2014 NCAA Tournament as dark horse candidates to win their region. UConn escaped with a thrilling victory over Michigan State at Madison Square Garden behind a late spurt, 60-54, while Kentucky used a dramatic game-winning three-point shot by Aaron Harrison to eliminate Michigan, 75-72.
The UConn victory was a major accomplishment for second-year head coach Kevin Ollie. The 41-year-old played for and served as an assistant under legendary coach Jim Calhoun, who had helped lead the Huskies to three national champions.
The No. 7 seed's impressive run of victories in the East Region began with a win over No. 10 seed St. Joseph's, and was followed by upset wins over No. 2 seed Villanova, and then No. 3 seed Iowa State, before culminating with the victory over No. 4 Michigan State, a team projected by many experts to win the national championship.
The Huskies owned a two-point lead inside the final minute, but a foul by Spartans guard Keith Appling on Shabazz Napier's three-point attempt broke the game open for UConn. Napier, who led all scorers with 25 points, knocked down all three free throws, and the Spartans were unable to stay in the game after two missed three-point shots.
Ollie called on Napier to be a stronger influence in the second half, and the senior responded with 17 points.
"When [Ollie] looks at me a certain way, I just know I got to be more aggressive," said Napier.
The Spartans relied on outside shooting, converting 11 of their 29 three-point shots. Guard Gary Harris kept Michigan State in the game with 8-of-14 shooting for 22 points. But the Spartans failed to establish much presence in the paint, and turned the ball over 16 times compared to eight by UConn.
It was still a resilient effort by Michigan State. The Huskies jumped out to a 12-2 lead, before the Spartans mounted an impressive 30-11 run. The second half was filled with multiple momentum shifts.
"We got what we deserved today," Michigan State head coach Tom Izzo said. "I tried to tell these guys that, when you get to the tournament, you got to bring it every second. And today Connecticut did, and we just kind of weren't as good as we have been."
The late game was even more dramatic. John Calipari's collection of star freshmen recouped from an early deficit to take control in the second half, and hold off Michigan's late surge at Lucas Oil Stadium in Indianapolis.
Harrison's two three-pointers were all of Kentucky's points in the final 2:45, and all the Wildcats needed to hold off Michigan's late run. With the score 72-72, Calipari called a play for Harrison, whose shot from 24 feet dropped with 2.6 seconds remaining.
"Making that shot and seeing my teammates so happy and turning toward me, it's the best feeling in the world," said Harrison, who only made two other field goals prior to the final minutes of the game.
While Harrison was the hero for his late-game heroics, it was a balanced effort by Kentucky that kept the game competitive. The Wildcats played without seven-footer Willie Cauley-Stein, but still had seven players finish with eight points or more. Kentucky shot 53.4 percent from the field, which included 7-of-11 shooting from beyond the arc. The Wildcats also outrebounded the Wolverines, 35-24.
As captivating as Kentucky's performance was in the Midwest Region final, most would likely claim that it pales in comparison to their route to the Final Four. The No. 8 seed knocked off three teams from the 2013 Final Four, which included No. 1 seed Wichita State, along with rival and defending champion Louisville, who is coached by former Kentucky coach Rick Pitino.
The victory over 2013 runner-up Michigan could be viewed as symbolic, considering Kentucky's successful five freshmen starters are somewhat reminiscent of the Wolverines' five frosh starters from the early 1990s, who were dubbed the "Fab Five."
This group doesn't have such a moniker, but they do have results. After suffering through some poor stretches during the regular season, it appears that Julius Randle, James Young, Dakari Johnson, and the Harrison Twins, Aaron and Andrew, have peaked at the right time. The Wildcats' lone loss in the past three weeks was by one point to top-ranked Florida.
"We're going to go back and practice, go back and see if we can get better between now and the Final Four," Calipari said. "These guys aren't real happy about it, but we are."
The loss halted a strong run by Michigan. John Beilein's squad had won 10 of their last 11 games, due in large part to the play of guard Nik Stauskas. The sophomore scored 24 points against Kentucky, and had scored in double digits in 15 consecutive games.
But it was a solid effort by the Wolverines in the Elite Eight. The No. 2 seed shot 47.4 percent from the field, and only turned the ball over seven times.
"Both teams really played well," said Beilein. "I think even the people that were sitting in the highest seats got their money's worth today. So really proud of our team."
© Copyright IBTimes 2023. All rights reserved.