'Final Fantasy VII' Cheats And Boosters: How They Work In New iOS Version Of Classic RPG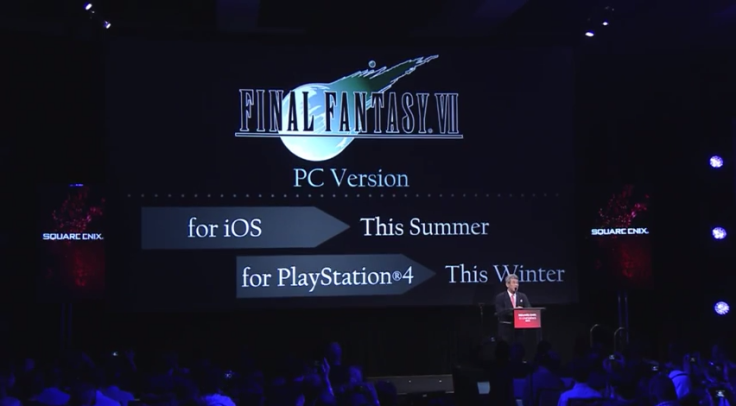 "Final Fantasy VII" has arrived for iPhone and iPad. The game is a universal app that costs $15.99 from the App Store. But developer Square Enix has included some new features that make it easier to cheat through the game and avoid the challenges players faced when it first launched in 1997.
The new release includes an option to turn off encounters with enemies inside the world and area maps. Event battles will still occur, but the player will come across far fewer skirmishes than they would have done otherwise, letting them progress through the story without getting hindered by battle after battle.
The game also includes a "max stats" option, letting players blast through it with all combat statistics turned up to the top. While players would ordinarily have to build up these stats, Square Enix has given the option to tell the game to not bother with any of the challenging stuff.
The iOS version is based on the PC version, which launched the year after the Playstation build. This re-release is not the same as the also-announced Playstation 4 version, which will feature bigger changes, a graphical overhaul and story adjustments. With the touchscreen controls, Square Enix has gone for a virtual controller that overlays onto the screen. Players can choose between a four-way directional pad or virtual analog stick.
"Final Fantasy VII" was a smash hit upon first launch, selling over two million copies in the first three days of its release in Japan and was named "Reader's Choice Game of the Century" by IGN. While the original PC version weighed in at 3GB, the iOS version only takes up 2GB, requiring 4GB for installation. The Playstation version famously required players to change discs, something that has been removed in later releases.
© Copyright IBTimes 2023. All rights reserved.