The Final 'Kodak Moment': 5 Reasons Why Bankruptcy Would Be Tragic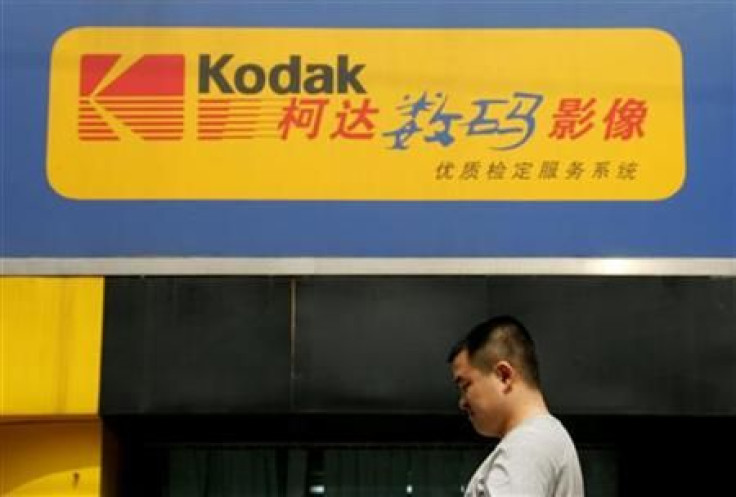 Long-suffering investors may wonder what to do with their Kodak shares now that they've fallen to the unbelievable low of only 78 cents, a huge change compared to the days when Eastman Kodak was one of the bluest of the blue chips. In 2003, Kodak was valued at $40 per share.
The name alone conjured images and photography. Consumers from Utah to Uruguay bought Kodak cameras and film and took it to camera shops for development. Doctors' offices took x-rays with diagnostic cameras and printed them out on Kodak paper. Names like Kodachrome were household words.
Yet on Friday, shares plunged as much as 60 percent after reports the company was on the verge of pulling the plug. When the NYSE closed, Kodak's market capitalization had shriveled to only $186 million. Its enterprise value, which accounts for other assets, is a slightly better $948.7 million.
Meanwhile, because of its 131-year history and prestige in imaging innovation, Kodak has been trying to haul in cash via an auction of its valuable patents. Technology investment bankers involved with the deal have told IBTimes the patents could be worth somewhere between $2 billion and $3 billion -- more than the entire company!
After the close on Friday, Rochester, N.Y.-based Kodak issued a statement that it was not planning to file for bankruptcy but had hired the prestigious law firm Jones Day for advice. You can bet senior management led by CEO Antonio Perez and lawyers at Jones Day are trying to determine the next step.
The decision is clear: either try to keep going or file for bankruptcy, which is no shame for an ordinary company, but quite a tragedy for the corporation that for years had huge success with its Kodak moment ad campaign.
Here are five reasons why pulling the plug would be an American tragedy:
It would show that a ninetheenth century pioneer couldn't make it in the twenty-first century. There are plenty of other old industrial companies founded by people like Thomas Edison and Henry Ford that are doing fine, that managed to adapt to changes in the marketplace and alter its strategy. Yet Kodak foundered for years with foolish acquisitions (it bought Sterling Drug, which included Bayer aspirin in 1988 before getting out in 1994) and divestitures like spinning off Eastman Chemicals (now with a market capitalization of $4.8 billion).
Now that everyone has a mobile phone, and tablets like the iPad and and the Kindle Fire are going to revolutionize photography and imaging, Kodak ought to be the life of the party. That could be one reason why the likes of Apple, Amazon and Google are said to be looking at the patents.
Kodak's demise would be Japan's gain. Today, Japanese rivals -- like Fuji (film); Canon, Nikon and Olympus (cameras); and Panasonic and Sony (consumer electronics) -- are ubiquitous in all kinds of imaging. To be sure, they have great technologies and sales abilities, but those are all things they learned from Kodak.
If Kodak does seek bankruptcy and then asks Lazard for help in selling off units, these companies would be first in line to pick up the valuable pieces.
It would prove that even a perception of value was wrong. Several years ago, Kohlberg Kravis Roberts, the private equity giant that may be best known for masterminding the RJRNabisco buyout, bought into Kodak and won two seats on the board. Obviously, KKR wouldn't have risked its cash for no reason. But it also bought into Sun Microsystems late in its history, too. Sun Microsystems has now been absorbed into Oracle.
Bankruptcy would place Kodak in the same league as GM, Chrysler, United Airlines and others. All those great companies emerged slimmer and better-placed to win after bankruptcy. Conceivably, Kodak could emerge as solely an intellectual property vendor and get rid of all its consumer and professional products lines.
Printers could go to Hewlett-Packard, Lexmark or Canon. Kodak Gallery could go to Amazon or eBay. The camera lines could go to a Japanese company. The retail distribution system might be sold to specialists or the likes of FedEx or UPS.
Or maybe a judge could demand a complete shake-up and tell CEO Antonio Perez that he has a year to act. That would be tricky in what still looks like a weak global economy.
It would give New York a black eye. Few industrial companies are so identified with their home states and cities as Kodak is with Rochester, N.Y. Xerox, which started there and had its own near-death experience, still has a big Rochester presence but shifted its headquarters to Stamford, Ct.
Gov. Andrew Cuomo last month jubilantly snatched up $4 billion in technology investment from New York's own IBM as well as from Intel, GlobalFoundries, Taiwan Semiconductor Manufacturing and Samsung Electronics. The money is largely for new chips and nanotechnology development, things that Kodak could benefit from.
The collapse of a technology icon would surely dampen investment attitude. It would also call into question the future of 18,800 employees, not all of whom are in New York.
FOR FREE to continue reading
✔️ Unlock the full content of International Business Times UK for free
offer available for a limited time only
✔️ Easily manage your Newsletters subscriptions and save your favourite articles
✔️ No payment method required
Already have an account? Log in
© Copyright IBTimes 2023. All rights reserved.