Fiscal Cliff Negotiations Bog Down After Just 2 Weeks, On Positioning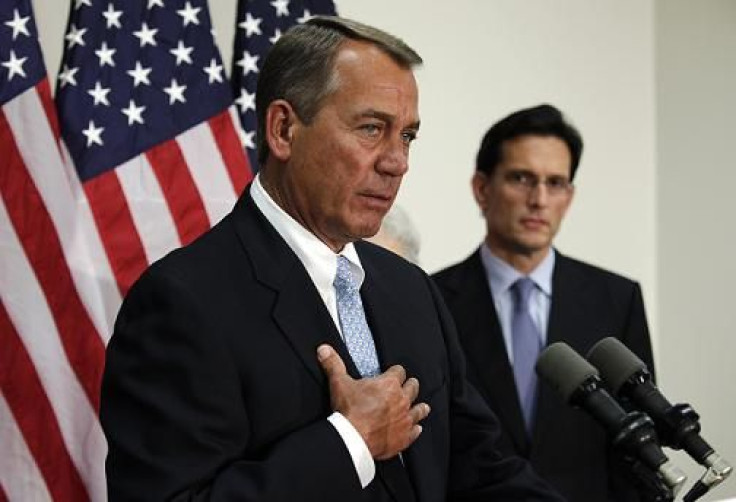 Fiscal cliff negotiations between President Barack Obama and congressional leaders stalled after two weeks because it seems neither Democrats nor Republicans want to be first to present a plan outlining spending cuts.
With 32 days to go before the nation goes over the so-called "fiscal cliff," ending all Bush-era tax cuts and triggering billions in automatic federal spending cuts, lawmakers are at odds as to who has made it clearer what needs to be done to avert the problem.
With no consensus on a plan of action, the U.S. economy could be tipped back into a recession, with a higher unemployment rate in 2013, if an agreement is not reached, most analysts agree. There would also be an average $2,200 tax hike on each American taxpayer.
After expressing hope that bipartisanship could solve the problem, a gloomy House Speaker John Boehner on Thursday told reporters that "no substantive progress" has been made thus far.
Boehner, who spoke with Obama on Wednesday and met with Treasury Secretary Timothy Geithner on Thursday, expressed disappointment regarding where things are at the moment. He also characterized his meeting with Geithner as "frank, and it was direct."
"It's time for the president and congressional Democrats to tell the American people what spending cuts they're really willing to make," he said.
Boehner said Democrats have yet to get serious, despite their agreement that spending cuts must happen.
"But we have no idea what the White House is willing to do," Boehner said. Republicans are seeking spending cuts and reform to entitlements.
Conversely, Democrats argue that they have no idea what more Republicans want. Meanwhile, Obama remains firm in his stance: He wants about $1 trillion in new revenue, including a tax rate increase for wealthy Americans.
The president also repeatedly asked GOP lawmakers to embrace a tax cut for all incomes under $250,000, to give middle class families some assurance that their taxes will not be raised as other budget changes occur.
The White House released a report earlier this week, showing that if taxes go up on the middle class, all areas of consumer spending will be affected. This would negatively impact the U.S. retail sector.
Democrats say the ball is in the Republicans' court. Democrats say their proposal is on the table and so the GOP needs to bring something forward.
When asked why there is a divide, Senate Majority Leader Harry Reid had this to say, "I don't understand [Boehner's] brain. So you should ask him."
Boehner remains hopeful they can solve the problem once the "White House gets serious."
© Copyright IBTimes 2022. All rights reserved.
FOLLOW MORE IBT NEWS ON THE BELOW CHANNELS