Five Things To Know About Mary Barra, The Next CEO Of General Motors (GM) And The First Woman To Head An Auto Company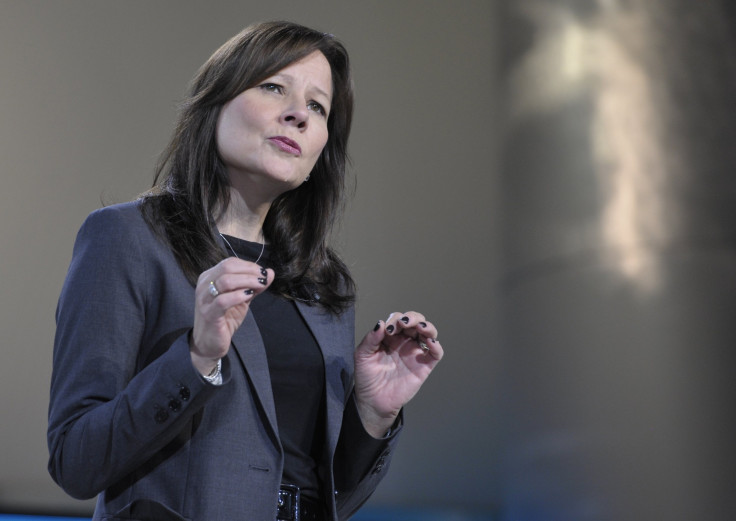 Like a lot of women who have risen to the heights of corporate power, Mary Barra plowed right through any glass ceiling that had been set above her. The difference is the glass used in the auto industry tends to be a little harder to crack.
But Mary Barra is used to it. With a degree in electrical engineering, Barra drove right into General Motors (NYSE:GM) in 1980 when she was 18 and pursuing a bachelor's degree in electrical engineering. A decade later she had her Stanford University MBA and was moving up the ranks at GM.
By the time she was named to her current position as executive vice president of global product development in February 2011 Barra had been a GM manufacturing plant manager in Detroit and held other engineering and staff positions. In August she was given more responsibility, heading up global purchasing and supply chain organization for the Detroit-based manufacturer, a $15 billion operation.
Now, as reported Tuesday morning on Bloomberg Television and CNBC, Daniel Akerson, chairman of GM's board and CEO, announced that Barra would become the next head of the world's second-largest auto maker.
"Her history and performance across multiple departments at General Motors has clearly given [CEO] Dan Ackerson and the board tremendous confidence in her ability to successfully lead the largest U.S. automaker," said Karl Brauer, a senior analyst at automotive pricing and information provider Kelley Blue Book.
Here are five takeaways about this morning's news that GM would become the first automaker to name a woman to its top position.
1. Akerson is a ladies' man.
Last year, the Wall Street Journal posited CEO Dan Akerson as a man changing a male-dominated culture at GM, and he certainly has helped. Akerson's previous role was as managing director of The Carlyle Group from 2003. The D.C.-based global asset management firm has one of the highest percentages of senior executives who are women, as pointed out in this DealBook profile of Karen H. Bechtel, one of Carlyle's top movers. But GM's corporate culture in this regard precludes Akerson's role at GM. He's a relative newcomer, having joined the board of directors in 2009 amid the auto industry crisis that sent GM and Chrysler asking for the taxpayer to rescue them from insolvency.
2. GM leads its peers in women directors and officers.
Four of the company's 14 directors (28 percent) are women compared to two out of 18 at Ford Motor Co. (NYSE:F). The ratio of women directors is among the highest among high-profile publicly listed U.S. companies. Out of the 24 corporate officers at GM, six, including Barra, are women, a high ratio even outside of a testosterone-drenched business like the auto industry.

Michelle Krebs, Edmunds.com senior analyst, says Barra's promotion should not be looked at as simply gender-based quota-filling.
"Mary is an extremely competent automotive executive who has proven herself repeatedly," Krebs said. "She came up through the manufacturing ranks -- a difficult way to climb the corporate ladder for anyone, but especially for women. She is highly regarded internally as an effective leader who gets the job done. As head of product development, she has led a GM product renaissance. Consider that six of the 24 entries for the North American Car and Truck/Utility of the Year are from GM this year."
3. Barra was a shoo-in.
Naming Barra to lead GM was not a surprise. Akerson has been dropping her name for the better part of a year as a potential candidate. As far back as May 2012, there was speculation that Barra was on her way to take over GM's throne. While Mark Reuss, GM's head of North American operations, and vice president Steve Girsky were also named as obvious top contenders, Akerson's statements over the past year suggested that he didn't want anyone to overlook Barra.
4. Barra made careers at GM.
Barra's previous top position at GM (before she became executive VP): head of human resources. Calling her "one of the most gifted executives I've ever met," Akerson decided that while running HR for GM was a key role in the company -- acting as a sort of consigliere who makes or breaks careers from behind the scenes -- he wanted Barra to use more of her talents in engineering to play a bigger role in product development.
5. Barra is looking for the perfect Camaro.
A Fast Company profile by Lydia Dishman in September 2012 gave a peek into Barra's personal car preferences. They're all GMs, of course:
Barra's driving different cars and trucks all the time. She currently drives a Regal to work and a Cadillac on weekends. But, she's still looking for that perfect, collectible Camaro to satisfy a longtime yearning for the classic muscle car.

The bottom line for Barra? "Cars and trucks are exciting and an important part of people's lives," then adds, "It's in my blood. I want GM to succeed."
© Copyright IBTimes 2023. All rights reserved.