Here Are The November 2013 'Big Eight' US Auto Sales Numbers: GM, Ford, Chrysler, Toyota, Honda, Nissan, Volkswagen, Kia/Hyundai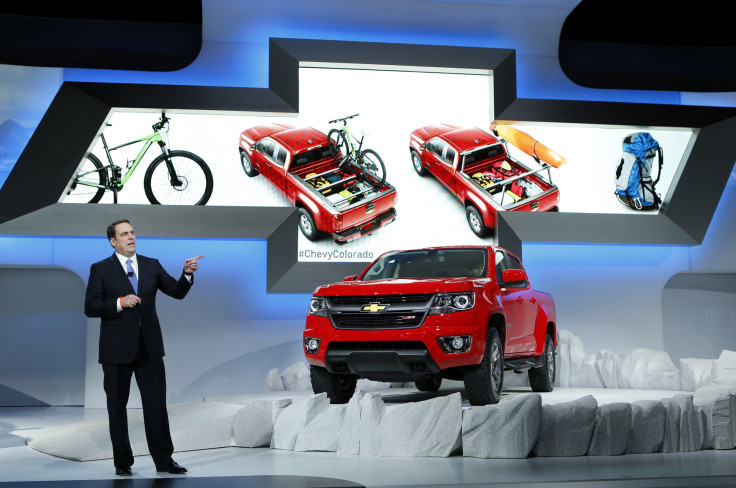 Annual Thanksgiving holiday weekend sales events, coupled with the recent robust rebound in the U.S. auto marketplace, should have added up to a windfall for the nation's auto dealers last month.
The world's eight top auto manufacturers are releasing their November U.S. new-car and light-truck sales figures on Tuesday. Auto-industry analysts forecast total monthly sales to arrive at about 1.19 million vehicles, up between 4 percent and 5 percent from the 1.14 million deliveries in November 2012. The seasonally adjusted annualized rate, the key monthly metric that gauges the health of the industry and consumer sentiment, is expected to be around 15.9 million units, up from 15.5 million in the same month last year.
Click here to read the preview to today's U.S. sales reports from the world's Big 8 automakers. Click here for the final tally.
UPDATE Dec. 3, 3:02 p.m. EDT: U.S. Auto Sales Volume For November
The world's top eight auto companies reported 1,078,006 new passenger car and light truck sales for the month. These sales exclude many low-volume luxury brands, like BMW, Mercedes and Porsche. Total U.S. sales are projected to come in at around 1.2 million units. The final tally: 1.24 million units.
UPDATE Dec. 3, 2:47 p.m. EDT: Kia Motors America & Hyundai Motor America
The South Korean sibling automakers saw their combined sales rise 7.3 percent thanks to growth in both Hyundai Motor Co. (KRX:005380) and Kia Motors Corp. (KRX:000270) sales in the U.S. The two automakers are typically twinned in industry metrics because they share significant operations, such as research and product development and marketing.
Hyundai lifted sales last month by 4.7 percent to 56,005 units on rising demand for the Santa Fe mid-sized crossover, the Accent subcompact, and the Elantra compact. A notable loser for the month: the Sonata mid-sized sedan, Hyundai's best seller, which was bested last month by the Elantra.
Kia saw its sales grow 10.6 percent to 45,411 as buyers piled into the Soul compact and, to a lesser extent, the Sportage compact crossover.
For the first 11 months of the year, Hyundai saw a 2.2 percent increase in sales volume, to 657,778. Kia lost ground, with sales from January to November down 3.2 percent to 501,548 units.
UPDATE Dec. 3, 2:09 p.m. EDT: American Honda Motor Co.
Honda said Tuesday it sold slightly fewer vehicles in November than it did in the same month last year, or 116,507 units, or 77 fewer vehicles. This effectively amounts to flat sales for the maker of the popular Accord sedan, whose 2014 model recently won the Green Car of the Year award from Green Car Journal for its plug-in-hybrid version and ahead-of-its-class mileage for its conventional 2014 model.
Sales may be flat for the month, but Honda says it's the second-best November on record because last year's performance – helped along by Hurricane Sandy pushing some sales into that month – was exceptional.
Still, the numbers look unimpressive in light of how competitors fares last month. Civic compact sales were down 12.6 percent to 26,291. Civic is a major bestseller for Honda, so even the second consecutive monthly sales record for another of Honda's best sales performers, the CRV crossover, wasn't enough to pull Honda car sales into positive territory.
The Accord did modestly well, rising 3.2 percent to 27,093 and greener low-volume sellers including the Insight hybrid electric and the Civic hybrid were at least in the positive sales-growth arena.
Honda's luxury Acura division fare well, but mainly due to rising demand for one model, the RDX compact luxury crossover, which saw sales increase 20.7 percent to 3,663.
UPDATE Dec. 3, 1:34 p.m. EST: Toyota Motor Sales (TMS), U.S.A., Inc.
Toyota released its numbers earlier today and pointed to robust Thanksgiving holiday shopping traffic for helping it have a sweet month of sales. Here are more details from its sales chart data that typically come out hours after its preminimary figures:
All divisions saw increased sales volume, including trucks and SUVs. Consumers bought just over 10,000 Tundra full sized pickups, sending volume up 20.5 percent from November of last year. Tacoma sales increased to 12,601 helping Toyota trucks see an overall increase of 16.1 percent.
Toyota SUVs increased sales by 24.5 percent to 40,538, led by double-digit rises for the RAV4 compact crossover, the Highlander mid-sized crossover, the 4Runner and the Land Cruiser.
The Lexus luxury division jumped 11.6 percent to 13,901 thanks in large part to rising demand for the IS compact executive car and the ES mid-sized luxury sedan.
Toyota's car division, which made up 45 percent of all volume sales last month, saw a 4.5 percent increase to 80,464. The five Scion models all retreated, but overall car sales were floated by demand for the Camry and the Avalon.
Toyota likes to tout performance of its North America-built cars, which include all of Toyota non-luxury sedans and trucks and make up about 70 percent of Toyota's North American sales. Deliveries of domestically built Toyota vehicles increased 9.1 percent to 125,497 while Lexus luxury imports increased 11.2 percent to 13,901.
UPDATE Dec. 3, 1:11 p.m. EST: Nissan U.S.A.
The U.S. subsidiary of Nissan Motor Co. Ltd. (TYO:7201) said Tuesday U.S. sales jumped 10.7 percent to 106,528 deliveries on strong purchasing volume for Nissan's sedans and despite a decline in the company's trucks and SUVs. The company's luxury Infiniti division set a November record with 13,152 units, up 10.7 percent compared to November 2012.
"Consumers' strong demand for Nissan products continued last month, culminating in a very good Black Friday weekend and driving our sales performance to an all-time record November," said Fred Diaz, Nissan U.S.A.'s sales chief, said in a statement.
The company's best sellers did well last month, with Sentra compact deliveries rising 62.5 percent to 11,664 units while the Altima mid-sized sedan saw a 21.2 percent increase in sales, to 24,604.
Nissan's truck division, which includes its SUVs fell 5.7 percent to 35,275 units. Novewmber's winners in this segment were the Murano crossover (up 11.5 percent to 5,720) and the Frontier pickup (up 54.6 percent to 6,003).
Electric vehicles make a sliver of any mass-market automaker's business, but the Nissan Leaf set a November record with 2,003 units, an increase of 30.1 percent from the same month last year. Year-to-date U.S. sales of the bestselling EV in history stood at 20,081 so far this year, a 141 percent increase.

Infiniti's growth last month came in part due to the QX60 mid-sized luxury crossover, which saw a 19.2 percent rise to 3,015, making up 23 percent of all Infiniti group sales.

"It was a huge month for the new Inifinti Q50, which made up nearly half of Infiniti brand sales in the month of November," said Jessica Caldwell, senior analyst at Edmunds.com. "Lease deals were a big motivator -- Q50 had one of the highest lease penetrations in the industry at 79 percent. It's officially the season for luxury car sales so expect more of the same numbers in December."
UPDATE Nov. 1, 10:56 a.m. EST: General Motors Co. (NYSE:GM)
North America's largest and the world's second-largest automaker said Tuesday it had the best November since 2007, delivering 212,060 units, up 14 percent from November 2012 on stronger demand for all of GM's popular models. All four of the company's groups (Buick, Cadillac, Chevrolet, GMC) increased in the double digits, leading GM to tout itself as growing faster than the industry for the second consecutive month.
General Motors said it expects the seasonally adjusted annualized rate (SAAR) for the U.S. auto market to touch 16 million units, which, if realized, would make November a tie with August as the best SAAR month for the year. The SAAR is closely watched because it adjusts for seasonal fluctuations in consumer habits -- people are more likely to buy a car in August than in April, for example.
Next month should see total 2013 U.S. auto sales coming close to levels seen before the 2008-09 auto industry crisis that sent GM into Chapter 11 reorganization that cost the taxpayer at least $10 billion (and rising as the U.S. Treasury rushes to exit partial ownership of the company), which doesn't include the hit the taxpayer took from bailing out GM's financing division, now known as the Detroit-based bank holding company Ally Financial.
But let's look at more positive GM performance:
"GM's rapid release of new models couldn't have been better timed," said Karl Brauer, senior analyst at automotive pricing and information provider Kelley Blue Book. "With the average car on the road more than 11 years old, consumers are ready for something new, and GM is offering the newest product line-up of any manufacturer. The automaker is increasing overall sales even as its fleet sales drop, confirming GM's success with consumers while improving its profitability."
Buick sales are up 13.4 percent to 15,072 units on demand for the Regal luxury executive sedan. Cadillac increased 11.4 percent to 16,172 as buyers continued to drive the Cadillac ATS compact luxury car and its full-size counterpart, the XTS. GM is putting out these brands as its bid to compete against German and Japanese luxury globally, and so far U.S. demand shows promise.
Chevrolet's popular offers continued to see strong sales growth, lifting the group 12.6 percent to 145,089. Big risers included the Impala full-size sedan (up 20.2 percent to 13,418), the Malibu mid-size car and the Silverado pickup truck (up 12.2 percent to 34,386). The Cruze compact and Equinox mid-size crossover both saw high single-digit sales growth.
GMC's boat was lifted on a 22 percent climb in deliveries of the Sierra pickup truck and a more than doubling of demand for the Acadia crossover, to 7,566.
"November sales were strong at all four of our brands, and demand was robust for everything from cars to crossovers to the industry's newest and best full-size pickups," said Kurt McNeil, GM's vice president for U.S. sales, said in announcing November's numbers.
UPDATE Dec. 3, 10:24 a.m. EST: Volkswagen Group of America Inc.
The German automaker is having a dismal year in U.S. sales, and November didn't fare well despite plaudits from Volkswagen's management team that this was the second best November since 1973. Still, Volkswagen sees U.S. deliveries to topping 400,000 units for a second year, which is supposed to be some kind of positive despite all the negatives in this month's sales figures.
It's almost better to simply list the models that saw positive growth from November 2012: the GTI subcompact was up 4.4 percent to 1,047 units and the convertible Beetle coupe helped lift Beetle by 42 percent, also on low volume, at 2,842 units for both body styles.
That's it. Volkswagen's other models saw sales decline, most harmfully in its key models: Jetta was down nearly 13 percent last month to 12.417; Passat Sedan deliveries fell 15.8 percent to 8,876 units. There's no good news coming from the U.S. subsidiary of the world's third largest automaker.
"It was another tough month for Volkswagen with sales down 16 percent, due in part to last year's especially strong performance," said Michelle Krebs, senior autos analyst for automotive pricing and information provider Edmunds.com. "VW did not release any notable new products this year, and that's clearly stunted its growth. The German automaker is in a far better place in the U.S. than it was five years ago, hitting 400,000 sales again this year, but the 2018 goal to double that number remains highly questionable."
UPDATE Dec. 3, 9:43 a.m. EST: Ford Motor Co. (NYSE:F)
For a second consecutive month, the Dearborn, Mich., automaker reported the best sales performance in nine years on strong demand for its cars and despite a decline in SUV sales. Ford's trucks, as usual, carry the brand -- they represented 43 percent of all Ford-brand sales last month, due largely to the 16.3 percent increase in F-Series pickup truck deliveries, or 65,501 units.
Ford's premium Lincoln brand sales jumped 17.4 percent to 6,727 units, in large part to stronger demand for the MKZ entry-level luxury sedan.
"Fusion and Fiesta were particular standouts, setting November records, and Ford trucks maintained their strong selling pace," said John Felice, Ford vice president for U.S. marketing, sales and service, in announcing the monthly figures.
The Fusion mid-size sedan saw deliveries increase 51 percent to 22,839, while the Fiesta supermini bucked an overall trend away from compacts in the marketplace seen in recent months as consumers bought 25.9 percent more units, to 4,642.
The Focus and C-Max compacts didn't fare so well: Sales retreated by 16.8 percent to 15,239 and 50.5 percent to 2,398, respectively. Sales of Ford utility vehicles dropped 1.8 percent as buyers steered clear of Ford's popular Explorer SUV last month.
Sales of the Ford Escape compact crossover barely moved, with only 18 more units sold in the month than were sold in November 2012, to 20,988.
UPDATE Dec. 3, 9:27 a.m. EST

U.S. new-vehicle transaction prices, the average cost of closing a deal on a purchase, are either up or down slightly, depending on the estimate used, which suggests prices are relatively unchanged overall.

The car-buying platform TrueCar.com estimates that the average transaction price for the Big 8 automakers declined slightly, by 0.6 percent from November 2012, to $30,634. Vehicle information and pricing provider Kelley Blue Book estimates that the average transaction price rose by 1.1 percent to $32,769.

KBB says Nissan U.S.A. had transaction prices grow the most from November 2012, by 4 percent to $29,310. TrueCar.com estimates that General Motors Co. (NYSE:GM) grew transaction prices the most, by 6.1 percent, to $34,896.
The overall average of the two estimates suggests transaction prices are stable among the Big 8 automakers, with an average new-vehicle transaction price of about $31,700.
Chrylser Group LLC
Chrysler, the Detroit 3 subsidiary of Italy's Fiat SpA (BIT:F), is the first to report sales today. The maker of Jeep and Dodge brands said it had its best November since 2007, with deliveries up 16 percent from the same month last year, to 142,275 units.
"Our all-new Jeep Cherokee is off to a terrific start with more than 10,169 units sold in its first full month on sale," said Reid Bigland, Chrysler's head of U.S. sales, announcing the figures.
The Auburn Hills, Mich., company delivered 29,635 Ram pickups last month, a 22 percent increase over last year. The Ram is Chrysler's best-selling model. Grand Cherokee mid-size SUV sales rose 9 percent to 10,169, while buyers snatched up 11 percent more Dodge Charger muscle cars, or 6,985 units.
Losers for the month: the Fiat brand, which saw a 15 percent decline in sales of the Fiat 500 and Fiat 500L minis, as consumer have been drifting away from compacts and subcompacts in recent months. The Chrysler 200 subcompact executive and the Chrysler 300 full-size sedan were both down, by 24 percent (to 5,621 units) and 14 percent (to 4,115 deliveries), respectively.
© Copyright IBTimes 2023. All rights reserved.