Flat Earther 'Mad Mike' Hughes Dies In Rocket Launch Attempt
KEY POINTS
Mike Hughes has died in a rocket launch attempt
Hughes wanted to prove that the Earth is not round
Hughes' flat Earth claims were just a part of a PR stunt
Daredevil and amateur astronaut Mike Hughes died during the launch of his homemade rocket in California. Hughes was attempting to launch the rocket to prove that the Earth is not round.
Hughes was a former limousine driver who became an amateur astronaut after he started building rockets in his home. His goal was to reach altitudes high enough to prove that the Earth is flat.
On Feb. 22, Hughes hosted a rocket launch event near Barstow, California. For the event, Hughes debuted his latest homemade steam-powered rocket, which he said was capable of flying 5,000 feet into the air. The event was filmed by the Science Channel, the AFP reported.
Although the rocket launched successfully, a malfunction occurred during the landing stage. Attendees of the event witnessed a parachute tear away from the rocket, which caused the vessel to plummet into the ground. Agencies that responded to the incident confirmed that Hughes died due to the crash.
The Science Channel also confirmed the 64-year-old daredevil's death through a tweet.
Last Saturday's event served as the Hughes' third rocket launch. His first happened on Jan. 30, 2014. Using his first homemade rocket, Hughes was able to reach a height of over 1,300 feet. As noted by Hughes, one of the driving forces behind his rocket launches was to prove that the Earth is not round.
According to the amateur astronaut, he wanted to fly high enough to show the public that the Earth is flat. Hughes previously said that he believed the Earth was shaped like a Frisbee.
However, according to Hughes' spokesman Darren Shuster, admitted that the daredevil's claims about being a proponent of the flat Earth theory might have just been a publicity stunt that was used to gather support for his launch attempts.
This strategy seemed to have worked in 2016 when he received financial support from the flat Earth community for his second rocket launch after saying he believed the theory.
"I don't think he believed it," Shuster told the Los Angeles Times. "He did have some governmental conspiracy theories. But don't confuse it with that flat Earth thing. That was a PR stunt we dreamed up."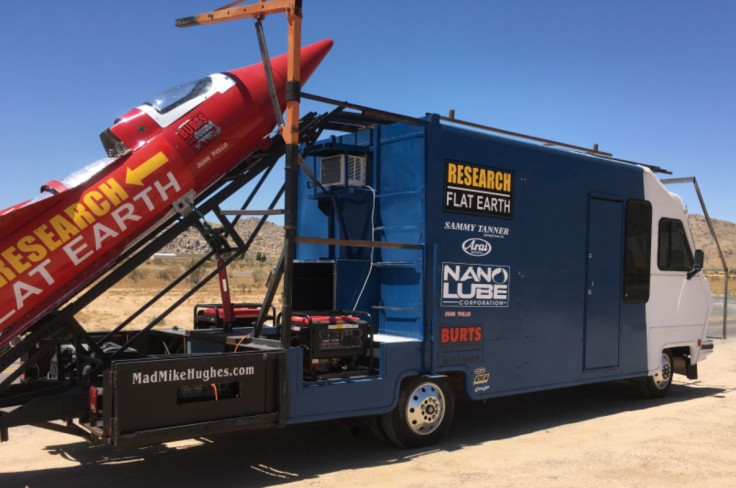 © Copyright IBTimes 2023. All rights reserved.