Flat-Earther 'Mad' Mike Hughes' Self-Made Rocket Launch Delayed For Lacking Federal Permission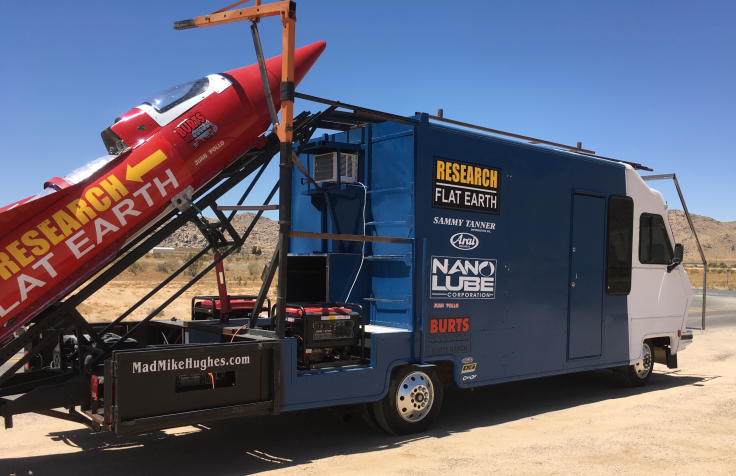 Saturday was supposed to be another momentous day for "Mad" Mike Hughes, a limousine driver and stuntman from California, when he took off from Earth in a rocket he made himself using not much more than salvaged parts. It would have also been the launch of his bid to become the next governor of the sunshine state, but unfortunately for him, the Bureau of Land Management (BLM) had other ideas.
Hughes, who despite his rocket-fairing ways, believes the Earth is flat (it is not — it is almost round, more like an orange, with the depressed portions at the poles). He was supposed to fly in a steam-powered rocket over the ghost town of Amboy, California. The rocket would have flown at 500 miles an hour, and carried Hughes 1,800 feet in the air. He also wanted to eventually build a rocket that would carry him high enough for him to photograph the Earth and see for himself its shape.
If that seems like a lot of effort to go to for something any elementary school-going child can tell you, well, it is. But BLM objected to his Saturday launch plan, saying Hughes needed permission from it before he could carry out the launch at his chosen location, permission he didn't have. In a video on YouTube, Hughes also said the motor home he had converted into a rocket launcher broke down in the driveway just as it was being driven out to Amboy. (It has since been fixed, he added.)
Another piece of private land in the Mojave Desert, near Amboy, has been identified by Hughes as a site where he thinks he would be able to perform his launch without any troubles. The launch may happen as early as this week, provided no other unexpected delays occur.
Hughes shot into the limelight recently after news reports of his upcoming adventure, which seems even more incredulous for a man who claims, in pretty explicit terms, to not believe in science.
© Copyright IBTimes 2023. All rights reserved.