Fleeing Boko Haram Fighters Kill 7 In Chad, Attack Kayamla In Borno, Nigeria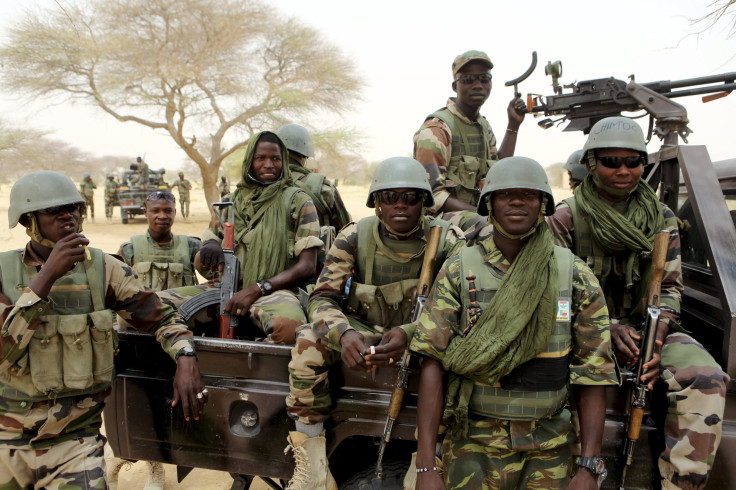 Boko Haram may have started running from West African military forces, but the Islamist militant group hasn't stopped attacking civilians. The insurgents killed seven people in a village in Chad Friday, Reuters reported, and they attacked a village in Nigeria Saturday, the Premium Times in Nigeria said. These attacks came just days after Nigerians voted to elect former military leader Muhammadu Buhari as their next president.
Troops from Chad and Niger drove the militants out of the city of Malam Fatori this week, in clashes that killed nine Chadian soldiers and injured 16. Subsequently, the fleeing Boko Haram fighters attacked the town of Maidogo in Chad Friday.
"After being defeated in Malam Fatori, some Boko Haram elements fled west and others towards the island on Lake Chad aboard canoes," Reuters quoted Gen. Seyni Garba, the head of Niger's army, as saying.
In Nigeria, local media are reporting the militants have attacked Kayamla, a town about 12 miles outside the major city of Maiduguri, the Borno state capital that Boko Haram has been targeting for some time.
"We just got a report from our vigilante members around [the] Konduga local government area that Boko Haram terrorists were in Kayamla, and we've just assembled a team of vigilante members and the Civilian-JFT who are about to storm Kayamla now," Muhammed Gava, a local vigilante group leader in Borno told the Premium Times, which also reported that Boko Haram militants beheaded four fishermen and kidnapped five people during an attack on a nearby fishing village.
Boko Haram has been operating in Nigeria's northeast in its current form since 2009, but has killed more than 1,000 civilians since January of this year, according to Human Rights Watch.
Last week, Nigerian citizens voted in a historic election to oust incumbent President Goodluck Jonathan in favor of challenger Buhari, whose campaign platform was largely based on taking tough action against Boko Haram.
Saturday, a group of citizens who reside in Nigeria's northeast emphasized their hopes for the next president, in an open letter to Buhari urging him to take action.
"We need security of our lives and properties to be guaranteed just as it used to be," they wrote. "We have a belief that there was total negligence and insincerity in fighting the insecurity that has, for six years: killed our lives, demolished our markets, destroyed our schools, razed our villages, crippled our economy, reduced our jobs, disturbed our peace, displaced/handicapped our people, restricted our movement, bombarded our well-being and took us far back compared to other regions of the country."
© Copyright IBTimes 2023. All rights reserved.
FOLLOW MORE IBT NEWS ON THE BELOW CHANNELS