Florida Republican Debate 2012: Where to Watch Live Stream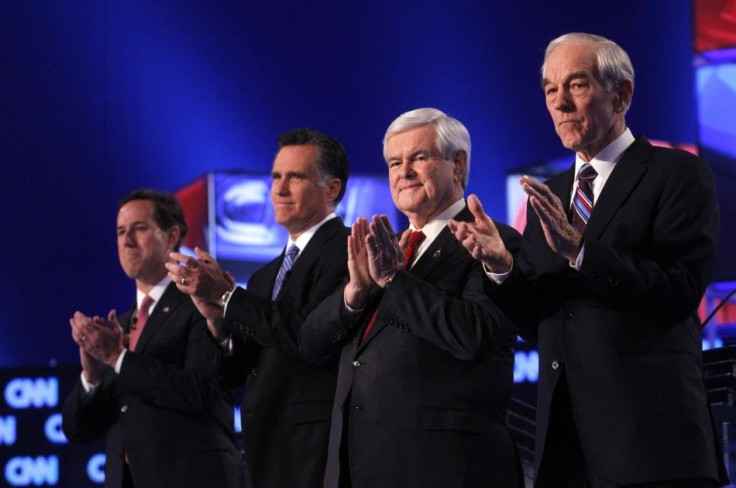 Former Massachusetts Gov. Mitt Romney, former Speaker of the House Newt Gingrich, Texas Rep. Ron Paul and former Pennsylvania Senator Rick Santorum will face off tonight in the first of two debates before the Florida primary on Jan. 31, 2012.
Find out who's hosting the debate, when it begins, where to watch live footage and how to follow it on Twitter by checking out the information below.
To catch live updates of the debate in progress, check out our live coverage of the first Florida 2012 primary debate tonight on the IBTimes web site.
Who's Hosting the Debate, and Where Is It?
Tonight's Republican primary debate will be held at the University of South Florida in Tampa, Fla. The event will be hosted by The Tampa Bay Times, NBC News, The National Journal and The Florida Council of 100.
Who Will Moderate the Debate?
Tonight's debate will be moderated by Rock Center host Brian Williams. National Journal's Beth Reinhard and Tampa Bay Times' Adam Smith will also question the candidates.
Where Can I Watch the Debate?
The University of South Florida debate will air on NBC at 9 p.m. EST in place of Rock Center With Brian Williams. Channel information for: Time Warner Cable, DirecTV, Dish and Comcast is available on all their web sites.
For those who cannot access a TV or wish to watch the debates on their computer, the debate will also be live streaming on NBCNews.com, NationalJournal.com and TampaBay.com starting at 9 p.m. Sites like WNYC.org are also streaming coverage through NBC service.
How Can I Follow the Debate on Twitter?
@NBCPolitics is using the hashtag #FLDebate on Twitter tonight.
© Copyright IBTimes 2023. All rights reserved.