Floyd Mayweather To Fight Chinese Boxer; Manny Pacquiao Rematch Unlikely To Happen
Floyd Mayweather Jr. just jeopardized his anticipated rematch with Manny Pacquiao by reportedly agreeing to fight a Chinese boxer.
The undefeated boxing champ is once again involved in an overseas match. Reports claim that Mayweather will be holding a boxing match in China next year.
According to South China Morning Post, a source stated that a press conference will make the announcement and they have already got the temporary approval of the Hainan government for the said event.
"The press conference will announce that Mayweather will hold a boxing match in China next year. We have already got the Hainan government's temporary approval for this event," the spokesperson said.
However, even though the match has taken a step closer to fruition, Mayweather still has to make it official on his part.
"But everything needs to be confirmed with Floyd as well. The details are not 100 per cent confirmed yet. We are in the process of negotiating details with Mayweather's management," the spokesperson added.
At this point, no official date has been set for the bout yet. But it is reportedly targeted to take place in 2020. Sources also claim that there will be a recruitment campaign which will also be held in China to pick Mayweather's opponent.
The media invitation noted that the said match is a way of "enhancing" the existing friendship between US and China.
"This match aims to enhance the friendship between two powerful nations through boxing, gaining popularity for Hainan in the role of an international tourism island and achieving Mission Hills' vision of bringing world-class sports events to Haikou," the media invitation added.
The initial itinerary states that Mayweather is set to tour the Missions Hills Resort Haikou in the afternoon on September 17 before a private welcome dinner. On September 18, there will then be a signing ceremony with a press conference and a group interview.
The 42-year-old boxing champ will then tour Mission Hills Movie Town before holding a boxing lesson for students.
Prior to this, Mayweather was also reportedly set to challenge his former rival Conor McGregor once again. Reports claim Mayweather and McGregor will face each other in the live version of the TV classic "Superstars" in Japan. However, it was also revealed that it will not be a professional fight.
All told, it appears that the Mayweather vs. Pacquiao rematch is unlikely to happen soon. Pacquiao on his part, is reportedly has "3 options" should Mayweather rematch talks will break down once again.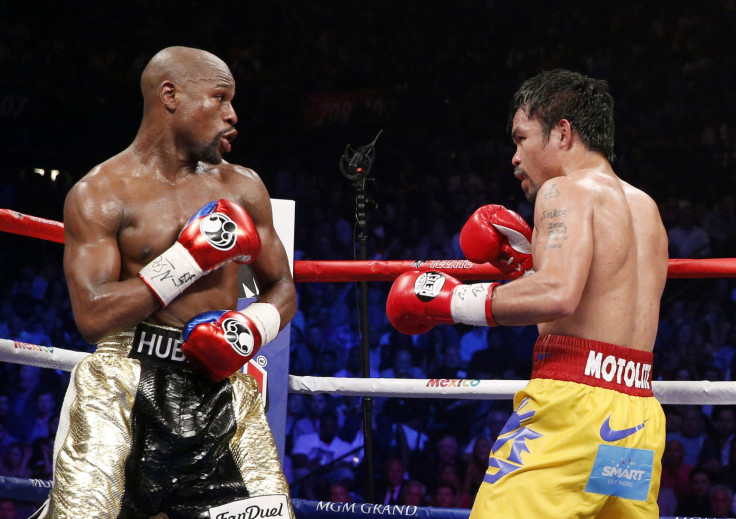 © Copyright IBTimes 2023. All rights reserved.