Floyd Mayweather Jr. Vs. Marcos Maidana: Prediction, Betting Odds And Preview For Saturday's Title Fight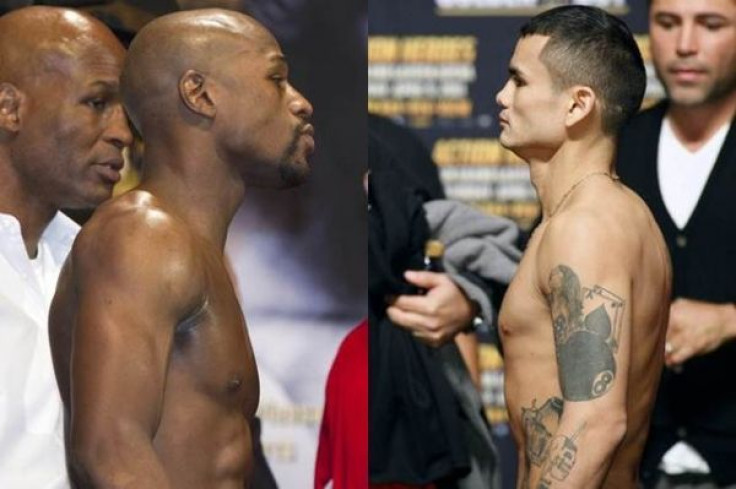 It's been almost eight months since boxing's No.1 competitor stepped inside the ring. That's set to change on Saturday when Floyd Mayweather takes on Marcos Maidana.
The bout will take place at the MGM Grand Garden Arena in Las Vegas. It's the ninth consecutive time that Mayweather will fight at the venue, as he puts his welterweight title on the line.
Mayweather enters the fight with a perfect 45-0 record. Despite his success, the boxer isn't looking past his opponent.
"May 3 I've got to go out there and take my time, keep my composure and be me. Everybody thinks he's just going to be a pushover, but I don't think so. That's why I'm training hard and I'm pushing myself to the limit every day," said Mayweather, on the week of the fight.
While Mayweather contends that Maidana could present him with a challenge, few believe that the 30-year-old has much of a chance. Mayweather is usually a heavy favorite in his fights, but the oddsmakers have made Maidana a bigger underdog than any of his recent opponents. Bovada.lv lists Mayweather's betting odds at -1000. Maidana comes in at +600.
Maidana hasn't lost a fight in over two years, when he was defeated by Devon Alexander. Since then, he's won four consecutive bouts, with victories in 2013 over Josesito Lopez and Adrien Broner. He's known for throwing unconventional punches, and was chosen over Amir Khan to be Mayweather's next opponent.
Even at 37 years old, Mayweather doesn't appear to be slowing down. In September, Canelo Alvarez was expected by many to give him his greatest challenge in years. The bout resulted in another easy victory for Mayweather, and the one judge who awarded the fight to Alvarez resigned less than a week after the match.
For the last few years, Mayweather has been the highest-paid athlete in the world. That should continue in 2014, as he's guaranteed $32 million to face Maidana.
Prediction: Mayweather has looked as good as ever in his recent fights. While Maidana was impressive in 2013, Lopez and Broner don't compare to the challenge he'll face on Saturday. Maidana is a strong puncher, recording knockouts in 31 of his 35 victories. However, Mayweather is too quick for his opponent, and should leave the fight mostly unscathed. He has just one knockout since 2007, so Mayweather should win comfortably in a 12-round fight.
Predicted Decision: Mayweather by unanimous decision
© Copyright IBTimes 2023. All rights reserved.