Floyd Mayweather Rips Conor McGregor For 'Disrespecting Black Women,' UFC Star Says He's Not Racist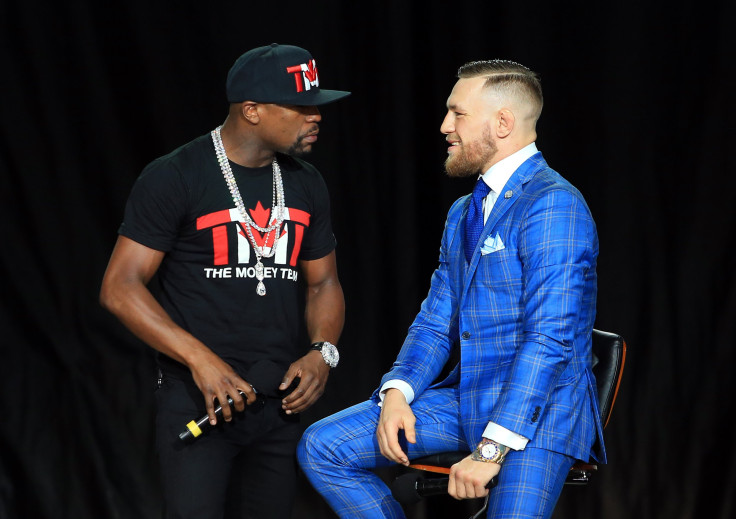 Floyd Mayweather called out Conor McGregor for "disrespecting black women" Thursday night at Barclays Center in Brooklyn, following Day 3 of the promotional tour for their upcoming super-fight. McGregor had previously been criticized for what some deemed to be racially charged comments that he made earlier this week.
It started Tuesday at Los Angeles' Staples Center when, amidst trash talking from both fighters, McGregor told Mayweather, "Dance for me, boy." In an interview with Guillermo Rodriguez from "Jimmy Kimmel Live" that aired Wednesday night, McGregor used the term "dancing monkeys" when talking about "Rocky III," seemingly referring to black boxers that were sparring in Apollo Creed's gym.
READ: Twitter Accuses Conor McGregor Of Being Racist
Having heard the discussion surrounding his comments, McGregor threw more fuel onto the fire.
"Let's address the race. A lot of media seem to be saying I'm against black people. That's absolutely [expletive] ridiculous. Do they not know I'm half black? Yeah, I'm half black from the belly button down...and just to show that that's squashed, here's a little present for my beautiful black female fans," McGregor said in front of more than 13,000 fans at Barclays Center as he mimicked having sex with a woman.
Mayweather was not amused.
"I think that disrespecting my daughter, disrespecting the mother of my daughter, disrespecting black women, calling black people monkeys is totally disrespectful," Mayweather told reporters at the event, attended by International Business Times.
"I have a diverse team, a diverse staff, and when I was young I may have said some things that I shouldn't have said. But we live, we learn, and you don't say those things once you get to a certain age. It's all about growing and maturity. But it's total disrespect, and he came on today and did it again. I don't care if it's white women, black women, white men, black men, Asian, Latina or Latino. You don't disrespect people. To get respect, you must give respect."
McGregor addressed the media before Mayweather gave his thoughts on the night's events. He insisted that he's the furthest thing from a racist and his actions were only done to mock the notion that he might be prejudiced.
"That doesn't really sit well with me. I'm a very multicultural individual and I don't have any ill feelings towards anyone. I don't even see color. I just wanted to say something and have a bit of fun with it," McGregor said.
"I just wanted to play with it and address it in my own little way. It's stupid and ridiculous is basically what I was getting at."
Mayweather is used to playing the role of the heel. It's one that he's embraced throughout his career, and he's been booed vociferously for three straight days. Mayweather's confidence is often seen as arrogance, and he flaunts his money like a villain straight out of WWE.
While dominating a different combat sport, McGregor is, in many respects, a younger version of Mayweather. He's as flashy and cocky as they come. Just look at the custom-made suit he wore Tuesday night with pinstripes that read "[expletive] you."
Now, McGregor's arrogance has him convinced that he will knock out the greatest fighter of his generation, despite having no professional boxing matches on his resume. Mirror images of one another, McGregor has gotten most of the fans' support in the build towards his fight with Mayweather.
"Racism still exists. I've been flashy for years. Flashy. Mink coats. I've been driving Ferraris and Rolls-Royces and Bentleys for over 20 years," Mayweather said. "All this flashy stuff, I was doing it. 'Oh, he's arrogant. He's cocky. He's this, he's that. He's unappreciative.' But then you take the same guy that's in combat sports, steals my whole blueprint and they praise him."
There are plenty of legitimate reasons why fans root against Mayweather.
McGregor is the new star, having fought four times since Mayweather last stepped inside a boxing ring on Sept. 12, 2015. Mayweather has been the overwhelming favorite in his fights for the last decade, but that hasn't been the case for McGregor. Unlike his counterpart, he's overcome difficult odds in his biggest fights, moving up weight classes and defeating the best featherweight of all time.
That's in addition to the issues Mayweather has had outside of the ring. The boxer has a history of domestic violence, and he served two months in jail in 2012 for a misdemeanor domestic battery case.
On Aug. 26, McGregor will try to pull off arguably the greatest upset in modern sports history. It's easy to see why so many fans would want to root for such an underdog.
READ: Who Will Floyd Mayweather Fight After Conor McGregor
Even if you don't think any of McGregor's antics have crossed the line, he has certainly let loose in trying to get under Mayweather's skin. McGregor has referenced Mayweather's reported tax problems, and his profanity-laced promos seem to get more personal in each city.
When asked if there was any subject he wouldn't touch, McGregor paused for a moment.
"Maybe a few things. But we'll see. There's still one more stop left."
The tour ends Friday in London, England.
FOR FREE to continue reading
✔️ Unlock the full content of International Business Times UK for free
offer available for a limited time only
✔️ Easily manage your Newsletters subscriptions and save your favourite articles
✔️ No payment method required
Already have an account?
Log in
© Copyright IBTimes 2023. All rights reserved.