Floyd Mayweather vs. Manny Pacquiao 2015: TV Replay Channels, Date, Start Time And More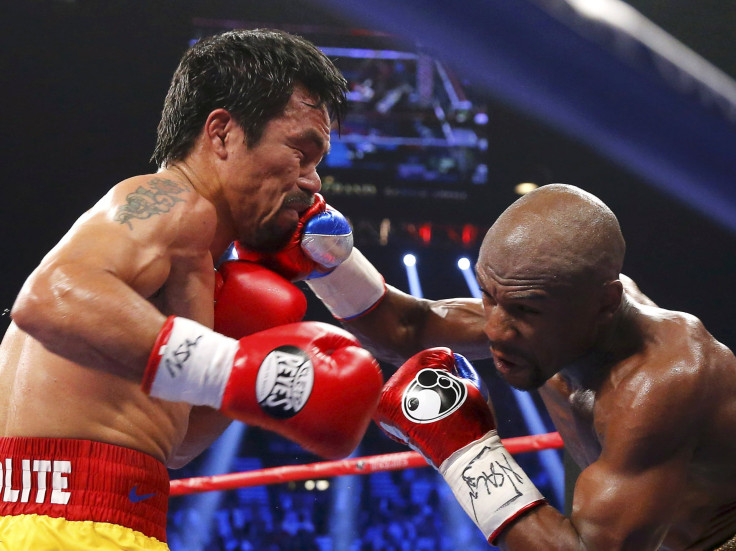 Fans who weren't willing to pay to see Floyd Mayweather vs. Manny Pacquiao on May 2, or want to see it again to catch something they may have missed, will have their chance to see the fight this weekend. A week after the mega-fight generated over 3 million pay-per-view buys, HBO and Showtime will air the bout for free.
For just the second time in history, HBO and Showtime joined forces for a joint PPV, allowing both networks to air the replay. The fight will be broadcast on each network at 9 p.m. ET on Saturday, May 9. Mayweather improved his career record to 48-0, defeating Pacquiao in a unanimous decision.
When Lennox Lewis and Mike Tyson squared off in their 2002 joint PPV, the agreement stipulated that only the winning boxer's network would get to show the fight again. Lewis won with an eighth-round knockout, giving HBO rights to the replay.
The entire PPV lasted close to four hours, but only Mayweather and Pacquiao's fight will be shown again. Vasyl Lomachenko beat Gamalier Rodriguez in the ninth round of the PPV's first fight, while Leo Santa Cruz ended the undercard with a unanimous decision victory over Jose Cayetano. While the PPV began at 9 p.m. ET, the main event didn't begin until two minutes shy of midnight, as HBO and Showtime stalled to give cable providers a chance to sift through all of the PPV purchases.
HBO's airing of Mayweather vs. Pacquiao won't be a standalone event. The fight will kick off HBO's "World Championship Boxing" at 9 p.m. ET, leading up to the main event of Canelo Alvarez vs. James Kirkland. Mayweather and Pacquiao's fight was the most profitable of all time, breaking the revenue record set by Mayweather and Alvarez in Sept. 2013.
On Showtime, Mayweather vs. Pacquiao will be broadcast from 9 p.m. ET to 10:30 p.m. ET. The replay will air just before "Inside Mayweather vs. Pacquiao," the final episode of the series that gives fans a behind-the-scenes look at Mayweather's preparation for the fight.
For many casual viewers, the fight didn't live up to expectations. Fans who were looking to see a brawl didn't get what they had hoped, as Mayweather used his defensive prowess to dodge Pacquiao's punches. While Pacquiao had a few flurries in which Mayweather looked like he might be in some trouble, the undefeated boxer managed to dodge 81 percent of the punches thrown by his opponent.
Even though the end result might not have matched the hype, there's a chance the two fighters will meet in the ring again. After the fight, Pacquiao admitted that he was bothered by a shoulder injury, and surgery will force the boxer out of action for possibly up to a year. On Tuesday, Mayweather told ESPN's Stephen A. Smith that he would give Pacquiao another fight in a year.
The May 2 PPV from the MGM Grand in Las Vegas cost $99.95 to purchase in HD, though some fans still managed to watch the fight for free using illegal live streams.
© Copyright IBTimes 2023. All rights reserved.