Manny Pacquiao vs. Floyd Mayweather 2015: Live Blog, Analysis From Las Vegas, Pictures And More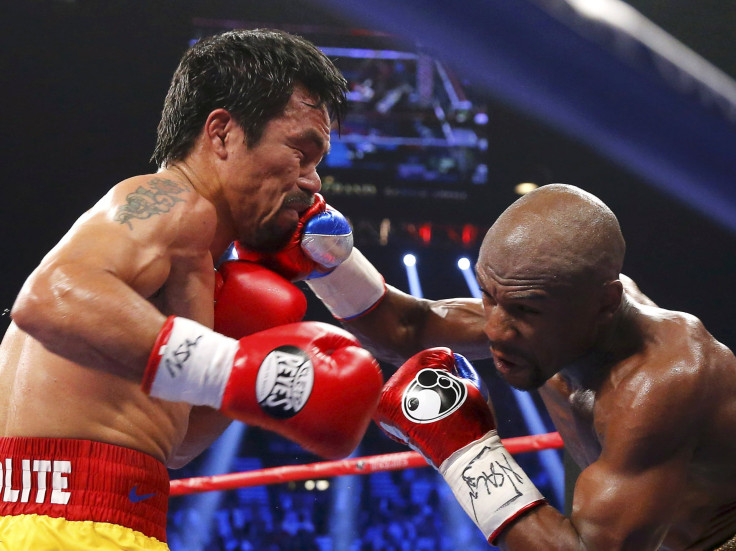 12:51 p.m. EDT - Mayweather gets unanimous decision. Wasn't even close on the scorecards.
12:50 p.m. EDT - They exchange a hug at the middle of the ring, with Mayweather telling Pacquiao "You're tough as a [expletive]."
12:46 p.m. EDT - A unanimous decision in Mayweather's favor now seems likely after 12 rounds. Pacquiao is grinning, but he has to know he lost.
12:45 p.m. EDT - Crowd trying to push Pacquiao to go for it, but Mayweather just dances away the final seconds with Pacquiao chasing him.
12:41 p.m. EDT - And now we're going to judge whether the fight was worth the wait, even though we have one round left.
12:38 p.m. EDT - Now last two rounds coming up. It's come and gone so quickly. Mayweather appears confident but gassed. Pacquiao bouncing but doesn't have same snap to punches.
12:36 p.m. EDT - And now we're talking about a KO or nothing for Pacquiao. Though some are questioning Mayweather's methods.
12:34 p.m. EDT - Another solid punch from Pacquiao, but he can't string these together. Entering 10th round.
12:33 p.m. EDT - Scorecards not looking good for Pacquiao.
12:30 p.m. EDT - Through eight and a shot of Pacquiao doing some damage. Mayweather looking strong in spite.
12:27 p.m. EDT - Mayweather looking stunned in the sixth.
12:24 p.m. EDT - Seventh round a lot of dancing, and very hard to tell who has real advantage. Mayweather's jab has been solid all match, but Pacquiao's countered with dazzling flurries.
12:22 p.m. EDT - Headshaking from Mayweather as Pacquiao lands combos in the sixth, and Pac-Man prob took that round.
12:18 p.m. EDT - Pacquiao doesn't parlay fourth round success into fifth, and continues to get caught with Mayweather's straight right counters.
12:13 p.m. EDT - Pacquiao puts together combos, including one spot halfway through the fourth round with Mayweather against the ropes. Likely took his first round of the night.
12:06 p.m. EDT - Pacquiao looks like he took that round, put together some combos. And FYI here's our round-by-round updates with score updates as well.
12:01 p.m. EDT - First round done, Mayweather lands two big rights, and there's some talking during a clench before the bell.
12:00 p.m. EDT - Mayweather lands first big punch with a hard straight right.
11:59 p.m. EDT - First official bell, and we're off.
11:57 p.m. EDT - A nice live shot from ring side just before we get going
11:55 p.m. EDT - The fight is now officially on because Michael Buffer said "Let's get ready to rumble!"
11:49 p.m. EDT - After Jimmy Kimmel with Pacquiao, we now have our Justin Beiber siting with Mayweather.
11:48 p.m. EDT - Pacquiao finally makes his way to the ring.
11:44 p.m. EDT - Jamie Foxx sings The Star Spangled Banner.
11:39 p.m. EDT - Julio Lopez singing the Mexican national anthem. We're getting close.
11:37 p.m. EDT - Final poll results on PPV say 67 percent of voters think Pacquiao will win. Certainly not in line with the oddsmakers.
11:36 p.m. EDT - Looks like the late money was on Mayweather.
11:34 p.m. EDT - Still no ring entrances. Start of the fight being stalled do to issues with so many PPV orders.
11:32 p.m. EDT - Evander Holyfield gives Pacquiao a chance to upset Mayweather.
11:29 p.m. EDT - HBO Vice President Mark Taffet told SI.com
11:26 p.m. EDT - Jim Lampley acknowledges that the companies need some time in order to keep up with all the PPV orders.
11:24 p.m. EDT - The projected fight revenue of $400 million is larger than the GDP of 29 countries.
11:20 p.m. EDT - New England Patriots Tom Brady is at the fight. He flew to Las Vegas after watching the Kentucky Derby in person.
11:19 p.m. EDT - It feels like every major celebrity is at this fight. Louis CK, Magic Johnson, Charles Barkley, Reggie Miller, Paris Hilton and Robert De Niro are all at the fight.
11:15 p.m. EDT - Pacquiao is looking to become the first man to defeat Mayweather, who's gone undefeated in 47 career fights. Only one judge has ever scored a fight for Mayweather's opponent, and Pacquiao hasn't knocked out an opponent since 2009. Click here for 50 facts about Mayweather, Pacquiao and the big fight.
11:12 p.m. EDT - The anticipation is building. The fight that's been over five years in the making will get underway in minutes. Click here to see 20 expert predictions for the mega-fight.
11:09 p.m. EDT - Mark Wahlberg in attendance. He made a $250,000 bet with Diddy that Pacquiao would win.
11:04 p.m. EDT - Looks like the main event will be starting much later than anticipated. Could get underway on May 3 on the East Coast.
11:03 p.m. EDT - Santa Cruz wins in a unanimous decision. He praises Cayetano for being tough, as he was unable to get a knockout.
11:01 p.m. EDT - The undercard is done, but Mayweather vs. Pacquiao won't start just yet. The break between fights could be longer than usual.
10:58 p.m. EDT - The fight goes the distance, but Santa Cruz should get a lopsided decision victory. Follow Evan Korn (@EvanKorn44) who's in Las Vegas covering the fight for International Business Times.
10:56 p.m. EDT - Three Batmans in attendance for the fight. Michael Keaton, Christian Bale and Ben Affleck all at the MGM Grand to watch Mayweather vs. Pacquiao.
10:51 p.m. EDT - Andre Agassi and Steffi Graf are in attendance, watching Santa Cruz coast to a victory.
10:49 p.m. EDT - In the eighth round of Santa Cruz vs. Cayetano. Santa Cruz won't lose unless he gets knocked out.
10:46 p.m. EDT - What a night of sports! The Los Angeles Clippers beat the San Antonio Spurs in Game 7 on a shot by Chris Paul with one second left in regulation. Mayweather and Pacquiao about 45 minutes away from finally facing off.
10:40 p.m EDT - Believe it or not you can still purchase tickets to see Mayweather vs. Pacquiao.
10:36 p.m. EDT - It looks like both fights on the undercard will be one-sided. Let's hope that's not the case for the main event.
10:34 p.m. EDT - Santa Cruz is in control of this fight, winning the first three rounds.
10:28 p.m. EDT - Russell Wilson, Claire Danes, Don Cheadle and Denzel Washington among the celebrities spotted at the MGM Grand Garden Arena.
10:23 p.m. EDT - The record for PPV buys was set in 2007 when Mayweather defeated Oscar De La Hoya in a split decision. That fight generated 2.5 million buys, and oddsmakers have estimated that Mayweather vs. Pacquiao could do as much as 3.15 million buys.
10:18 p.m. EDT - Because Mayweather fights for Showtime and Pacquiao fights for HBO, the two networks are teaming up to put on a PPV for just the second time in history. They did the same in 2002 when Lennox Lewis and Mike Tyson fought for the heavyweight championship.
10:15 p.m. EDT - HBO is telling fans to be patient.
10:14 p.m. EDT - Only 500 tickets were put on sale to the general public, but plenty of seats were sold on the secondary ticket market. It will be a packed house for the biggest fight in years.
10:11 p.m. EDT - Stay with us if you ordered the PPV and are unable to see the fights. We'll keeep you updated throughout the night.
10:09 p.m EDT - Mayweather could make up to $180 million, while Pacquiao could earn as much as $120 million for the fight, depending on PPV buys. But that was before people who ordered the PPV were unable to see the bout.
10:03 p.m. EDT - WBC Super Bantamweight World Champion Leo Santa Cruz takes on Jose Cayetano in the next and final undercard fight of the night.
9:59 p.m. EDT - Lomanchenko put on an impressive performance, though not many people with tickets actually saw it.
9:57 p.m. EDT - The first fight is over. Lomanchenko gets the win by TKO in the ninth round. Dominating performance.
9:52 p.m. EDT - Looks like DirecTV and Time Warner Cable are having trouble, and paying customers are unable to watch the PPV. This is turning into a disaster. Read more here.
9:48 p.m. EDT - Lomanchenko is in control of the fight. He defended his title in November, defeating Chonlatarn Piriyapinyo in every round on the scorecard of all three judges.
9:44 p.m. EDT - Mayweather is ready to go.
9:33 p.m. EDT - There seem to be a lot of people with PPV issues. Good thing the main event won't start for at least another 90 minutes.
9:25 p.m. EDT - Vasyl Lomachenko vs. Gamalier Rodriguez has begun.
9:23 p.m. EDT - The undercard has been criticized for being underwhelming, and there are a lot of empty seats for the first fight.
9:18 p.m. EDT - The PPV will be the highest-selling of all time, and there appears to be some technical difficulties from at least one cable provider.
9:14 p.m. EDT - WBO featherweight champion Vasyl Lomachenko will face Gamalier Rodriguez in the first fight of the PPV. Rodriguez heading to the ring now.
9:12 p.m. EDT - Celebrities and all-time great boxers are in Las Vegas watching Mayweather vs. Pacquiao.
9:07 p.m. EDT - The broadcast is underway. Jim Lampley, Al Bernstein and Roy Jones Jr. are on the call for the fights.
9:04 p.m. EDT - A domestic beer at the MGM Grand Garden Arena costs $9. A premium cocktail is $11, a Red Bull is $5 and peanuts cost $5.50.
9:01 p.m. EDT - Manny Pacquiao is on his way to the MGM Grand.
8:57 p.m. EDT - The PPV officially begins at 9 p.m. EDT. The televised undercard is made up up two fights, both of which will be fought at 126 pounds.
8:53 p.m. EDT - Pacquiao had his first professional fight in 1995. He's won titles in eight different weight classes, going 57-5-2 in his career.
8:49 p.m. EDT - There will be plenty of alcohol consumed during the big fight. There are even drinking games for Mayweather vs. Pacquiao.
8:45 p.m. EDT - There is no rematch clause for the fight. It's hard to believe the two boxers won't meet again if Pacquiao gets the win though a decisive win by Mayweather might put an end to the feud.
8:42 p.m. EDT - Pacquiao weighed in at 145 pounds Friday while Mayweather weighed in at 146 pounds. The weigh-in was uneventful as has been the entire build for the mega-fight. The bout has been the most anticipated boxing match in recent years, and the fight will sell itself.
8:37 p.m. EDT - Pacquiao will have to throw a lot of punches to beat Mayweather. He threw 669 punches in his last fight, defeating Chris Algieri in a unanimous decision.
8:34 p.m. EDT - The MGM Grand Garden Arena has a capacity of 16,800. The crowd will be filled with celebrities, and the cheapest seat has a face value of $1,500. Only 500 tickets were sold to the general public, and they sold out in one minute.
8:29 p.m. EDT - Members of both camps give a lot of credit to CBS President and CEO Leslie Moonves, who helped facilitate the agreement after on-and-off negotiations since 2009.
8:26 p.m. EDT - The fans might think Pacquiao is going to get the win, but the oddsmakers beg to differ. Just hours before the fight, Mayweather is a decided favorite.
8:24 p.m. EDT - Pacquiao trainer Freddie Roach said earlier in the week Pacquiao must throw combinations at Mayweather and make sure to move quickly. Mayweather's opponents get into trouble when they pressure him too much.
8:21 p.m. EDT - Lennox Lewis: "Manny Pacquiao has to start out fast. ... It has to be controlled aggression." Lewis says Pacquiao must bring Mayweather out of his comfort zone.
8:18 p.m. EDT - Evan Korn (@EvanKorn44) is covering the fight for International Business Times in Las Vegas. Click here to read his story about how Las Vegas is cashing in on the mega-fight.
8:12 p.m. EDT - Rachel Nichols denies claims from Mayweather's camp, saying she was never offered a credential to the fight.
8:09 p.m. EDT - Fan poll on PPV has 58 percent picking Pacquiao to win, and 42 percent of voters choosing Mayweather.
8:05 p.m. EDT - One major development from press row. Rachel Nichols and Michelle Beadle had their credentials revoked. Mayweather's PR person said it was a misunderstanding and they both had credentials.
8:03 p.m. EDT - Welcome to our coverage of Floyd Mayweather vs. Manny Pacquiao. Here's a quick look at the Tale of the Tape:
Floyd Mayweather Manny Pacquiao
Age: 38 36
Height: 5'8 5'6 ½
Weight: 146 145
Reach: 72" 67"
Stance: Orthodox Southpaw
Record: 47-0 57-5-2
LAS VEGAS - After five long years, Floyd Mayweather and Manny Pacquiao meet with the welterweight championship on the line, and bragging rights for best pound-for-boxer in the world. The two superstar boxers meet in the ring at the MGM Grand in Las Vegas on Saturday night.
Stick with International Business Times throughout the night to get live updates on all the best moments from the lead up to the bout: the undercard, the introductions, and the fight itself. Click on this link for a live scorecard. We will also have scorecards from other analysts, as well as Twitter reactions and photos.
To stay up-to-date on all things Mayweather vs. Pacquiao 2015, simply refresh this page periodically for live updates. Feel free to comment in the section below, but we ask you that you keep your thoughts and opinions respectful and unbiased, as well will intend to be for the entire evening.
FOR FREE to continue reading
✔️ Unlock the full content of International Business Times UK for free
offer available for a limited time only
✔️ Easily manage your Newsletters subscriptions and save your favourite articles
✔️ No payment method required
Already have an account?
Log in
© Copyright IBTimes 2023. All rights reserved.