Floyd Mayweather Vs. Manny Pacquiao: 'The Big Surprise' In 2015? Mayweather Drops Hint At Award Show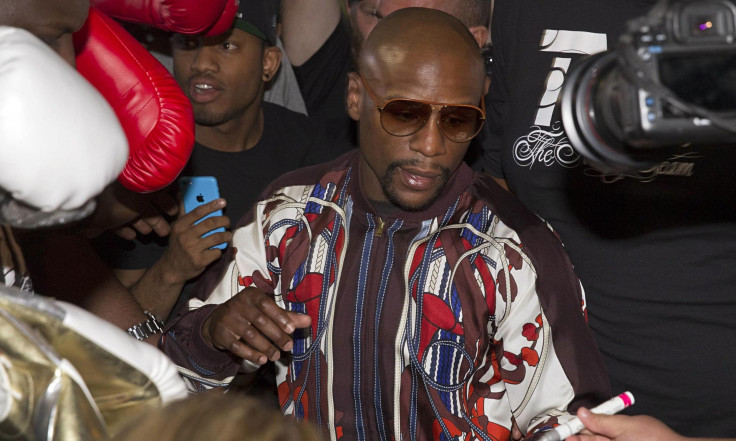 Just when it looked like an eventual bout between Floyd Mayweather and Manny Pacquiao might be off the table for good, the world's top boxer has left fans wondering if a mega-fight could be in the works.
At an awards ceremony on Sunday, Mayweather discussed his future plans in the ring. While he didn't mention Pacquiao by name, his comments have some believing that Mayweather vs. Pacquiao could finally happen next year.
"September 13, back to business, Marcos Maidana v Floyd Mayweather part two," Mayweather said, according to ESPN.co.uk. "Then in May, I'll have a big surprise for you."
Mayweather is already scheduled to fight in mid-September, though an opponent has not been named. A rematch with Maidana is not official, but the two had an entertaining bout in May and indicated that they could meet again before the end of the summer.
Mayweather's contract with Showtime calls for him to fight twice in 2015, and the undefeated boxer has said that he'll retire when his deal is done. If he doesn't face Pacquiao next year, the sport's biggest stars will likely never meet.
Since 2009, there have been a number of reasons why the two top names in boxing have never faced each other. Issues of drug testing and a split of the purse may have been resolved, but Pacquiao's relationship with Top Rank is the latest stumbling block. Mayweather refuses to do business with the Top Rank CEO Bob Arum, and Pacquiao recently signed a deal with the company that runs through the end of 2016.
It might be hard to believe that Mayweather's "surprise" involves Pacquiao. The 37-year-old has been steadfast against working with PacMan, and his contract extension with Top Rank appeared to have killed the idea of the two sides every coming to an agreement.
Prior to Mayweather's comments, it had been assumed by many that the boxer would fight Amir Khan in the first part of 2015. While a bout between the two could still be on the table, Mayweather vs. Khan in May of next year would hardly be a surprise.
In June, Mayweather announced his intention to fight at Wembley Stadium in London, and a fight with the England-born Khan would make the most sense. Khan would have been on Mayweather's list of potential opponents for September, but his observance of Ramadan in July will force him to fight later in the year.
After defeating Timothy Bradley in April, Pacquiao is expected to fight once more in 2014. It was thought that his victory would mean a fifth meeting with Juan Manuel Marquez, but that is looking less and less likely. With PacMan searching for an opponent, Khan could end up taking on Pacquiao near the end of the year.
© Copyright IBTimes 2022. All rights reserved.
FOLLOW MORE IBT NEWS ON THE BELOW CHANNELS