Floyd Mayweather Next Fight: Amir Khan A Frontrunner, But Miguel Cotto A Possibility After Sergio Martinez Win?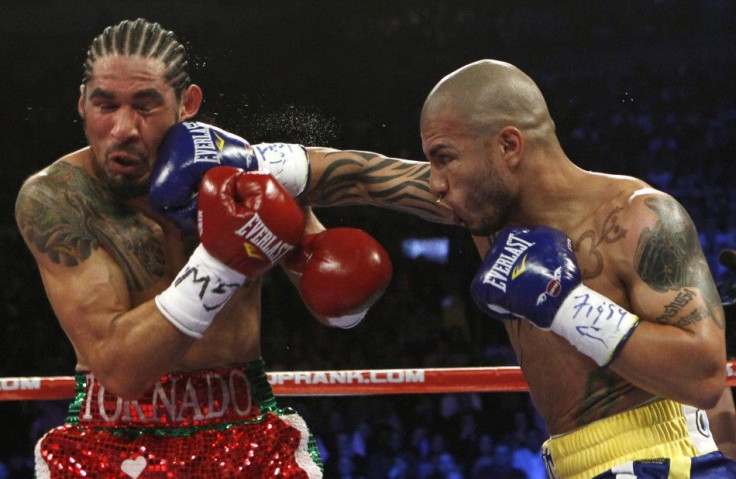 Miguel Cotto's recent victory could put him the conversation to have a rematch with Floyd Mayweather. He was extremely impressive on Saturday, defeating Sergio Martinez for the middleweight championship of the world.
The Puerto Rican has already faced Mayweather, losing a unanimous decision in May 2012. After winning a title in his fourth weight class, though, Cotto might be able to give the undefeated boxer a better fight this time around.
After winning a close battle against Marcos Maidana last month, Mayweather admitted that Cotto hit harder than his most recent opponent, and gave him a tougher fight. Some in Cotto's camp believe he would win a rematch with Mayweather.
"Miguel is ready to go against Mayweather. He's in the best shape of his career," trainer Freddie Roach said, following Cotto's victory over Delvin Rodriguez in October. "He returned to the style that he needed to go back to. And as Miguel said last week, if I had been in his corner for the first fight against Mayweather - he would have won."
"If Cotto, with Freddie Roach, fought Mayweather again it would be no contest," Top Rank CEO Bob Arum said on Sunday, via Boxing Scene. "Mayweather wouldn't have a [expletive] chance."
Cotto has looked like a different boxer since working with Roach. He teamed up with the trainer following his loss to Austin Trout in 2012. Since then, he's won two straight fights, which have lasted a total of 13 rounds.
If Cotto's relationship with Top Rank continues, a rematch with Mayweather would be unlikely. Mayweather refuses to do business with Bob Arum's promotion company, claiming it's the reason he won't agree to a fight with Manny Pacquiao.
Mayweather's next fight has been scheduled, even though he's still looking for an opponent. The 37-year-old will put his 46-0 record on the line on Sept. 13.
It's looking more and more likely that Mayweather will fight Amir Khan, but the bout would have to take place in 2015. Khan will observe Ramadan in July, and the fast will prevent him from being ready to fight before the end of the summer.
Following Carl Froch's victory over George Groves at Wembley Stadium, Mayweather has expressed interest in fighting at the London venue. If he does end up fighting in England, the Brit Khan would be his logical opponent.
"I really want to bring this fight to the U.K.," Khan told The Sun. "I've fought all over the world and been top of bill but this would be so much bigger."
© Copyright IBTimes 2023. All rights reserved.