Manny Pacquiao News: Fight With Floyd Mayweather Dead After PacMan Re-Signs With Top Rank?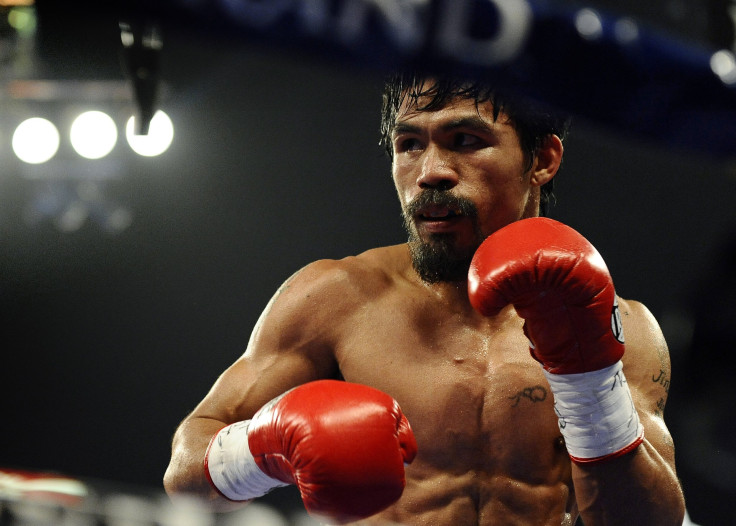 The dream of a possible mega-bout between two superstar welterweights seemed shattered this week after a deal that pits boxer against promoter.
Top Rank Inc. chairman Bob Arum said that his boxing promotion company on Tuesday reached a new two-year contract with Manny Pacquiao, perhaps dealing a final blow to any hopes of a highly anticipated fight estimated at $300 million with Golden Boy Promotions' Floyd "Money" Mayweather, also known as "Pretty Boy." Pacquiao's contract with the Nevada-based boxing promoter was set to expire at year's-end. The new pact, which includes the Filipino fighter's own company, MP Promotions, runs through Dec. 31, 2016.
"We are pleased that together with our partners at HBO we will continue presenting to the public fights of the great Manny Pacquiao through the end of 2016," Arum said in a statement. "The partnership among Manny, Top Rank, MP Promotions and HBO has been a wonderful one for all parties and for the public and it's great that it will continue for the years to come."
For the two great, aging fighters -- Mayweather is 37, and Pacquiao is 35 -- time is running out on a matchup.
The Top Rank deal means that fight fans could be denied the chance to see two of this generation's best and most prolific pound-for-pound boxers settle their differences in the ring. At the same time, Top Rank remains one of the top promoters in the business while holding onto Pacquiao who has been with the company since 2005. Financial terms of the deal weren't disclosed.
Under the new deal, PacMan (56-5-2, 38 KOs) will likely have at least five more fights, one this year to finish the existing contract and two in 2015 and two in 2016. He could fight Juan Manuel Marquez in the fall. Mayweather (46-0, 26 KOs) is expected next to step into the ring Sept. 13 with a still-undetermined opponent. It will be the fourth of a six-fight deal Mayweather signed last year with cable network Showtime.
Mayweather has consistently maintained that he won't face Pacquiao as long as he remains with Top Rank. The undefeated boxer sued Arum in 2008, claiming the promoter didn't pay him what he was owed for two fights.
The Top Rank deal almost certainly added substantially to Pacquiao's already hefty bank account. Forbes estimated in November that the boxer had a net worth of $300 million. Mayweather, the highest-paid athlete in the world, is believed to be guaranteed about $200 million over three years. The Grand Rapids, Michigan-born fighter who now lives in Las Vegas has repeatedly said that he will retire at the end of his Showtime contract.
Despite their great wealth, both boxers would leave a great deal of money on the table by passing on a head-to-head matchup, which would almost certainly be the largest grossing event in the history of the sport. Boxing promoter Arum has predicted -- and many experts seem to agree -- that such a bout would gross at least $300 million.
Both boxers have extremely passionate fan bases, and the two men are a major draw for a sport that has seen interest wane amid the rise of mixed martial arts. Indeed, no matter who they fight, Mayweather and Pacquiao always draw impressive pay-per-view numbers.
Pacquiao dominated Timothy Bradley Jr. in a rematch April 12 after a controversial split-decision loss in 2012, regaining his 147-pound world title. The PPV numbers from their bout last month generated just under 800,000 buys. That more than doubled the PPV numbers of Bradley's October 2013 fight with Marquez.
Mayweather -- who also has his own production company, Mayweather Promotions, through which he collects revenue from tickets, PPV, sponsorships and covers costs, including his opponent's purse -- lands big PPV numbers. His May 3 fight against Marcos Maidana, which wasn't expected to be competitive, generated between 800,000 and 900,000 buys. Mayweather nearly made history in September 2013, when he defeated Canelo Alvarez, generating 2.2 million buys in the process.
If the Alvarez fight is any indication, Mayweather and Pacquiao would each receive a record payday. Mayweather totaled more than $80 million for his final bout in 2013, Forbes reported. He was guaranteed $41.5 million up front, and the fight generated a record-setting $150 million in PPV revenue.
The 2007 fight between Mayweather and Oscar De La Hoya made history with 2.45 million buys. Mayweather-Pacquiao would draw even more intrigue and could reach the 3 million mark. Between PPV buys, ticket sales and other revenue streams, a $300 million gross is highly attainable for the sport's biggest stars. Mayweather-Alvarez grossed more than $200 million in total revenue.
Considering what he made against Alvarez, Mayweather's final purse in a fight with Pacquiao could surpass $100 million. If Mayweather were to reach a nine-figure payday, Pacquiao could make around $80 million. To make the fight happen, a 60-40 split would likely be needed, and while Pacquiao rejected the notion a few years ago, he's publicly stated that he doesn't need an even split.
Pacquiao's purse against Mayweather would likely exceed what he's previously made for one fight. Against Bradley, Pacquiao was guaranteed $20 million. And, in November 2013, PacMan was guaranteed $18 million for his victory over Brandon Rios. (Based on PPV numbers, he had the opportunity to earn up to $30 million.)
The combined career earnings of the two fighters surpasses $700 million. If the two can come to an agreement before they retire that figure could easily reach $1 billion.
Mayweather has been adamant about not fighting anyone associated with Top Rank, and it's hard to believe that he will change his mind with plenty of other opponents eager for a shot at him. Yet, in spite of the bad blood between Mayweather and Arum, the longtime promoter seemed to leave the door open to what could be dubbed the Fight of the 21st Century.
"Mayweather has a contract with Showtime through 2015. If they want to do the fight earlier rather than later, I've talked with the HBO people and they're more than willing to sit down and work out a deal where both companies distribute the fight," Arum told USA Today on Tuesday, the day that Top Rank announced its new deal with Pacquiao.
"If Mayweather says, 'Hey, I got this unbelievably juicy contract with Showtime, why should I jeopardize it? I got three more fights fighting whoever the hell I want and they gotta pay me all this money. I'll wait until those three fights and then I'm out of the contract and then I can fight Pacquiao and if HBO distributes it, I don't care. I'm not breaching contract.'"
© Copyright IBTimes 2023. All rights reserved.