Floyd Mayweather vs. Manny Pacquiao: Tickets For Weigh-In On Sale Friday, Proceeds To Be Donated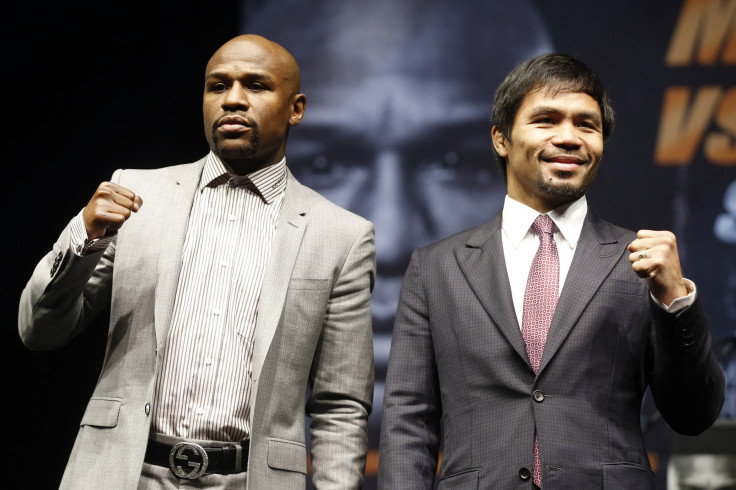 Boxing fans who missed their 60-second window Thursday to buy regular-price tickets to the upcoming Floyd Mayweather-Manny Pacquiao fight have another chance to see the champions. Promoters announced they'll sell tickets to the fighters' May 1 weigh-in at the MGM Hotel in Las Vegas. Weigh-in tickets are $10 and go on sale Friday at 3 p.m. EDT.
Attending a weigh-in, or the official prefight check to make sure boxers are within their weight classes, is usually free in Nevada. ESPN reported that state law mandates the events be open to the public. But promoters decided to make an exception for the highly anticipated Mayweather-Pacquiao faceoff.
"The weigh-in is always the grand finale of fight week activities," Mayweather Promotions CEO Leonard Ellerbe told Agence France-Presse. "And with the massive interest in this fight, the number of fans looking to attend the official weigh-in, is going to be something we've never seen before."
The decision came Thursday after the 500 available event tickets sold out in a minute and immediately reappeared online with prices higher than face value. International Business Times previously reported that resale tickets averaged $11,000.
Mayweather will give his proceeds from the ticket sales to the Susan G. Komen for the Cure breast cancer foundation, and Pacquiao will donate his to the Cleveland Clinic Lou Ruvo Center for Brain Health -- both "great charities," Pacquiao promoter Bob Arum told AFP. "This is a win-win situation for all," he added.
After years of rumors, Mayweather and Pacquiao are set to fight May 2 at the MGM Grand in Las Vegas. Fightnews.com reported that the weigh-in will likely be a show with music and entertainment, as it's partly intended to keep people from camping out for the main event.
To get tickets to the weigh-in, fans can call the MGM Resorts Call Center at 866-740-7711 or visit a MGM Resorts Box Office.
© Copyright IBTimes 2023. All rights reserved.