Floyd Mayweather vs. Manny Pacquiao: What Are The Chances The Fight Happens In 2015?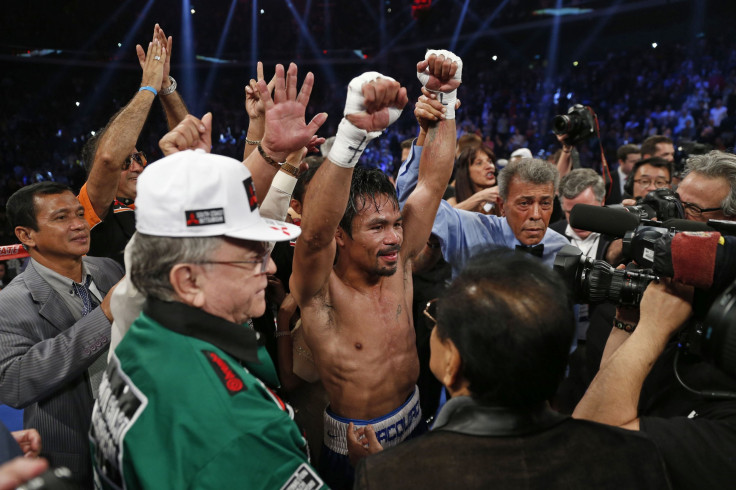 As the calendar turns to 2015, talk of a potential mega-fight between Floyd Mayweather and Manny Pacquiao continues to increase. The sports world has been clamoring to see the two boxers meet for over five years, but what are the chances that the bout will happen next year?
The two sides almost came to an agreement in 2009, but since an issue over drug testing prevented the bout from happening, a deal hasn't come close to being made. Pacquiao has made overtures to step into the ring with Mayweather, and while the undefeated boxer has shown little interest in fighting Pacquiao, he recently changed his tune by suggesting May 2 as a proposed fight date.
"We want the fight. We're ready," Mayweather recently said on Showtime. "Let's make it happen, May 2. Mayweather vs. Manny Pacquiao. Let's do it."
Despite the apparent eagerness of both boxers to make the fight happen, the odds are against it from occurring on the date that Mayweather has suggested. The betting odds at Bovada.lv have listed the possibility of Mayweather vs. Pacquiao happening on May 2, 2015 at +125. The site has placed -175 odds on the fight not being set for the proposed date.
Mayweather's next fight, whomever it may be, will more than likely be set for May 2. Since signing his contract with Showtime, Mayweather has fought two fights each year: one on the Saturday before Cinco De Mayo and another on the second Saturday in September. The 37-year-old has two fights left on his contract and he's stated multiple times that he plans to retire when his deal is up.
Top Rank promoter Bob Arum had told GMA News TV that he doesn't believe Mayweather is sincere in his proposal. If the fight does happen, Arum says the date the two sides have been discussing is not the one that Mayweather has publicly stated.
"What they have been saying is odd on what we have been discussing," Arum said. "It's almost like, a guy sleeping all the time while his people is discussing the fight on our side."
After beating Marcos Maidana for a second time on Sept. 13, Mayweather is still without an opponent for his first fight in 2015. Pacquiao is looking for an opponent, as well, having handily defeated Chris Algieri on Nov. 22.
Pacquiao continues to publicly prod Mayweather, hoping to get his shot at the champ. Whether he's tweeting stories about the possible mega-fight or demanding that Mayweather agree to the bout, PacMan appears determined to challenge Mayweather's 47-0 record.
If Mayweather vs. Pacquiao doesn't happen, Amir Khan has the best chance to take on either boxer. Khan defeated Devon Alexander on Dec.13, giving him four straight victories.
© Copyright IBTimes 2023. All rights reserved.