Ford (F) Earnings Preview: Weakness In Europe Will Hurt 1Q Earnings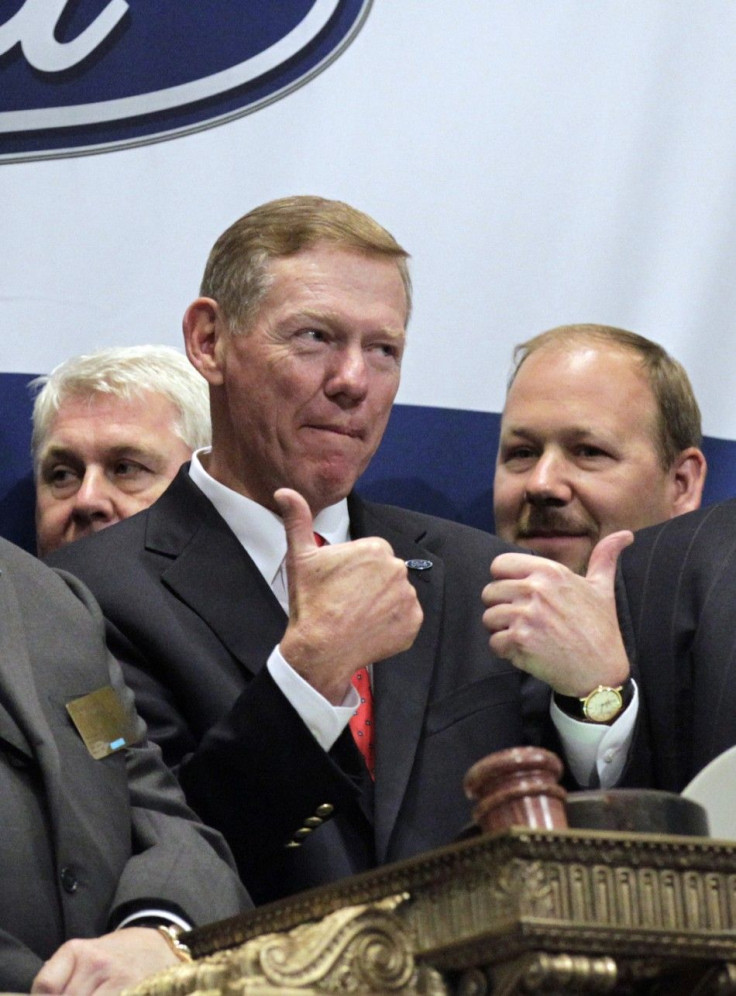 Ford Motor Co. (NYSE: F), the second-largest U.S. carmaker, is expected to report Friday its first-quarter earnings plunged by 42.6 percent as gains in North America couldn't offset a slump in vehicle demand in Europe and slowing sales growth in South America and Asia.
Analysts surveyed by Thomson Reuters expect the Dearborn, Mich.-based automaker, on average, will earn about 36 cents per share, before items, on revenue of $32.3 billion. Ford earned $2.6 billion, or 61 cents per share, on revenue of $33.1 billion a year earlier.
Although Ford is expected to report losses in both Europe and Asia, operating earnings in North America may have totaled $1.8 billion, benefiting from consumers' shift to popular smaller cars like the Ford Focus amid rising gasoline prices. CEO Alan Mulally began revamping the company's product lineup when he came aboard in 2006, focusing on fuel-efficient models like the Fiesta, which can get up to 40 miles per gallon in highway driving.
Ford has done a very good job, marketing wise, to position itself as the fuel-economy leader among the Big Three, Barclays Capital analyst Brian Johnson told Bloomberg News. But they're facing headwinds in Europe, South America and Asia-Pacific.
Ford Chief Financial Officer Lewis Booth warned in January that Europe is challenging and will likely remain so for some time as the financial crisis has made potential buyers reluctant to make big purchases.The company's shares, which are down about 25 percent from a year earlier, closed up 34 cents, to $11.73 on Wednesday in New York.
The automotive industry is economically sensitive and has historically demonstrated meaningful cyclicality as changes in underlying conditions improve or deteriorate. Fixed costs are relatively high for the industry and as a result the impact to financial performance can be magnified, Guggenheim Securities said in a report earlier this month.
Ford is also facing challenges in South America, where it has mostly older vehicles on the road, and in China -- the world's biggest auto market -- where a sluggish economy has also held consumers in check, the Associated Press reported. The company's production last year in Thailand was hurt by floods, Bloomberg said.
We certainly felt a significant effect in 2011 from both of the natural disasters, Joe Hinrichs, Ford's Asia chief, told Bloomberg, referring to the Thai floods and Japanese earthquake. We continued to feel that effect in the first quarter.
Ford received a boost earlier this month when Fitch restored its credit rating to investment grade, which is important if the automaker is to borrow at lower interest rates. Fitch said in a statement its decision was based on Ford's significantly improved financial performance, balance sheet repair, and product portfolio improvement that have taken place over the past several years.
Ford continues to face pressure in the U.S., where it has been losing market share to rivals like Chrysler and Kia. The company has said it will likely continue losing market share because it can't produce enough vehicles to meet demand, the AP said.
Ford had its strongest March sales in the U.S. in five years, with 223,418 cars sold, a 5 percent increase from a year ago. For the quarter as a whole, Ford sales were up 6 percent, while sales for the entire U.S. automotive sector rose 10 percent, according to David Cutting, senior manager of North American forecasting for J.D. Power & Associates' LMC Automotive division.
Ford has been struggling in China to catch up with rival General Motors Co. (NYSE: GM), which sells nearly five times more vehicles there than Ford, according to a report this month by stock analysis firm Trefis in Boston.
Ford last year saw record growth in China with sales of 7 percent -- even though overall auto sales only grew 2.5 percent. By mid-first quarter, however, Ford's passenger car sales in China declined 17.3 percent to 27,374 vehicles, while commercial vehicle sales rose 0.5 percent to 22,005, Trefis said.
Ford has been making moves to reverse its fortunes in China and recently announced a $600 million investment in its Chongqing plant -- in addition to plans to open four new factories, Trefis said. Ford plans to introduce 15 new cars into the Chinese market by 2015, and its joint venture Changan Ford Mazda Automobile will expand volume to 950,000 vehicles by 2014.
© Copyright IBTimes 2023. All rights reserved.