Former AIG Chief Maurice Greenberg Must Face New York Fraud Trial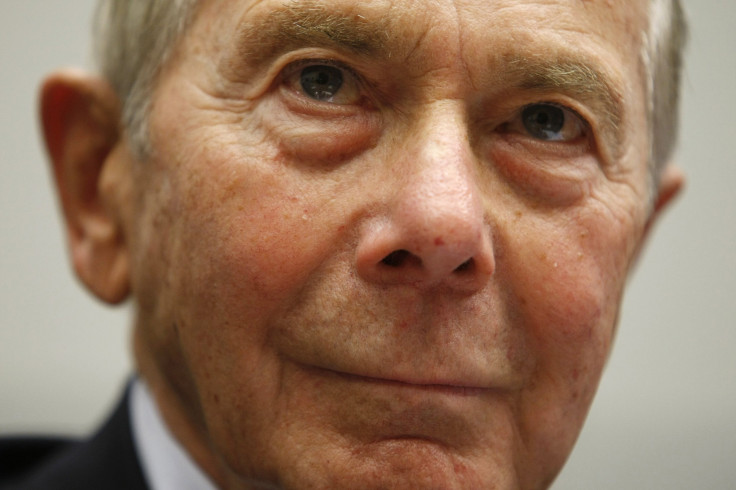 Former American International Group CEO Maurice "Hank" Greenberg must stand trial on charges of orchestrating sham transactions at the insurer, New York's top court ruled Thursday, as the longtime financial industry titan failed in his 11-year-old quest to escape civil fraud charges.
The New York Court of Appeals also ruled that the state could seek to recoup from Greenberg, 91, and co-defendant Howard Smith, 71, AIG's former chief financial officer, tens of millions of dollars in bonuses and interest covering the 2000-2005 period when the alleged fraud occurred. More than $55 million may be at stake.
In addition, the court said the state could seek to ban Greenberg and Smith from the securities industry and from serving as officers or directors of public companies.
Greenberg said he was considering his options in light of the ruling, which he said "flies in the face of the court's precedent and federal law." His options appear to be going to trial, asking the state court for reconsideration or asking the U.S. Supreme Court to review the matter.
Vincent Sama, a lawyer for Smith, said his client was disappointed with the decision and will continue to "vigorously defend himself."
Greenberg led AIG for four decades before he was ousted in 2005. The following year, AIG paid $1.64 billion to settle federal and state probes into its business practices.
The New York-based insurance giant was rescued by the U.S. government in September 2008 to stave off bankruptcy after the company ran up billions of dollars in losses stemming from insurance it wrote on shoddy mortgage securities.
New York Attorney General Eric Schneiderman said he looks forward to demonstrating that Greenberg and associates orchestrated two major frauds that caused massive losses to AIG shareholders.
"Nobody — not even someone as powerful as Mr. Greenberg — is allowed to commit fraud in our state, and we are very pleased the people of New York will finally have a chance to obtain justice at trial," Schneiderman said.
The state's case was brought in 2005 by Eliot Spitzer, New York's attorney general at the time.
Greenberg currently is chairman and CEO of CV Starr & Co., a private insurance company. Smith is its vice chairman of finance.
Settlement With Shareholders
Greenberg asserts that the case should have been over in 2013 when a $115 million settlement with AIG shareholders over the improper accounting received court approval.
His lawyer, David Boies, also argued that disgorgement of ill-gotten gains is not an available remedy under the Martin Act, the state's powerful securities fraud statute. And, the defendants argued, they already disgorged in a U.S. Securities and Exchange Commission settlement in 2009, barring the new claims.
The case centers on a transaction with General Re, a unit of Warren Buffett's Berkshire Hathaway. The New York suit claims Greenberg orchestrated a $500 million transaction that boosted loss reserves without transferring risk.
A second transaction, with Capco Reinsurance Co., allegedly hid a $210 million underwriting loss in an auto-warranty program.
Schneiderman was forced to withdraw claims for as much as $6 billion in damages after the shareholder settlement because the state cannot seek restitution on behalf of victims who settled a class-action lawsuit, even if they are not made whole.
Schneiderman decided to continue to trial, seeking the bans and bonuses. Greenberg's cash bonuses in question were $24.5 million, while Smith's were $3 million, according to Matt Mittenthal, a spokesman for Schneiderman. With interest at the statutory 9 percent rate, the state is seeking more than $55 million at this point.
The U.S. government in a separate case last August appealed a judge's ruling that sided with Greenberg on a legal claim over AIG's bailout and found that the Federal Reserve exceeded its authority in the insurer's bailout.
© Copyright Thomson Reuters 2022. All rights reserved.
FOLLOW MORE IBT NEWS ON THE BELOW CHANNELS